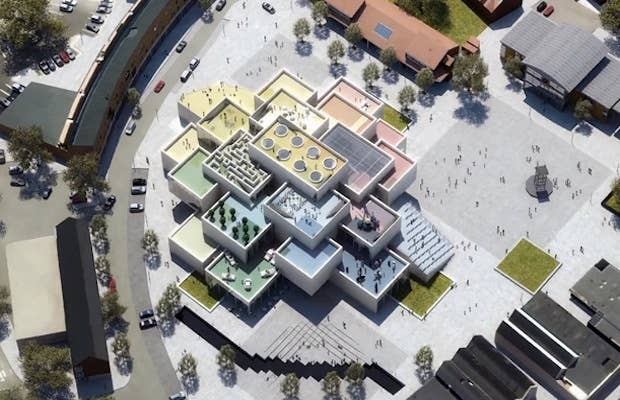 Architectural firms Bjarke Ingels Group(BIG) and Ralph Appelbaum Associates(RAA) collaborated to design what will be "The LEGO House," a museum and "experience center" for LEGO to be built in Denmark starting next year. The construction will feature 7,600 square meters of exhibition space, a LEGO store, cafe, and large public spaces, and will sit in the town of Billund where LEGO operates and where they recently helped open a children's school.
BIG and RAA both took design cues from the building blocks when planning the museum. With sharp corners and layered towers, the finished product will resemble a larger-than-life play set that visitors can admire and interact with. BIG began by constructing a concept that they called "LEGO Towers" out of the 250,000 LEGO bricks, a design that would later influence the final collaboration. "The LEGO House will show the past, present and future of the LEGO idea…. and the LEGO House gives us an opportunity to make it very tangible what LEGO play offers and how it stimulates children's creativity and learning," says LEGO ownerKjeld Kirk Kristiansen. We think that the design makes sense for the company and are interested to see what the finished product will look like in 2016. In the meantime, check out the concept animation from BIG to get an idea of what to expect:
130702 - LEGO HOUSE ANIMATION from BIG on Vimeo.
RELATED: LEGO Helps Open Children's School In Denmark 
RELATED: Green Label - 10 Unexpected Museums
RELATED: Green Label - The Coolest Lego Collaborations So Far
[via Smithsonian.com]