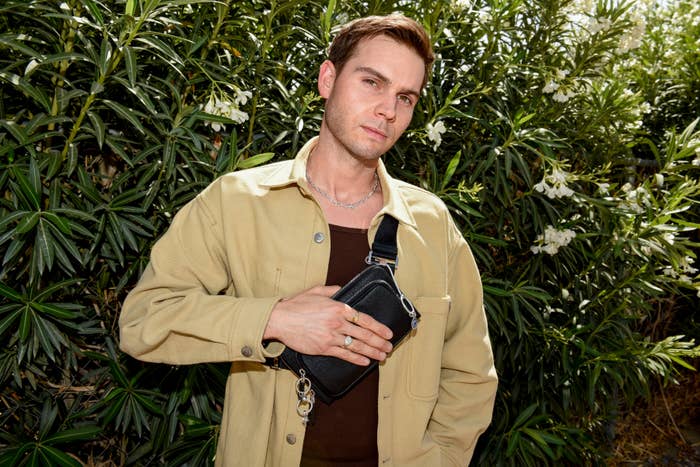 Charli XCX stepped onto the stage at the Pandora Oasis in Indio, California for an intimate performance of her greatest hits ("Boys" and "Boom Clap" made the cut, obviously!) and tracks off her new album Crash. She wore a metallic jade dress and pink and white zebra striped boots, a marked difference from the look she wore during her last performance in the desert back in 2018, where she surprised fans during MØ's set wearing gold sequined pants and a gold balconette top. 
The stylist responsible for this new era of Charli XCX is Chris Horan, whose client list includes other risk-taking It girls like Rowan Blanchard, Barbie Ferreira, and Hari Nef. "I think you should lean into having a sort of trademark, whether that be girls who take fashion risks or whatever the strategy is. I think that's important that as a stylist you're not afraid to be like, 'No, this is my look. And this is how it's going to be.' Carve out what your niche is."
The Thousand Oaks, California native got his start back in high school where he spent the weekends organizing a stylist's closet (he didn't disclose who it was). After graduating, Horan was promoted to stylist's assistant and quickly learned that a career in styling was within reach after his looks were repeatedly given final approval. Dedicated to his craft, Horan spent the rest of his time working at Nordstrom's designer department styling full looks for customers.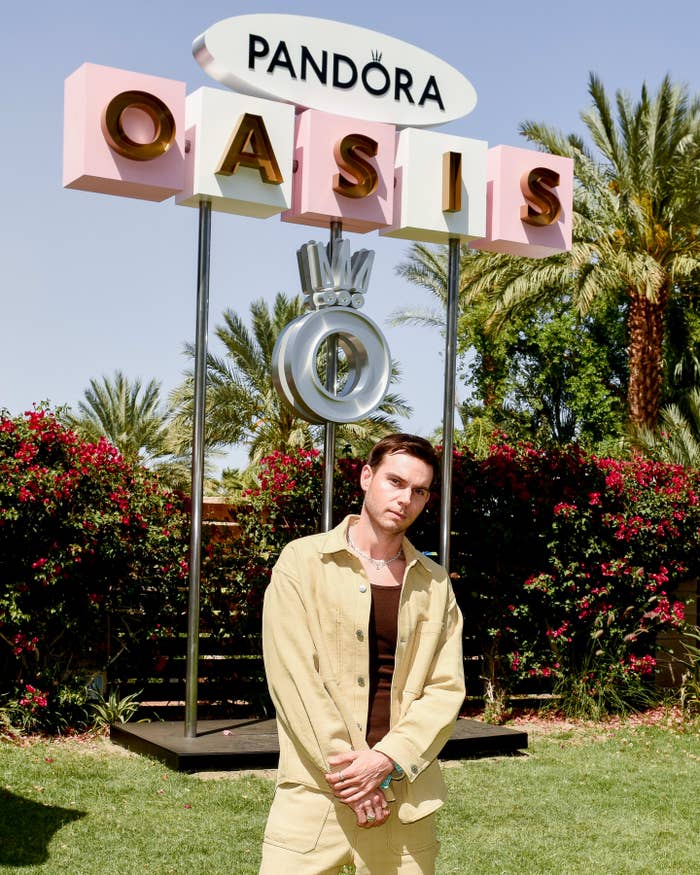 Horan got his first celebrity client, rising Disney Channel star Debby Ryan, through word of mouth. A referral to her publicist landed him his first real solo gig back in 2013 when he styled Ryan for the Teen Vogue Young Hollywood Party. She's been Horan's client ever since. "We have a really close relationship and special bond," he says. "I think I'm always grateful to her because she took a chance on me. I was truly a 19-year-old nobody." He began styling Ryan at a time where she was shedding the younger, maximalist fashion Disney Channel actresses are best known for. At the beginning of their partnership there was a distinct shift in her style that felt sophisticated and grown, taking her from just a Disney star to a leading actress. 
Working with Ryan made Horan a favorite at Disney. They continued to tap him for work, asking him to style acts like Dove Cameron and eventually hired him to style the cast of Girl Meets World for their press tour. It was there that he met 12-year-old Rowan Blanchard, a relatively unknown actress at the time.
"Rowan is a turning point in my career just because she was 12 when we met in a Disney boardroom and I had been hired to style everyone for Girl Meets World. I remember her walking in putting on some Marc by Marc Jacobs and literally becoming the person," says Horan. "From that moment she was like, 'Yes.' That commitment to meet you somewhere is for sure, to me, important. I strive for and only want to work with clients that want to do that because I want to give them a look."
Blanchard is just one of Horan's many clients willing to meet him where fashion feels risky. Back in 2019, she introduced him to Barbie Ferreira during the Euphoria Season 1 press tour. Upon meeting, the pair quickly clicked and Ferreira became a client. However, it wasn't an instant success. 
"I never had a plus client before. There were some good things I pulled and I thought I crushed it. Barbie very quickly brought me down to earth and was like, 'Yeah it's not stuff that I want to wear. I want to wear stuff like my friends wear. It could be like these things, but this looks older." 
And so began their collaborative relationship. The pair share thousands of images with each other (Vogue Runway is their largest source), building a strong archive of inspiration, brands, and pieces to incorporate into her looks. Ferreira's styling under Horan doesn't sacrifice youthfulness or that Cool Girl aesthetic we see her embody as Kat on Euphoria. She's worn the iconic black Mirror Palais crop top and skirt set for Vogue's "7 Days, 7 Looks" series. During a Euphoria press day, Horan dressed her in a vintage Vivienne Westwood corset paired with a blue floral skirt. And, who could forget Ferreira's Met Gala look from 2021, a hand-beaded Jonathan Simkhai gown adorned with pearl jewelry from Mudd Pearl? Their synergy offers a new perspective of plus-size fashion, one that is exuberant, creative, and most importantly, hot. "It's not fair that it's this way but you have to work harder to get those things and get creative. I'm so grateful to her for bringing me on that journey, but also educating me on so many things."
"I've had people be like, 'I've never been inspired to actually even dress myself this way because I just felt defeated. And Barbie makes me want to be that girl and excited about clothing in a way that I hadn't been able to see before.'"
In 2021, Horan landed his dream client, Charli XCX. After wanting to work with the singer for five years, he was finally given the opportunity after his agent got word that she was interviewing for a new stylist. "It felt like a main character moment," Horan says of the day he found out he secured the job. "I had to just let all the walls come down and I was like, 'I am such a fan of yours and this is my dream job so I will give you everything, I guarantee you.'"
Since then, Horan, Charli, and her creative director have collaborated on a vision for the rollout of her latest album Crash. Her current look serves as an elevation from Charli's how i'm feeling now era, one marked by bright colors, baby tees, and cutouts.
"For Charli's looks during this era, we are always trying to keep it cohesive and edgy as possible," says Horan. "Pandora ME has been a staple for us at the link chains and customizable charms are easy to layer and play with."
Inspired by professional female wrestlers of the '90s, Horan has Charli decked out in moody colors, leather, tassels, and harnesses. "We really did stick to that black and dark color palette for a long time. Mostly to just get people to know that this is the character and this is the new era," says Horan. "I want to make Charli a fashion girl, but I also want her to be a hot pop star." 
It's clear that Horan's goal is to foster trusting relationships with his clients. According to him, it's vital to be their advocate and their most zealous salesperson. But without mutual understanding and personal connection, the partnership might not work (and that's OK).  
"There's so many clients that I've worked with in the past that it just didn't work out. And I feel like a lot of times when I was younger, you feel this crushing blow, 'Oh my God, I lost a client. People think I'm terrible.' Whatever it is. And it's very much how I feel about just in general, you have to release things and whatever is meant sticks and what doesn't, doesn't," says Horan. "You can't force something and everyone will find their person. When it's right it's fully right. I think that everyone I'm working with right now, I feel like that energy is so there. I like having so much deep love and passion about everyone I work with."