Gucci has started 2018 off with a bang and shows no signs of slowing down the massive amount of momentum it has been able to build up. Under the eye of creative director Alessandro Michele, the Italian fashion house has once again found its footing to become one of the most talked about brands in fashion today. Its latest project is the three-floor Gucci Garden. The building, which boasts a large neon eye on the outside, is located in the Palazzo della Mercanzia. 
The redesigned Palazzo della Mercanzia, formerly used as the Gucci Museum since 2011, now acts as a multipurpose creative space that will feature curated archives, artwork, exclusive collections, and more. According to Michele, the name Gucci Garden has multiple meanings as well. "The garden is real, but it belongs above all to the mind, populated with plants and animals: like the snake, which slips in everywhere, and in a sense,symbolizes a perpetual beginning and a perpetual return."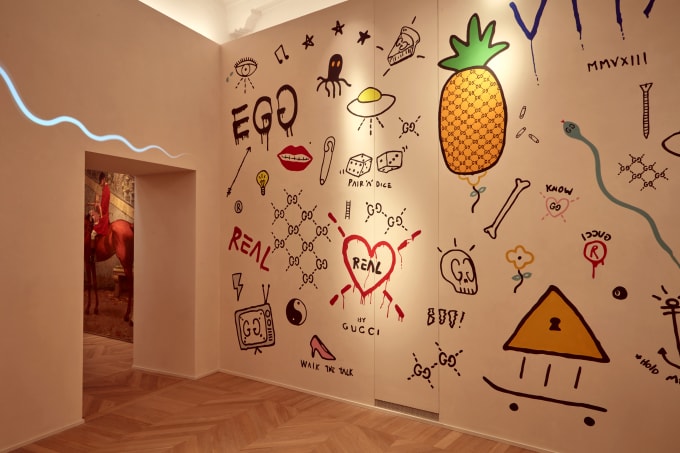 Both the vintage and brand new pieces on display from the brand live together in harmony in specially designed displays. Instead of simply telling Gucci's story chronologically throughout the space, Michele and Maria Luisa Frisa merged together all of the brand's eras in a different format. "We decided to make the space a laboratory where you have all the elements with which to creatively experiment," says Frisa. The gallery will also include sections examining the evolution of the Gucci logo over the years, iconic pieces produced by the fashion house, and a 30-seat auditorium. Recent collaborators like GucciGhost and Coco Capitán were also invited to decorate their own walls throughout the space. 
If the two-floor gallery was not enough to peak your interest, the ground floor will also be host to a restaurant headed by three-Michelin-star chef Massimo Bottura, the Gucci Osteria, that will serve a special menu of Italian cuisine inspired by his world travels. The ground floor will also be home to a retail space that will sell exclusive products including bomber jackets, shoes, and bags featuring the Garden's Gothic font script and special logo, as well as new symbols like bats and eyes, Gucci's Décor collection, and a special selection of magazines and books. 
The Gucci Garden in Florence will be open to the public seven days a week for an entry free of €8 (app. $10), half of which will be donated to various restoration projects around the city of Florence.