For their Fall 2017 collection, Opening Ceremony designers and founders Humberto Leon and Carol Lim returned to their native Los Angeles roots. The comeback was in part a love letter to their L.A. store, which is celebrating its tenth anniversary in the location of Charlie Chaplin's former dance studio.
Their new collection, "A Modern Western," shares an affection for the "west" in many ways too: The fashion show, which took place during Made L.A. on Friday night, was set in a theatrical indoor desert of cartoonish cacti.
Models paraded along the perimeter of the cacti in studded western wear, ruched skirts and pants, asymmetrical knits, velour tracksuits, and thigh-high pink velvet boots that could flag legs at a city block's distance. The styles were infused with western elements, yes, but punk, goth, and sportswear styles could not go unnoticed.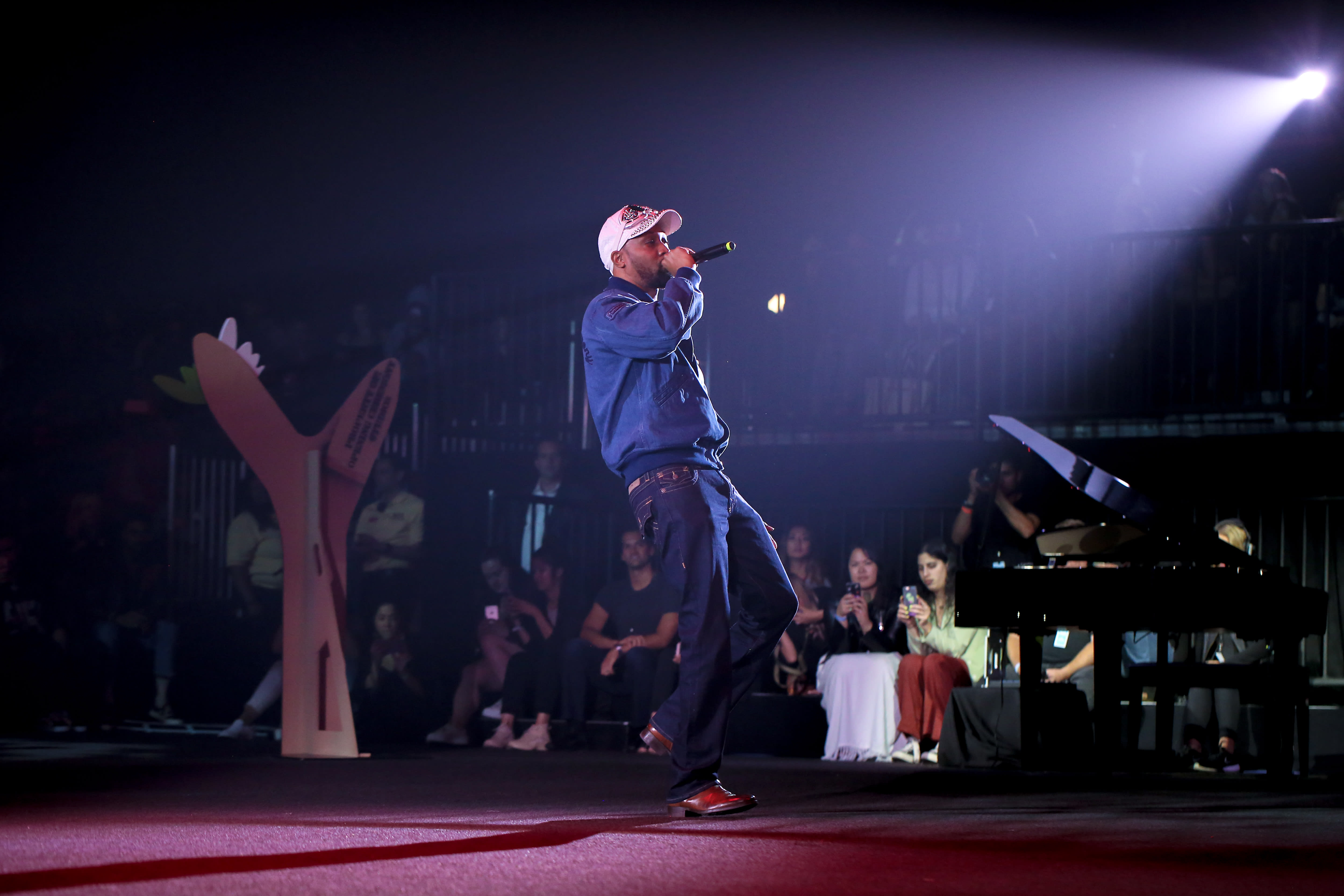 Lim told Complex the collection was heavily influenced by artists of the Southwest–the bulbous New Mexican sculptures of Ken Price and bold paintings of Georgia O'Keeffe. She cites the presentation of O'Keeffe's style at the Brooklyn Museum's Georgia O'Keeffe: Modern Living exhibit as having a particular influence.
Lim echoed the nomadic nature of the collection with the production of their first show in L.A. "It was a journey westward to be able to do the show here on the tenth anniversary of our store," she said after the show.
The designs are something of an ode to their native L.A. upbringing. Leon and Lim give credence to this in a statement about their collection: "The city's bricolage aesthetic, its natural landscape, and its wholly modern attitude continue to shape not only our design but our outlook." When asked about the city's influence on her, Lim spoke about, well, the weather. "I think it is just the versatility of needing a lot of transitional things," she said. L.A. is commonly warm in the day and chilly at night. Layering, knits, and outerwear took center stage on the runway.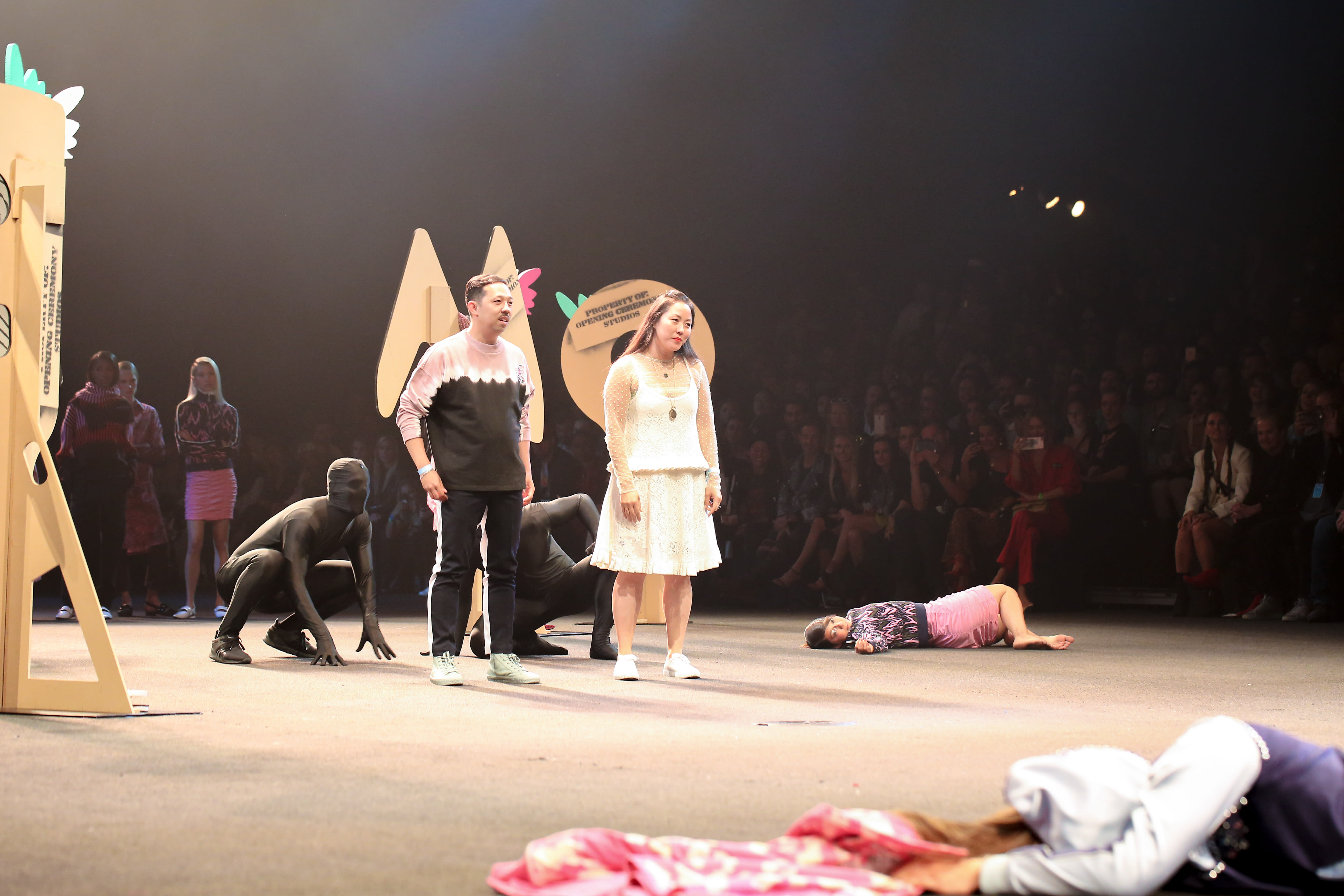 But the true spotlight is given to cinema. The collection statement prefaces "A Modern Western" as an imagining of what "silver-screen outlaws would look like today, as real women who bring adventure wherever they go, from desert canyon to city street."
Like their previous shows, Opening Ceremony didn't just parade models down a runway, they also put on an explosive western showdown of the martial arts variety.
The brand collaborated with the legendary rapper and Wu-Tang Clan member RZA—whose love for martial arts brought him to the project—and New Zealander choreographer, actress, and stuntwoman, Zoë Bell. Post-runway, the tale of two sisters began. One was born with "the glow," one was not. And so they fought. A standoff ensued between models clothed in the Fall 2017 collection. The tension was palpable. RZA, who played the piano, narrated and orchestrated. Bell performed and choreographed the dramatic movements. Arms swung, legs kicked, and bodies rolled.
"He scored everything," Lim said about RZA, who also performed after the show.  "[RZA and Bell] worked very closely together on the fight sequences, what the movements were, so he knew what kind of music to make for it." This was RZA's first foray into scoring, composing, and performing for a fashion designer.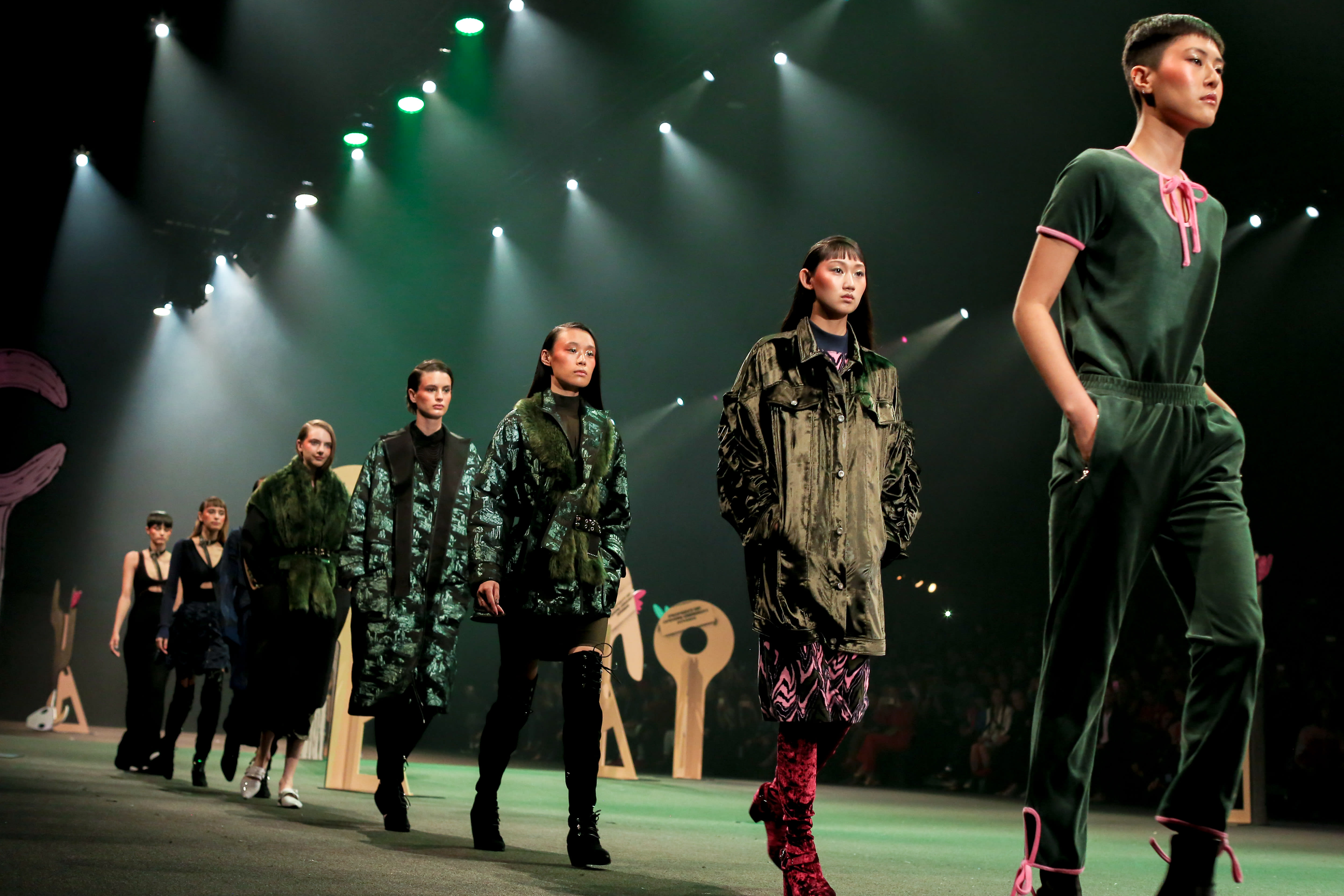 Movies like Kill Bill and House of Flying Daggers helped ignite the collaboration with RZA and Bell. "The nod to martial arts and just watching that kind of film and cinema is something that we have always been fans of and watched growing up," said Lim. And it's true for the collection. The clothing gives the modern woman room to breath, easing the journey as she makes her way through the acrobatic movements of daily life. There are elements of nature—a western kimono jacket in a scorpion print—and practicality.
Opening Ceremony continues to impress. "We always like to celebrate the strength of women," Lim said. "There was kind of this narrative of sisters having this argument and in the end they came together. And it showcases this amazing movement."