Named Thrasher magazine's "Skater of the Year" in 1999, Brian Anderson has seen success as a world-class athlete, winning the 1999 World Cup of Skateboarding. For Anderson, skateboarding has always been a form of expression. Before coming out last year and becoming the first major professional skateboarder to be openly gay, Anderson would take out his "pent up aggression" through skateboarding. Focusing all the negative energy in his life into improving his skills as a skater, he became an elite athlete and a legendary figure in the skateboarding community.
Skateboarding aside, he's also spent his career expressing himself through fashion and design, having worked with countless brands such as Girl and Anti Hero Skateboards. He also started his own skateboard deck brand called 3D Skateboards. Now, Anderson is releasing his debut Nike SB apparel collection—a line that includes a jersey, a Nike Icon Hoodie, a Nike Shield Coaches jacket, sunglasses, and a pair of bright yellow Nike SB Bruin Hyperfeel shoes.
Complex spoke to Anderson about his Nike SB collaboration, which drops on Jan. 19, and what he thinks about people who wear skate brands but don't skate. 
How would you describe the overall style of your Nike SB collection?
It's based off of a hockey jersey. The first thing I drew up, over a year ago, was this cat and cheetah head design. I had wanted to make a jersey, and [Nike SB creative director] Jesse Leyva liked this yellow jersey idea so much that he said, "We should just do a whole capsule." So I sent him a mock-up of a bruin, and he just said, "Yeah, keep going!" So it started with a hockey jersey, and we added a coaches jacket and a hoodie with a hand-drawn "SB." And I'm with Nike Vision, so we threw in a pair of sunglasses and put the cheetah print on the arms.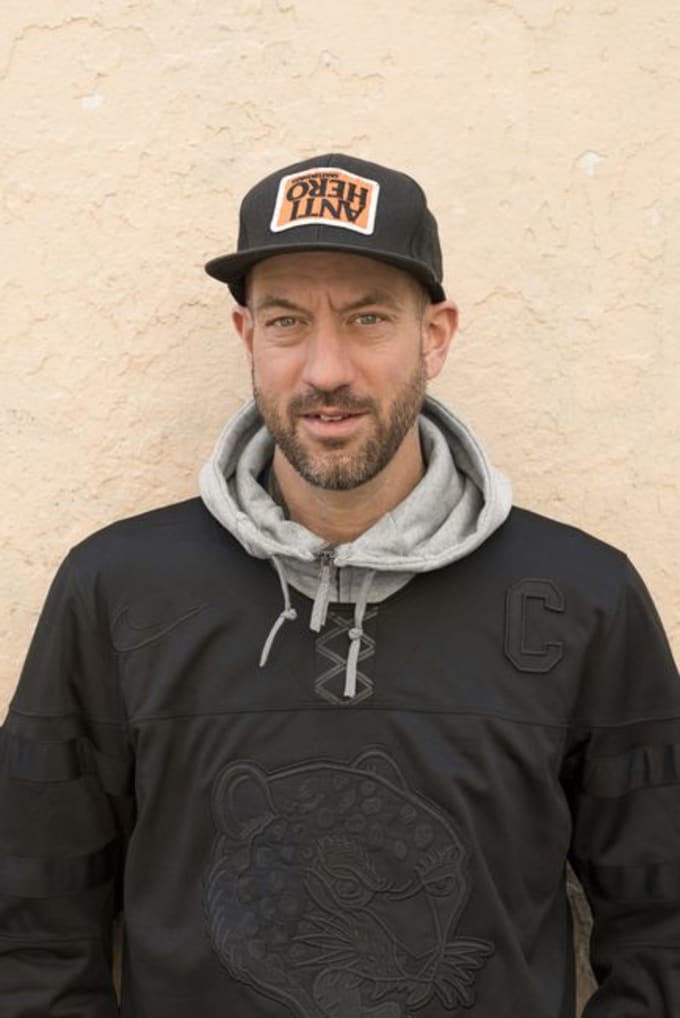 Thrasher editor Jake Phelps recently spoke out against celebrities like Justin Bieber and Rihanna wearing Thrasher clothing. What do you think about that?
I equate that Thrasher situation to when the Von Dutch [trucker] hat came out. Britney Spears started wearing one, then everyone in L.A. got one, then it slowly trickled from the West Coast to the East Coast. Everyone had their Von Dutch hat, then a year later—boom—it's done, it's not hot anymore, and everyone's looking for the next thing.
Thrasher is probably psyched that they're selling a bunch of merchandise. But even though us skaters are always going to wear it, the public's going to get sick of seeing it pretty soon and their numbers will go down. And they know that too. I'm not trying to disrespect them. The way cycles and trends go, they deserve to sell those shirts and have a bunch of random people wearing them.
Again, I'm not trying to diss other companies for their ups and downs but look at Diamond. They were so much hotter a while ago, and I wish them all the success in the world, but things go down a little bit, and suddenly you see companies in a T.J. Maxx or a Marshalls and you're like, "Oh no, what's happening to them?" But, the guys at Diamond are my friends, and I want the best for them. Supreme, however, is one brand that has actually been kind of amazing in managing to not do that.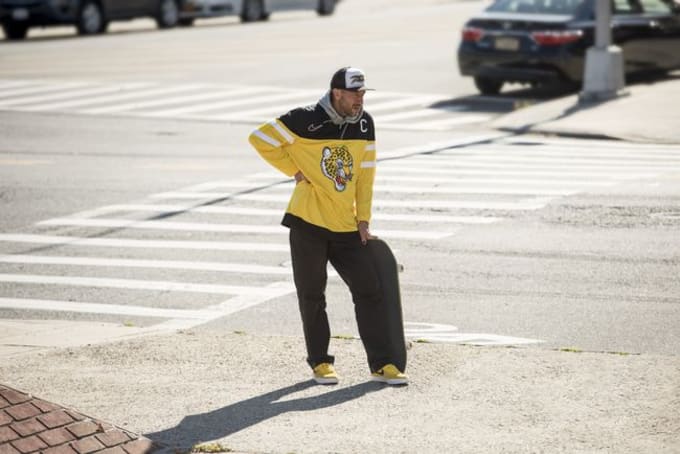 So it's a bummer that Jake Phelps dissed the celebrities wearing Thrasher, but it's also a bummer as a skater to walk down the street and see all these people wearing Thrasher shirts when they don't know what that's all about. Personally, I think it's rad seeing Thrasher shirts everywhere. I don't wear them much right now. When something's hot, I like to put it away in my closet and wear it in a few years when the trend cools down. They probably won't be cool in two years, and I'll start repping them hard again. Then I'll look like I'm behind the times and people will be like, "Look at that guy still wearing a Thrasher shirt!"
Do you think authenticity is important when it comes to skate fashion? What are your thoughts on people who don't skate but who wear skateboard clothing?
It's sort of out of our hands. It can happen to any genre. I remember when I was so into Nirvana before it was cool and I was already wearing flannels 'cause I loved them. Then Nirvana got really big, and all these kids from my high school were dressing in plaid shirts and ripped jeans, and I'm like, "What? Man, you hated on me last year for my style." So I just started wearing white tees and jeans because I didn't want to look like these brand new Nirvana fans. I was pretty bummed out. So authenticity is important because it affects people who are into fashion. Look what happened to me in high school. I changed my style 'cause people just ruined it for me.
Last year you became the first major skateboarder to publicaly come out. What do you think is the impact of high-profile LGBTQ athletes openly discussing their lives and experiences?
I think the importance is for people to understand each other's struggle. If you're able to be out with your teammates, you might be a little less high-strung or uncomfortable because you're not holding that in. I think it's important if people can understand where you're at in your head. You can be a better athlete and a better teammate. Like I say in the Vice thing, being closeted may have actually made me a better skater in the beginning. I was so angry about so many things that I was like, "Arghhh!" I had so much pent-up aggression that it made me a better skater.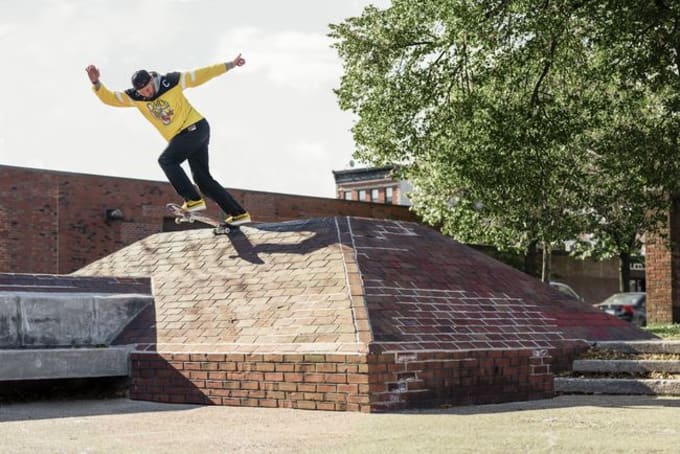 I think some people may be uncomfortable in a locker room or sharing space with a person who has a different sexual preference. Maybe over the years people will be able to just brush it off more. When you open people's minds, they eventually become more comfortable with it.
There's this Glenn Burke documentary about the first high five. He ends up being gay, and he goes from the L.A. Dodgers to the Oakland Athletics. All of his friends who speak in the piece were like, "We knew he was gay and we didn't care." There's not one person in that locker room who wanted to see him go. They loved the guy. It's pretty moving. When I watched that story, I thought, "Wow, that should happen more often." Think of how many football, NBA, and NHL players are in the closet. When you look at percentages, a certain amount of the population is definitely gay, you know? There have only been a few people who have come out, so think of all those men and women who are just struggling in their brain and their heart.