UPDATED 10/12/16, 9:45 a.m.:
Costumeish, the company that created the "Parisian Heist Robbery Victim Costume Kit" inspired by Kim Kardashian's recent armed robbery, has decided to stop selling it. The company's founder Jonathon Weeks told Time that he doesn't want to "make light of a serious situation." The Halloween costume is no longer for sale.
See original story below.
Another day, another bullshit costume company trolling vulnerable people. This time, it's Costumeish with their "Parisian Heist Robbery Victim Costume Kit," a costume commercializing the recent assault and armed robbery of Kim Kardashian West. The costume is (somehow) being sold for a whopping $69.99, way over the market price for your typical pile of trash.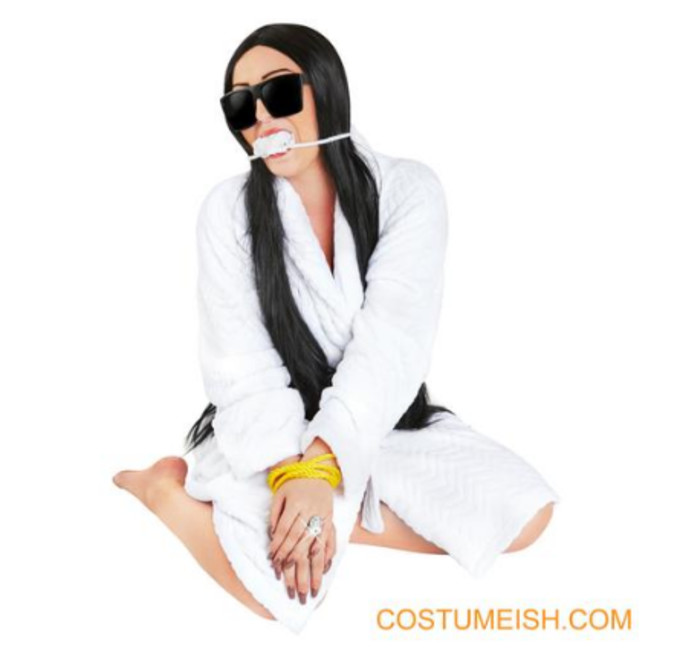 The concept of the costume itself is offensive enough to not require explanation as to why it's completely messed up, but somehow the costume's description makes it worse. Costumeish describes the bathrobe that's included in the outfit as a "white short sexy robe" (because what good is a woman dressed up as a literal victim of a crime if they don't look totally hot?). There's also a "fake gag" and rope. 

It also comes with a "$4 million ring," with a note clarifying that the ring is "made of plastic and not worth $4 million." The fact that this clarification is necessary says something about the kind of person this costume is intended to attract. 
Kardashian West herself has spoken out about how traumatizing this event, where she was bound, gagged, and held at gunpoint, was for her, and women all over the world spoke up to defend her from victim-blamers and those who were low enough to revel in the news of her assault. The costume is a complete troll, hoping to upset those of us who, you know, get that the assault of women who feared they would be raped isn't a joke. 
There has been more than enough public commentary on why it's important not to use Halloween as just another excuse to put small-minded, offensive, and pathetically uncreative "humor" on display, and yet, this company is selling trauma for 70 bucks. Anyone who wants to actually purchase this thing is better throwing their money in the garbage, since that's what this costume is.