Frank Ocean is, once again, getting the hopes of everyone extremely high by live-streaming a video of him building something on his website. While, we presume, Ocean plays around with saws and drills on the left-hand side of the screen, a large boombox sits opposite him. But this isn't your run-of-the-mill boombox, it's actually an installation by the artist Tom Sachs. 
The artwork, titled Toyan's (2002) is a group of speakers that stands eight feet tall and twelve feet across and is inspired by Jamaican sound systems, according to the Brooklyn Museum. Toyan's is actually part of a Tom Sachs exhibit currently on display at the Brooklyn Museum titled "Tom Sachs: Boombox Retrospective, 1996-2016."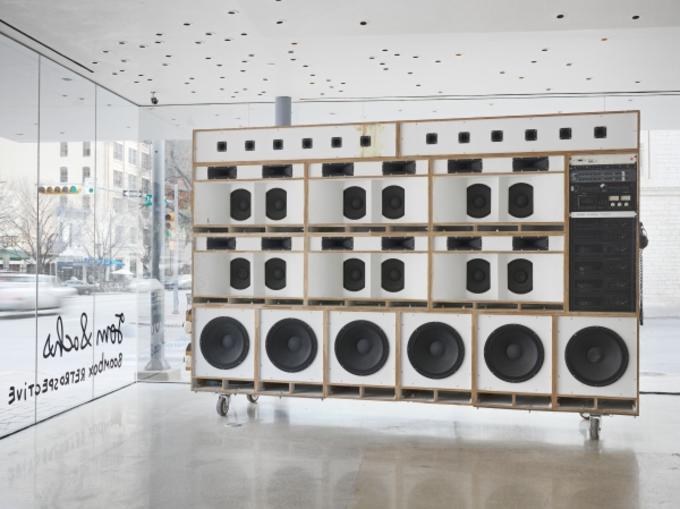 The exhibit pays homage to "a defining icon of street culture—the boom box." The immersive exhibit also plays music, and wouldn't you know it, some of that music is by none other than Ocean. 
The collaboration didn't happen out of the blue, either—Ocean is apparently friends with Sachs. When the artist set his boomboxes up at SXSW at Austin last year, he asked Ocean to contribute a playlist that could play through them and called him a friend. "We all make playlists, right? So I reached out to my friends and asked them all to contribute," Sachs told Vice. "I have a relationship with Kanye and Frank, and they were psyched." 
Sachs' 245 Bodega space—described by Fox NY as "a hub for creatives, artists and doubles as the gateway into the wild world of sculptor Tom Sachs"—also played host to what Billboard described as a "secretive listening" session for Ocean's music that took place earlier this year. There's clearly a relationship here that is coming to fruition with this livestream. What comes out of it, we still don't know. Sachs' Brooklyn Museum exhibit is on display until Aug. 14, so that's another date for Ocean conspiracists to put on their calendars. 
Representatives for Tom Sachs did not immediately respond to Complex's request for comment. 
UPDATE 3:25 p.m.: Sachs spoke with The FADER about his involvement in Ocean's video project." He revealed that the video was "shot in the past year" and added he lent the boombox installation to Ocean. He also "[advised] him on some carpentry issues." 
Sachs also said that this is only the first project the public will see between him and the singer. The artist and Ocean have "an ongoing creative dialogue" and there are "other projects [they're] dicking around with," Sachs said.