For many men, the point of reference for wearing a pink coat begins and ends with Cam'ron. The Harlem rapper owned the all-pink look so thoroughly back in 2002, that it seems almost useless to try to even come close to his legendary levels of greatness. But, if there were a time to make an attempt, it might be next spring. As New York Fashion Week: Men's comes to a close, one trend has emerged: Designers are feeling pink jackets in a big way.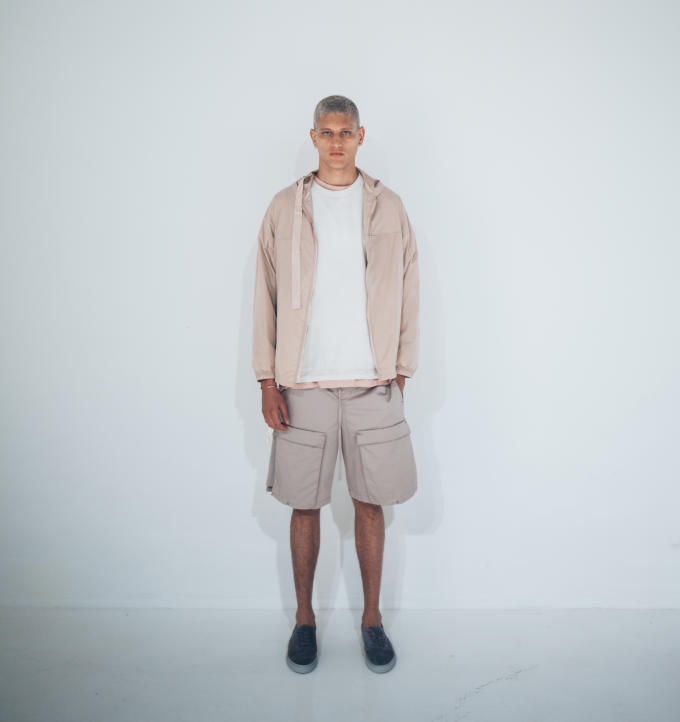 Stampd's collection included a pale pink, warm weather jacket mixed into a collection that was otherwise fairly dark in its use of color. Ovadia & Sons kept the souvenir jacket trend alive with their take done in pink, and John Elliott doubled down with both a pink bomber and an eye-catching leather motorcycle jacket. Wearing the latter might be the ultimate style power move next season.
Newcomer Ryohei Kawanishi of LANDLORD made the decision to go extra bold with two jackets done up in a vivid, electric version of the color. Kawanishi landed on using pink throughout the collection as a subversive twist on the reflective fabrics worn by construction workers. "I always see hot orange and neon yellow, but I rarely see hot pink," he says. "I wanted to develop ideas based on the construction uniform, so I developed new colors to apply that concept, and that's where the pink came in." And, he adds, "I do wear pink."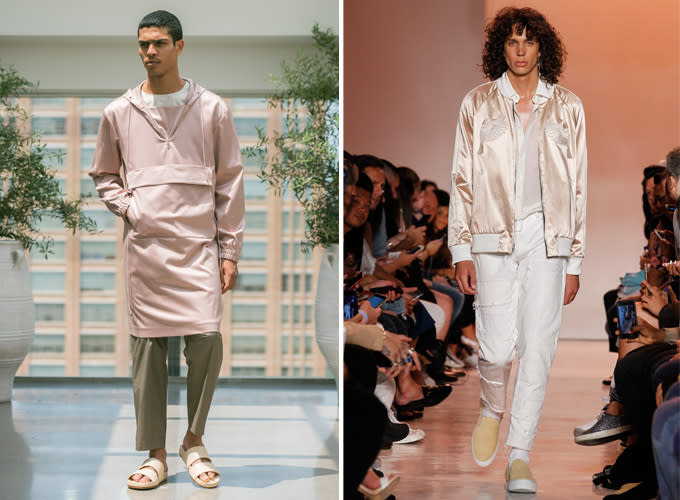 New York-based label Deveaux opened their show with a knee-length, pink silk anorak. "At first, we designed a short anorak in black cotton that felt accessible and sellable," says Deveaux head designer Andrea Tsao. "But, when we saw this luxe stretch silk, it was just a 'should we just go for it?' moment for all of us." And go for it they did, also using the same fabric in a shorter Harrington jacket. "The dusty, muted pink we used in our collection represents a shift, where men are starting to become more comfortable with expanding their color palette," Tsao adds. "The shade of pink that we chose feels luxurious, but also wearable, and we are of the belief that it is no longer exclusive to women."
Taylor Okata, who styled the Deveaux show, agrees. "Pink is fun, and most people are looking to wear color as the seasons change," he explains. "It also challenges the stigma of pink being a gender-specific color. Men are getting more confident in the way they dress, and colorful outerwear will portray that the most."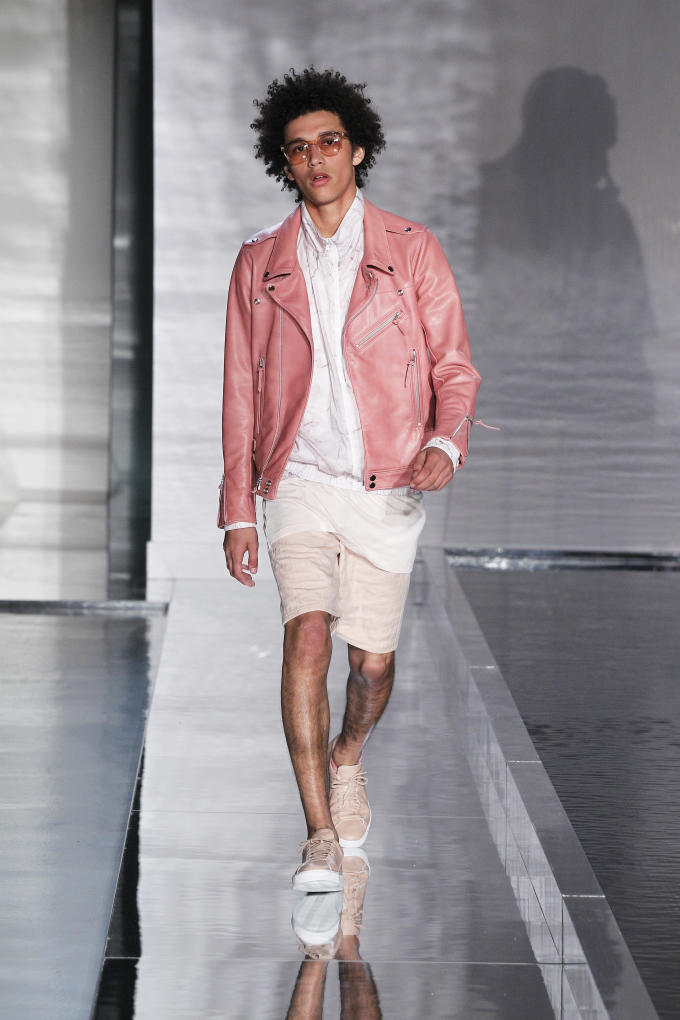 If you're unsure about how to incorporate a rose-colored coat into your own wardrobe, Okata advises not to overthink it. "Depending on the shade of pink, it's a colorful choice without being ostentatious," he says. "This color also looks great with black or denim, which probably all guys have in their closet." Looks like the only remaining question may be which one to buy when these pink pieces start hitting stores next year.