UPDATED 6/15/16: Graphic designer Patso Dmitrov has announced on Twitter that he will be releasing another rap-inspired jersey. This time around he's dropping the jersey that takes cues from Frank Ocean's Channel Orange album cover. The jersey will be available for pre-order on Dmitrov's website starting on June 16 at 12 p.m. PT.
See the original post from 6/01/16 below.
When people got their first glimpse at Patso Dmitrov's rap-inspired basketball jerseys, they immediately hit up the graphic designer demanding to know where they could cop one. Unfortunately for them, however, the jerseys were just illustrations and were not intended to be produced or put up for sale. But that all changes this month.
"The demand for the jerseys was crazy," Dmitrov told Complex. "I received over 200 emails in less than 24 hours with people asking me how and where can they get one. At that time I had no plan to actually make them, but after seeing how much people wanted them, I decided to try and see what I can do to make it happen... It took me some time to get in contact with the right people, who backed me up 100 percent, but fortunately for me, I did and here we are today."
Dmitrov ultimately linked up with LiveMixtapes.com, the company that enlisted him to create Future's Purple Reign jersey. With the company's assistance, he began to work on the production of five pieces inspired by well-known album covers. And he decided to kick things off by releasing a jersey based on one of the biggest rap albums of the year, so far.
"I like Drake a lot, I think he's a great artist and I had already made some mockups for If You're Reading This It's Too Late and Nothing Was The Same, but VIEWS broke so many records commercially and I personally enjoyed that record a lot, so I wanted to pay homage to him," Dmitrov explained to Complex. "The initial plan was to go with the Acid Rap based one, because everyone is in love with that one and I get messages about it all the time, but the element of surprise about starting with a jersey I have never even hinted about was something I wanted to do more."
Chance the Rapper fans shouldn't worry, though. The Acid Rap jersey will be released following the VIEWS drop, as will the jerseys inspired by Nas' Illmatic, Freddie Gibbs and Madlib's Piñata, and Frank Ocean's Channel Orange, the latter being Dmitrov's favorite.
"The album obviously plays a role, because I truly love that album, but I think the simplicity of it is what puts it on top of my list," he said. "I mostly wear plain T-shirts and clothes in general, and for me personally that is the one I would enjoy wearing the most. It's purely based on my personal taste and what I would feel best about wearing myself."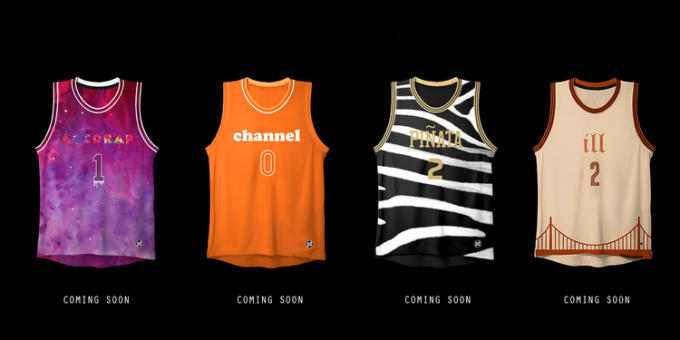 Dmitrov, who's also the creative director for sock brand Bread&Butter, said he had to strip down several of his initial jersey designs so they would not feature any exclusive logos that belonged to artists. He explained that the pieces are more of an homage to the album covers, rather than an exact copy, as the colors, motifs, and fonts are what really make the references clear. This approach can also been seen in the Nike basketball sneakers he designed, which were inspired by popular cartoon shows as well as famous album covers. Of course.
"I'm a big music enthusiast and hip-hop is my favorite genre," Dmitrov said. "I was thinking how no other genre of music has a connection like rap's with basketball. I have always thought the gap between hip-hop and basketball should be bridged even more, because it's every baller's dream to be a rapper and vice versa."
The Drake VIEWS jersey is available for pre-order today on Dmitrov's website. And be sure to keep your eyes peeled for the other jersey drops later this year.