A few days ago, Kanye West was photographed alongside Chance the Rapper and Drake wearing a black skull cap and a slouchy long sleeve shirt with "CPFM ADULT FLIMS" sprawled across the front. CPFM, for those who don't know, stands for Cactus Plant Flea Market. The name may bring to mind thoughts of sniffed-out grunge bands or literal flea markets where you cop secondhand goods, but it's far from either.
Cactus Plant Flea Market isn't exactly new, and Kanye isn't the first celebrity to co-sign the brand. Designed by the elusive Cynthia Lu, who was a former Complex intern and later worked with Pharrell at Billionaire Girls Club and then at i am OTHER, CPFM was initially posted on cactusplantfleamarket.com on Jan. 1, 2015. Early on, the site only featured animated GIFs of behind the scenes images of Pharrell getting a haircut backstage, onstage in front of roaring festival-sized crowds, and more intimate shots of him in the studio and with friends like Karl Lagerfeld. The first product we'd see—a yellow T-shirt with an embroidered cactus—was posted via Instagram on March 23, 2015. The caption for the photo read: "CACTUS PLANT FLEA MARKET FOR ANTI SOCIAL SOCIAL CLUB," hinting at a forthcoming collaboration with Neek Lurk's paradoxical introverts only social club (read: clothing brand).
A major appeal of the brand, aside from its mystery, is its fluid and eccentric combination of type and playful graphic imagery, with both embroidery and screenprint at play simultaneously in some instances. This unique design style is applied to staple streetwear pieces including hats, hoodies, headbands, long sleeve shirts, and tees. Travis Scott was seen performing in what appears to be a washed navy velour shirt with tonal Cactus Plant branding across the front, a throwback fabric that references streetwear brands of the past, but isn't often used for shirts.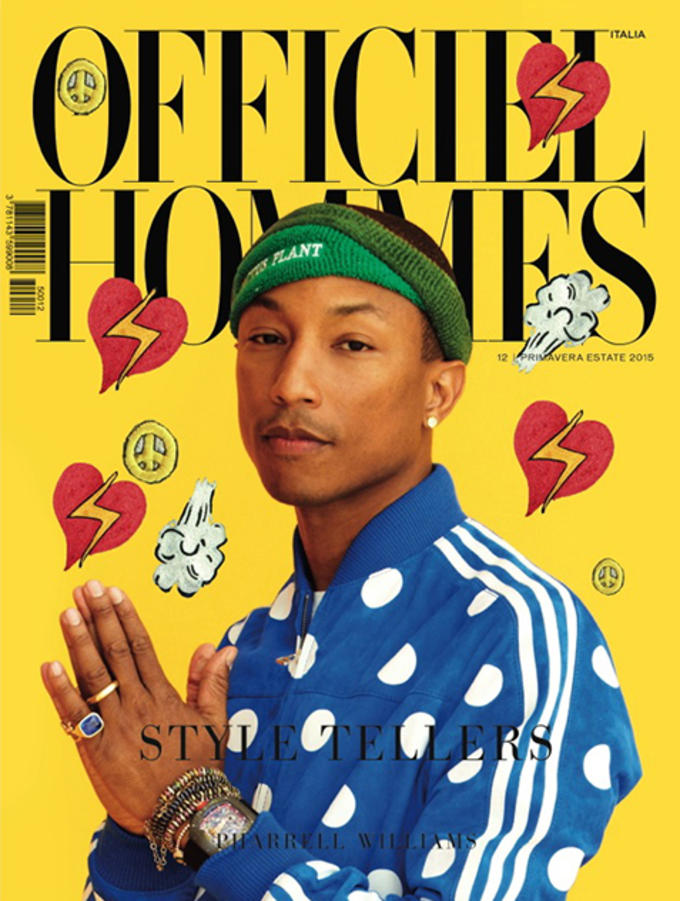 Expectedly, given Lu's connection to him, Pharrell was one of the first celebrities to wear CPFM. And he's worn it a lot. On the January 2015 cover of L'Officiel Hommes Italia, Pharrell sported a blue polka dotted adidas tracksuit, draped in fine wrist and hand jewels, and a pair of green headbands bearing Cactus Plant Flea Market embroidery—worn criss-crossed, And1 mixtape style. Skateboard P has since been spotted in the studio with Tyler, the Creator donning a blue long sleeve featuring abstract mermaid imagery with "cactus plant flea market" spelled out in playful embroidery along the contour of the figure. He also wore the brand during his Super Friday Super Bowl 50 performance, at Chanel's Fall/Winter 2016 show, and on NBC's The Voice. These days, you'd be hard pressed to find an image of Pharrell where he wasn't wearing a piece bearing a variation of the CPFM logo. He certainly has great admiration for both the brand and its creator, even giving Lu a shout out during his CFDA Fashion Icon of the Year Award acceptance speech in July of last year. "And to my assistant Cactus, listen to your instincts and the people who see the quality in your differences. You might just make a difference," he said. 
In a little over a year, Cactus Plant Flea Market has eased its way into the spotlight, however hesitant Lu may be to step into the spotlight herself. By now, it's been co-signed by Cara Delevingne, Travis Scott, Big Sean, and Tyler, the Creator. In June, 2015, CPFM shared an image alluding to collaborative efforts with Nigo and his Human Made brand. In March of this year, Lu announced that CPFM would be sold at Dover Street Market New York's new dedicated T-shirt shop alongside Palace, Stussy, Brain Dead, and more—a huge stamp of approval for any up-and-coming label.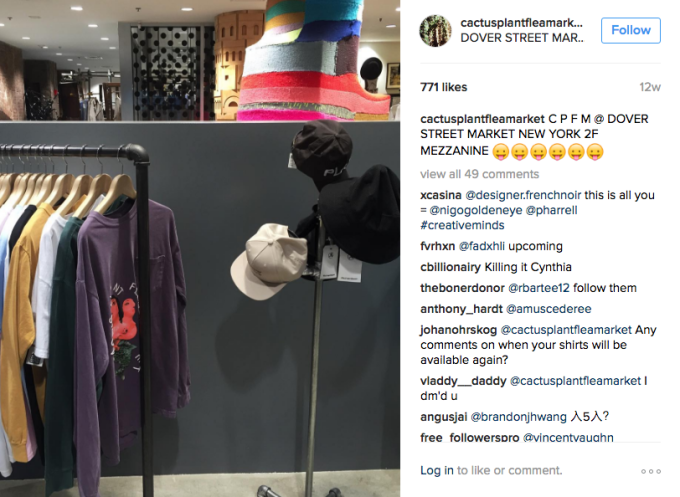 All of this is to say: Cactus Plant Flea Market may be a relatively new brand, and an up-and-coming label even, but it's definitely one to keep an eye on. And if the success it's seen so far is any indication, you may want to do more than just look out for it: A DSM salesperson reported during a recent visit that the brand had been well-received by its customers, and often sells out quickly. Might be time to make a purchase while you still can.