"Hey man, can I push the interview to 2 p.m.? I have to run to the city to cut Jay."
For as long as I can remember, barbershops have always been an integral part of urban communities and a place where love, hip-hop, and so much more have always converged. It was no different when I made the trip out to The Shop, headquarters of celebrity barber, Johnny Cake.
When I arrived and walked through the doors of The Shop I felt like I just stepped into a refined version of every barbershop I'd ever seen. Marbleized floors and pristine white walls resulted in a luminous space that was booming with the sound of some Young Thug. On the walls, you are met with original artwork and photographs, some of which were taken by Johnny. His subjects included Chris Rock, Pharrell, DJ Clue, and the guy responsible for my interview with Johnny taking place a little later than scheduled. But, you'll never hear me complain about coming second to my fellow Brooklynite, Jay Z. 
While awaiting Johnny's arrival, a barber by the name of Ak made me feel right at home. He began by throwing some questions my way and quickly gave me an introduction to The Shop and its team. The atmosphere made it feel like a second home, despite the fact that I live two rivers away. This is one of the many reasons that Barbershop: The Next Cut has so much potential. The film reflects an element of community familiar to many. You can get the latest in music, sports, and political discourse, all while getting lined up and interacting with a bevy of characters and personalities.
When he arrived, Johnny evoked that same feeling of community and familiarity. He greeted me and then proceeded to catch up with the customers and the rest of his team before we got to the interview. Johnny shared how far he's come and how far he's gone, with the help of a pair of clippers and the desire to continually get better at his craft.
Photography by Gregston Hurdle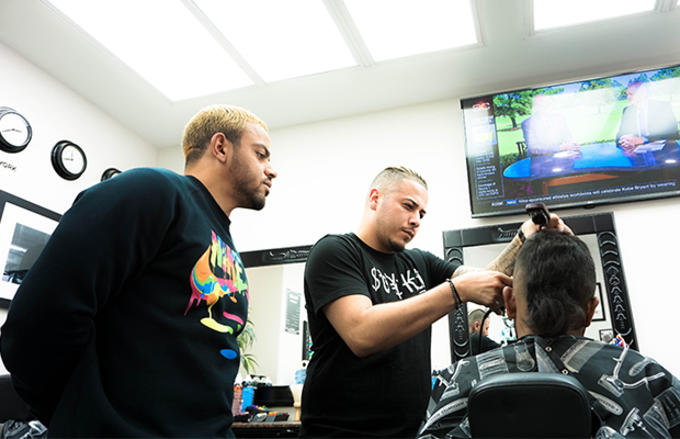 Where are you from originally?
I'm from the Dominican Republic; I was born there and was raised in Englewood, N.J.
How did you get into cutting hair? Growing up how important was it for you to have a fresh cut?
I picked it up…I was never really into getting crazy haircuts, so I never stayed sharp like that, but I had friends that did. One time we were at a friend's house, and he needed a cut—he had an afro at the time, my man Jamal. The friend's house we were in, his father, in the basement, had clippers but didn't have any clips. I was like, "Yo, I'm into drawing, I think I'd be able to shape your afro. Let me try it?" He was like, "Aight, as long as you don't screw it up!" I gave it a try, and I liked it. I liked how it was like sculpting. It was like art for me. That's how it all started.
Touching on that, you were into art before cutting hair then?
I was into drawing, sketching, and stuff like that. I was always drawing instead of doing my homework when I was younger.
I see. One of the guys was showing me all of your photos of Pharrell, Jay, and even the painting you did out there…
Yeah, I did [painting] it to a certain extent, nothing too serious. I would just draw a lot. I was always known for drawing on jean jackets back in the day, and people would pay me to create designs and stuff. Coming off that, the whole barbering thing was another art form to me, and I fell in love with it, you know? Just like with my art, I was able to channel what was going on in my head to my hands. I became good at it, and I felt like I could continue to progress with cutting hair as much as I did with my art.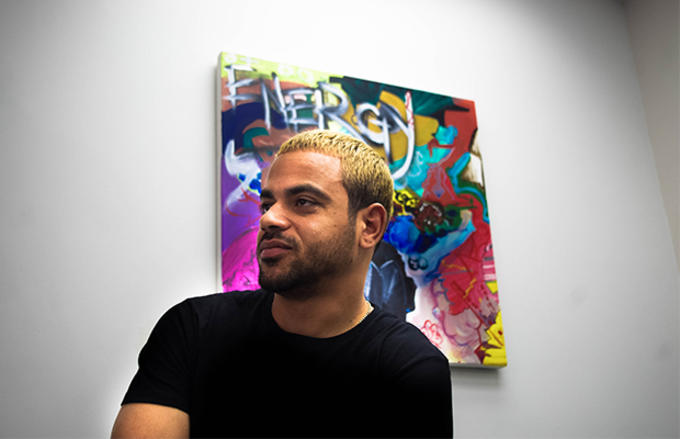 Since that first instance, where the homie let you line up his fro, how long have you been taking cutting hair seriously?
That must have been when I was 15…. [Chuckles.] I'm 38 now; I've probably taken it seriously ever since then.
What would you say was the key to your success or what about your particular style made folks gravitate toward you?
I get asked that a lot! I always say that I'm just as nice as the next guy. I just take my craft seriously, I pay serious attention to detail, and it's truly about how I carry myself. Being someone's barber is a personal thing. With the clients that I have, I'm going to their comfort zone at home or in a private setting where they need someone that's going to be low-key and not going to speak on it. Besides that, I am nice! [Chuckles.] But, it takes a little more than just being nice. You know what I'm saying? It's about the way you carry yourself; that's one of the reasons that people mess with me.
It's funny you say that, as you know, in the hood the barber shop is that place where you can go and get that attention to detail when it comes to your look, but it's also a place where you can meet, watch sports, discuss politics, etc. How important is it to maintain that traditional vibe with The Shop?
It's critical! Like you said, that's the core of the barbershop. It's a place where the community comes together. Somewhere people come to talk about whatever. Everything comes up at the barbershop and in my case, I just wanted to clean it up a little bit. With The Shop, I wanted to create a clean atmosphere where even a mother and her kids can feel comfortable when they roll through. I pay attention to things like that. If there's a kid in the shop, we change the music accordingly and take into consideration that we are a barbershop but also consider and respect our clientele. We get a lot of compliments, people notice it, and they appreciate it.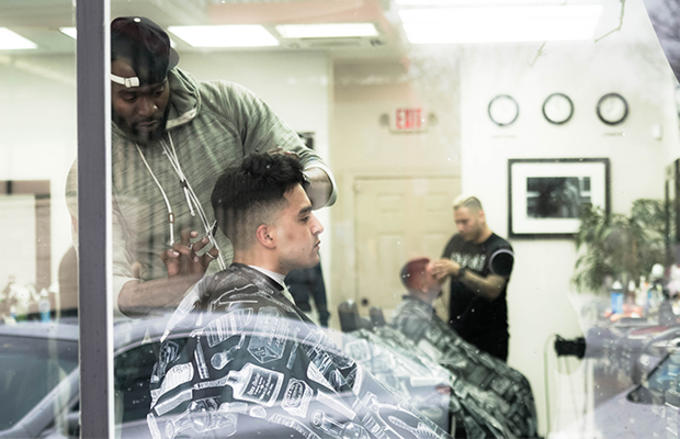 Yeah, I did peep that. As soon as I walked in Ak and a few of the other guys introduced themselves, sparked some conversations, and gave me a warm welcome. I even got a tour of The Shop, and Ak showed me your photographs of Jay, Pharrell, and the team on the walls. How important is it to have a team like this that can represent The Shop and maintain that aesthetic while you're on the road?
Putting this team together was something that I worked hard on. There's 10 of us, so there's a whole collection of characters that need to mesh. It took a while, but it's about keeping them all on the same page. I let them know that it's my place as much as it is theirs. When I'm not here, I want them to be the face of The Shop. It's only going to benefit them; that's one of the primary things I make clear to them. Everybody's on board with it, and it's very important. I travel frequently, and I'm also not the boss that's going to be on top of these guys all the time. When things come up, I feel comfortable leaving my guys because they know how things should run here or the environment we want to provide. It should always be clean.
You just mentioned how much you travel, and if people check out your IG, you can see that. Sometimes you'll post photos from recent trips but also some throwback stuff that provides a look at the folks you've worked for. Where are some of your favorite places that you've gone?
I really liked Brazil that was a fun time. I was out there with Pharrell and Snoop for their video. He also did an indie movie that never came out…. I'd say we were out there for about a week. It was dope! Everything from the girls, the scenery, everything. It was a great experience…I definitely want to go back. Africa as well!
What is it like to get that call, like, "Yo, we need you! We're about to fly you out."? You've cut the hair of Pimp C to Kanye to Tyler the Creator, and pretty much everyone in between.
It's still very humbling, man. It's dope that people are willing to pay for my expenses and my daily rate to fly me out for a haircut. It's crazy…I think about it every time that I'm on a plane. There are so many barbers out here, but I'm the one that gets to do something like this. It's a blessing and still to this day I'm very humbled when I get those calls. A lot of people think that it's just a lot of fun times…there were, at the beginning of my career when I was able to stay and hang out, you know, but these days I have to get back to The Shop. Sometimes I do it all in one day, and it's a lot of traveling. It can take a toll, but it's definitely humbling, and I feel grateful every time.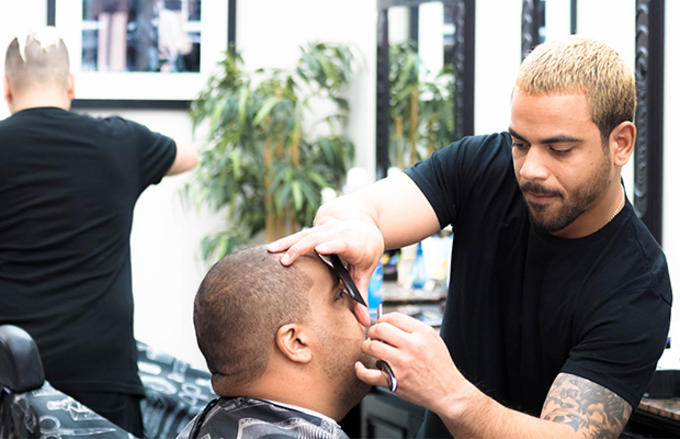 Ak was telling me about the first shop you guys had around the corner. Have you ever had any of your celebrity clients roll through The Shop, out here in Englewood?
Yeah, we were on the corner before. Pharrell and Jay have come through on numerous occasions. We've had DJ Clue, Fabolous, DJ Envy, Charlamagne, Patrick Ewing, Courtney Lee…a bunch of guys have shown love at The Shop, man.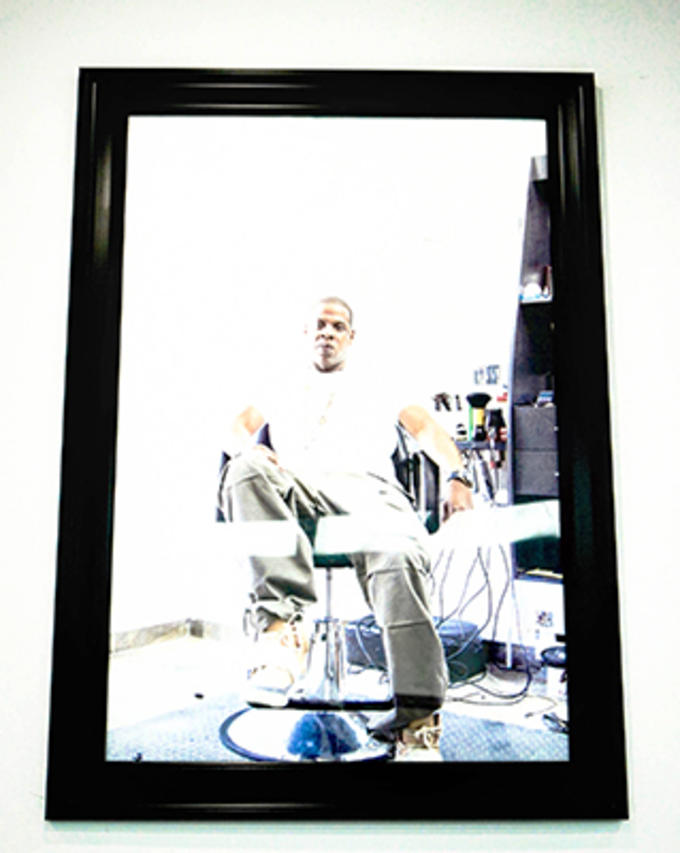 What's one of the wildest days you guys had down at The Shop?
The craziest experience that involved a bunch of people would have to be the day Wesley Snipes, Charlie Murphy, and Tracy Morgan came through…
—Wow. In one day!?
Yeah, in one day. [Chuckles.] While one of them was getting a haircut, another would come in. That was a real fun, dope, funny day. They were going off! I had a crazier situation, though…
—Word?
Yeah, one time with Damon Dash—I started off with Damon Dash, he was my first celebrity client—I was in Harlem, he was doing a film out there. He was running late, so he asked me to meet up with him to give him a cut on set. When we get to the set there are no trailers, so he had me cut his hair in his Suburban. That was really crazy; he was sitting like halfway out while I'm halfway in, and I'm trying to do things in the middle of the street. I think that was one of the craziest experiences, so far.
In Barbershop: The Next Cut, we see Calvin and his crew doing a lot to help with the reclaiming of their community. I saw that you guys also do a bunch for the Jersey community, can you speak on that a bit?
Absolutely! I feel that the reputation that I, and my team, got was from the community, so I always feel that it's my duty to give back. They're the ones that started me off, so I find ways to do things for their benefit. What we're doing right now is going out to the YMCA in Paterson. They have a residency there for the homeless, so every Monday we head over and provide haircuts. We dedicate two hours of our time and 10 of us show up and set up. With the team that we send over, we can take care of 30 or 40 people. It just feels good to do those kinds of things. They're very appreciative.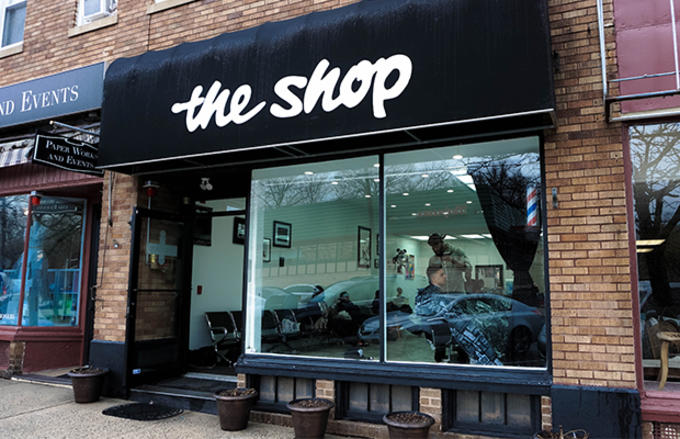 This article is part of a series sponsored by the new movie 'Barbershop: The Next Cut,' in theaters April 15. The series sheds light on barbershop culture and the longstanding staple it has become in America.