White Mountaineering and adidas Originals might not be the first brands you think of when discussing the historic Pitti Uomo trade fair in Florence, Italy. But in the festival's 89th edition, it's the collaboration between these two labels that's holding the spotlight as Pitti's "Designer Project."
Starting with the Stan Smith back in March 2015, White Mountaineering designer Yosuke Aizawa has been providing his outdoorsy-yet-high fashion perspective to adidas' esteemed list of designer collaborators. Add in the input of adidas Originals Creative Director (and designer of the recently released NMD and Yeezy 350) Nic Galway, and the adidas Originals by White Mountaineering collaboration collection is a combination of archival tradition and technical innovation.
The collection also features three all-new shoes, which are the real highlights here are some of the biggest highlights here the Whilst Formel 1, Seeulater, and a laceless version of the aforementioned NMD.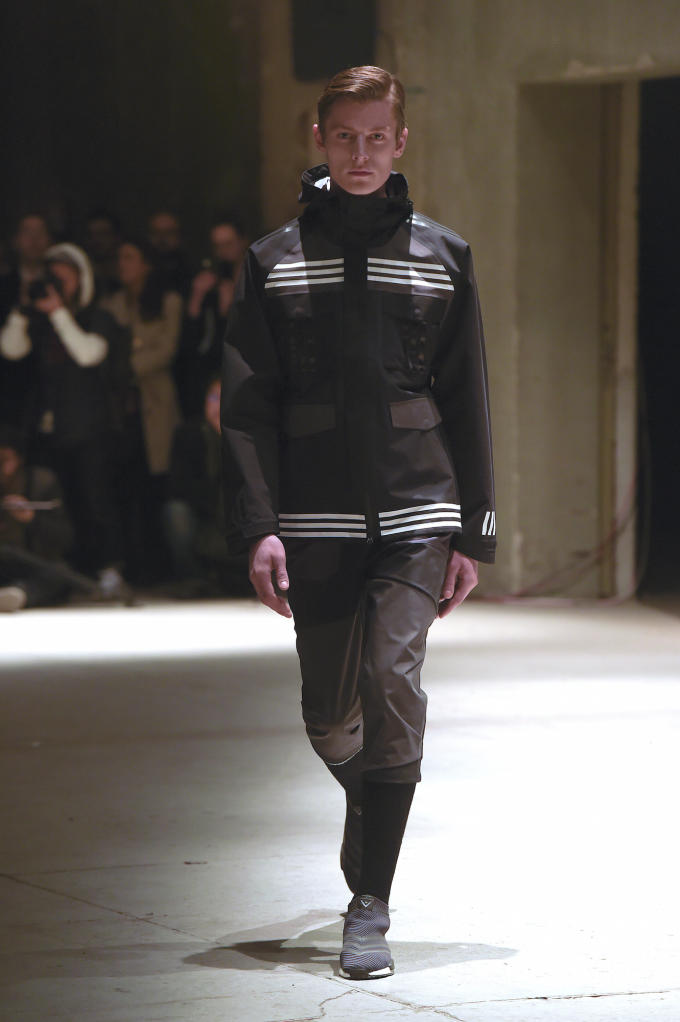 While the pair have shown on the runway before—the most recent outing occurring during Spring/Summer 2016 Paris Fashion Week season—Pitti Uomo has a special significance, since it's the first place Aizawa presented White Mountaineering in Europe, back during Pitti Uomo 83.
Hours before the pair were slated to present the latest chapter of their partnership, we sat down with both Aizawa and Galway to discuss what goes into an adidas collaboration and what to expect from the collection. 

What was the genesis of this collaboration between adidas Originals and White Mountaineering?
Nic Galway: When we partner with people under adidas Originals, we really want to think about what the two partners can bring to the table, making sure that there's something really unique and that there's a story to tell. We really loved that White Mountaineering stood for a progressive approach to design from Japan, but also had respect for the past. We felt that it was great fit.
Has being in Florence for Pitti Uomo directly affected the way that you've designed this Fall/Winter 2016 collaboration collection?
Yosuke Aizawa (via translator): There's so many ways to present adidas Originals, especially when it comes to different cities. From New York, to London, to Paris, there's different ways you can present adidas Originals. You can easily get inspired by those other cities. But presenting the adidas Originals collaboration in Florence—in Italy—it's an opportunity to present our two brands in a new way. With my personal history at Pitti, it's meaningful to present this new collection here.
NG: I think where we share a really clear agreement is that—from Tokyo or Germany—you shouldn't be stuck to old concepts. We see on the streets here a change. The old rules of "this is how Italy looks," or "this is how Paris looks," or "this is how New York looks" are all being broken down. Just the people on the plane flying were a real mixture of styles. We don't want to reference just one city. We'd rather say, "Look at this amazing building we're sat in [the Stazione Leopolda] here in Florence." You can only get something like that here in a city with such a rich history. So the idea is to show something that jars with that; to inject something unexpected into something historical. It's a much more modern way of thinking.
I think it's really important that no matter where you present, whether it's here or in New York, that you'd don't get stuck in how you should present in that city. Rather, say, "What is the opportunity to do something new?"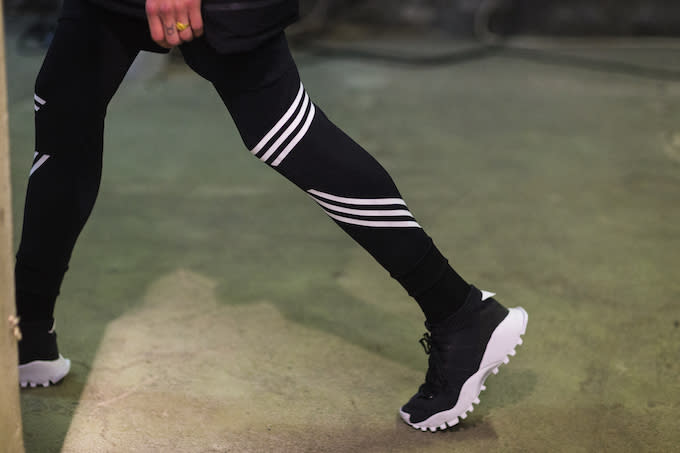 What should we expect from the collection thematically and aesthetically?
YA: What I'm always seeking in fashion is the atmosphere or the ambience—creating and honing that brand image. What we are showing is the mixture and conversion of many differing elements.
NG: Thinking on what you mentioned before about Pitti and tradition, I think all of the past—at one point—was created for the future. I think it's our role to be who we are separately and together. We're not going to pretend to be someone else. One of the reasons we're here today, and one of the reasons Aizawa was invited three years ago, is to say and show that we're part of the future. I think that in many cities—and I think of Comme des Garçons and Yohji Yamamoto in Paris— that when they first showed, they didn't play the rules of what had come before. Now they're looked upon as a big part of fashion in that city. I believe that's one of the reasons were here, to say, "The future isn't written yet." We want to represent that change.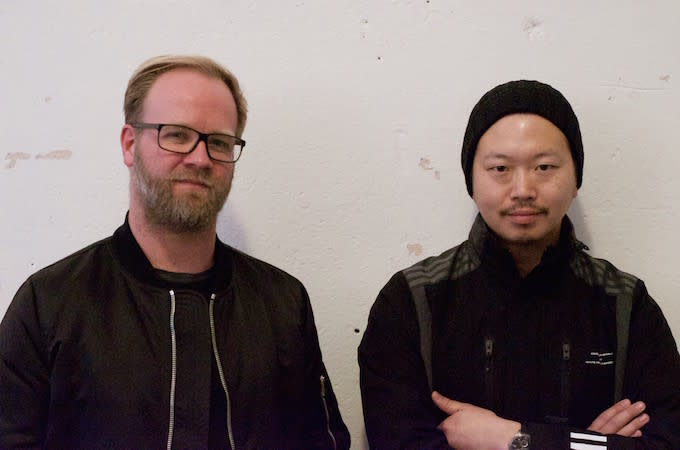 What would be the signature apparel pieces in this season's collection?
YA: When I was researching in the archives of adidas Originals, there's so many variations on the tracksuit. There's so many different ways to place adidas' "three stripes." Noting the adidas triangle logo, I wanted to take it and modernize it for today. There's different cuts on several of the pieces that all go back to the idea of three stripes.
NG: There's an influence from liner jackets and lightweight inner insulation. Here it's mixed with archival detailing.
Looking over at the samples, I can see that there's a variety of influences on the footwear, including the NMD. Can you explain what the signature sneakers are in this collection?
NG: Like we've discussed, the shoes represent either the past or the future. One is based on the retro shoe, the CU Later. For that shoe, even the name reflects the time it was created back in the mid-1990s. It was time where people were moving away from the die-cut, very clean shapes; it was an era where anything was possible. It's an era where you started to see very progressive unconventional looks. Aizawa and I both really like that era. It wasn't particularly successful, but it was so iconic that we felt we needed to bring it back. We knew we didn't want to bring it back as a retro, so we mixed that with a deconstructed Primeknit upper. It's familiar but it's absolutely new.
If you look at this collaboration's take on the NMD, the NMD City Sock, the whole idea of the NMD is that you can recognize items of adidas' past, but you can get closer and see it's something completely new. Together we're able to take that idea into new territory. The in-line version of the NMD is closer to something from the archive. In this collaboration we take it one step further by removing the lacing, go for an abstract "three stripes," and use the Primeknit materials. Regardless, you still get a link back to who we both are. For both models, they represent the future, but they do give you a link to the past. It's something different from our in-line collection.

This partnership began as a sneaker collaboration, and only recently has added an apparel offering. What prompted the decision to add apparel to this collaboration?
NG: At adidas, we like to get to know people. We talk a lot about collaborating with people, and I think that you don't know at the start if it's going to work or not. I think it's much better if you start small, get to know each other, and if you see that there's a strong connection, you discuss what to do next. That's why we started with a simpler iconic sneaker and from that discovered that this a great thing.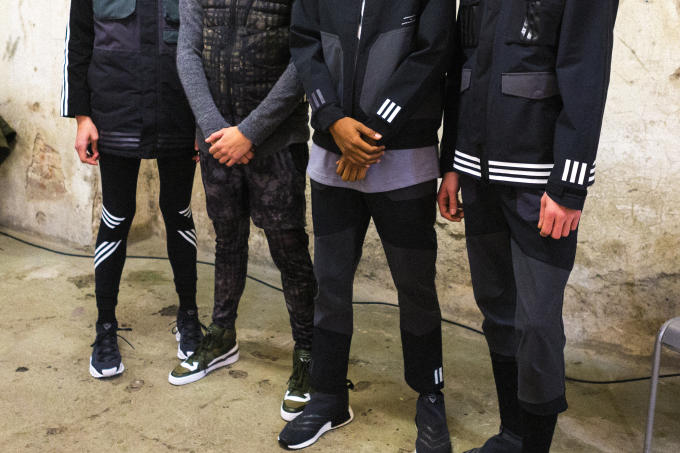 adidas is a very large collaborator, and they have many designers that work with—including Rick Owens and Raf Simons. How do you maintain White Mountaineering's attitude when designing with a brand as large as adidas?
YA: First of all, it's important that I understand adidas Originals and the direction that they want to go when we start working together. I think one of my strengths is developing distinctly fashion items that also incorporate elements of the outdoors and sport. It's not sportswear. This collaboration is a way to combine my fashion design with the history of sportswear found within adidas.
NG: We have some great fashion partnerships, and it's one of the reasons that I think we're pioneers in this space. But the reason we do that, beyond product, is to see how others view us and our brand—especially through fresh eyes. We're always very careful with the partners we pick because we want to make sure that each partner brings a unique viewpoint, but at the heart it's always complimentary.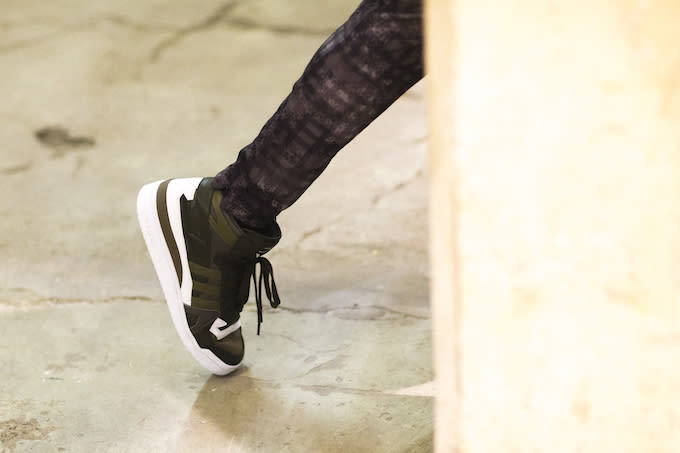 Nic, in an earlier interview, you told Complex that you "always do collabs for a reason" and use them as an opportunity to learn. What are the lessons you've learned from each other in working on this collaboration, and this collection specifically?
NG: Looking where we are today, I'm always so open to seeing how others work. To be able to be here at Pitti and to put on the event we're putting on today, it's very unique. It's not expected of a brand like adidas. The reason I think it's so good is that White Mountaineering surrounds itself with a tight community of creators. We worked together with friends in the White Mountaineering family for the production of the show. It's not like we've brought a big corporate structure on, we've looked at the product, the brands, the casting, the music, and seeing the whole world of White Mountaineering beyond the literal products.
YA: There's so much I've learned from adidas, it's hard to list it. But, adidas has a very strong will to make new things. Even more, they have the power to actually bring their vision to life. If adidas wants to make something new, even if there's trouble or obstacles, they can accomplish it.
NG: We're prepared to take risks. They're calculated risks, of course, but it helps when you have the right partner. I like to see our brand through someone else's eyes, through someone who I trust and respect. It allows me to go back to the management and say, "we should should do this." Many big companies have the resources required, but not many have the conviction and the pioneering spirit. In the past, people may have been scared of events like this, but keeping in mind the last year of great press that adidas has had, it comes down to the fact that people are looking for something new. They want a brand to step up. White Mountaineering and adidas don't want want to settle for the status quo.