Nic Galway, VP of Global Design for adidas Originals, is on a hot streak. He's designed some of the brand's most popular lifestyle sneakers in recent times — the Yeezy Boosts, Qasa Racer, Tubular, and Pure Boost — and he's back with his newest creation: the NMD. The sneaker itself references three different shoes from the 1980s: the Micropacer, Boston Super, and Rising Star, but it features a Boost midsole and Primeknit upper. It's not the same footwear that was created in the brand's heydays. Instead, it's forging a new path for adidas and making sure that the company can nestle itself in the space between contemporary sportswear and those who simply want a clean pair of shoes.
The sneakers were created to accommodate the modern life: someone who's constantly on the run and wants something comfortable and stylish, but it took looking to adidas' past to make this project a reality. Don't get things mixed up, Galway is not here to simply recreate the brand's past successes — he's defining what adidas Originals means right now.
The release of the NMD is right around the corner, with it becoming available on December 12 for $170. But we also received the opportunity to talk Galway about the sneakers as well as what it was like to work with Kanye West and how it's helping his current work and adidas.
How long have you been working on this sneaker? 
We started the NMD about a year ago, but the process that brought us to the shoe started much earlier. It was about worrying less about fashion and more so about being much more connected to who we are and celebrating that. I wanted my whole creative team to be proud of the Three Stripes history, but to not be stuck in it. This is the moment where we brought it all together.
How did you choose to draw the inspiration from the three different silhouettes?
What I encourage my designers to do is go into the archives and look at the old shoes, but don't take them to their desk— you'll get stuck in the sneaker too much. What's great is if you just go back to your desk and remember what you saw, and the bits you remember are the most important ones. I referenced shoes from the '80s because it was a time of forward, future thinking. The Apple Mac was about to be launched, computers were about to take over, and we did the Micropacer with wearable technology. Shoes looked that way because those were the processes of the day. They weren't designed to look that way, that was just the best way to make them. I liked the idea of taking those elements, which are familiar, but mixing them with the most innovative things of today. Everything on the new shoe has a purpose. There's nothing there you could take away and have the same sensation of the product.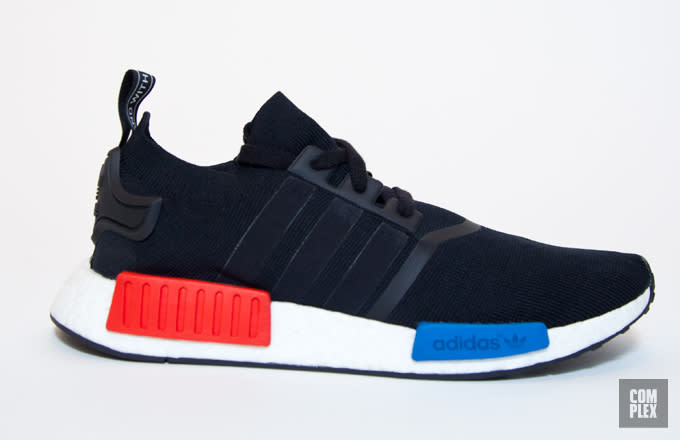 Adidas has a lot of fanatics globally who are diehards for the brand's archival shoes and trainers, but you want to grow the brand, too. How do you balance building the brand but still it keep authentic and appease those fans?
I think it's all about authenticity and integrity. I was born in the '70s, so I have a strong connection to those moments in time. But if you look at any shoe in our archive, they were all pioneering. You can either celebrate that moment in time by being very true, but it's also a rich part of our history to not be precious. There are a lot of shoes in our archive that are cut up and turned into something else by many generations of designers. To not do that today would be rough. Provided you do it with integrity and you do it to make something new, you should do it. If you're just trying to find a small opportunity, then maybe not. If you act with confidence, then I think people will understand. It might not be for them, but they respect why you do it.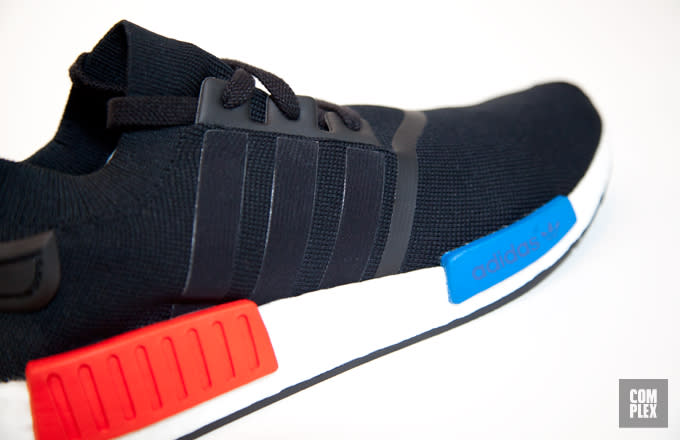 What's it like to create something that feels like a real sportswear shoe, but it's not made to run in?
It's an opportunity. I've been with the brand for 16 years and seen it grow. But I've seen the way we live our lives change as well. There are so few brands that can have a rich history and be absolute pioneers. With adidas, we have products that are on the best athletes in the world, but we still have a rich history. What I love about the brand is that they genuinely give me the freedom to play with that. A lot of what we're doing with our performance products is influenced by the cultural connections and the innovations. Everything we do with adidas is rooted in sport, but we connect it in different ways.
What do you plan NMD to do for the future?
I wanted to talk about what "new" could mean. New was the innovation: the Boost, the Primeknit. But it was also this idea if you have a busy life and you travel and you're always away from home, you can only take so much with you. Those products have to perform multiple tasks. I wanted to create a product that you feel comfortable in, both how you look and how you feel. The idea of connecting the past in the future is part of my design direction.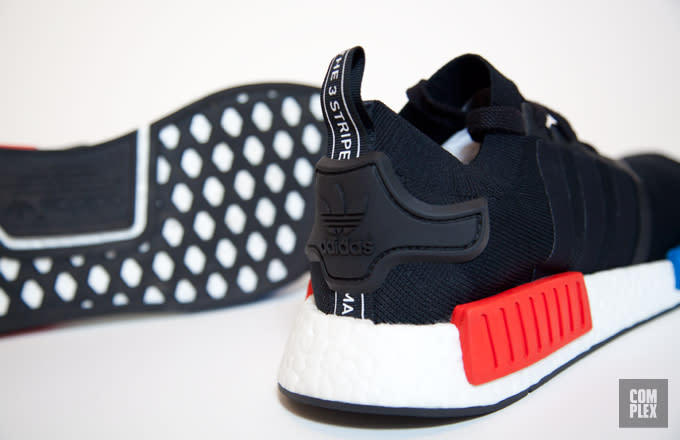 What's the difference between designing a shoe with Kanye or making product on your own?
Kanye's very interesting. Everyone has an opinion on him. I've been very lucky to get to know him over the past two years. We've traveled a lot together, wherever he's at in the world, we try to connect. I can tell you one thing about Kanye: He has a very strong vision and he works incredibly hard. He doesn't expect someone to go away and do something for him, he wants to be a part of it. I strongly believe, as a designer, the best way to create is to have an open mind and understand opinions, and Kanye's great at that. He loves to surround himself with other creatives. It's not that he doesn't have the vision himself, he's just very clear that collaborating is a great way of progressing. I find it really interesting, because I can learn so much from this.
The Yeezy Boost was a big success, did that make the acceptance of this sneaker easier?
We've done some very interesting collaborations over the year, but we always do them for a reason. It allows us to learn, to challenge ourselves and the consumer. I always believe a great partnership should be where, individually, you couldn't do it. But when you come together, you can create something that really makes a difference, whether that's Kanye and ourselves coming together, and we can give him the opportunity to use Boost and innovative materials and can bring his vision and cultural connection to life. That's something that we couldn't do individually, and you'll see that in many of our projects. There's the learning that we can people see the potential, that we can also do it ourselves. I think that's very apparent right now that there's a real confidence that when we're true to who we are and we connect to what people liked about us in the past but keep innovating, that's the right approach for us as a brand right now.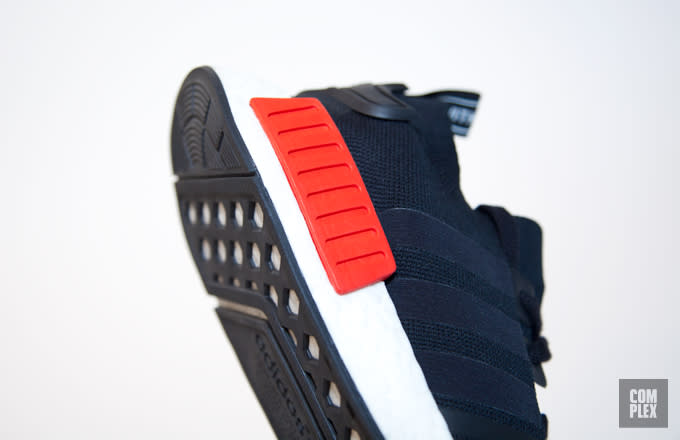 What inspires you outside of footwear?
I follow sneaker culture, but I use it to give me a feeling of where we are to date. I don't use it as an influence. I find it interesting what the status quo is. I'm always interested in seeing how people adapt our products into their everyday lives, just to see how culture adapts to what we create. I love making things. All the shoes I've done in the past year, I haven't really drawn them. I love drawing but I much prefer making. The Qasa, for example, I sat home one night and I made it, I didn't draw it. The products with Kanye, too, we worked very free in how we worked together: Photoshopping, sketching, mocking up. It makes things you couldn't do through the traditional processes. I'm always looking around me. I spend most of my time in hardware stores and making things. That's my inspiration, and everything around me helps me navigate that.