Remember H&M x Balmain? How could you forget, what with the over-the-top fashion show that brought out everyone from Kendall Jenner and Gigi Hadid to The Backstreet Boys. While the collection is certainly ostentatious, that means it's also right on the nose as a faithful reproduction of Olivier Rousteing's Balmain aesthetic. Clearly, the rest of the world thinks so too—why else would people go this crazy to get their hands on a piece from H&M's latest designer collaboration? 
It all started at last night's H&M x Balmain preview shopping event, where even Vogue icon/caftan GAWD André Leon Talley had a difficult time making his way through shoppers and attendees. (It also didn't help that he was trying to make his way through a crowd of people while Drake and Future's "Jumpman" was playing, but I digress).
With the international release kicking off this morning, videos came pouring in of the sheer chaos that descended upon H&M stores—and employees—worldwide. 
Shoppers in Korea waited for six days, queuing up to make sure they didn't miss their shot at the collection.
In Balmain's home city of Paris, shoppers sprang into action the moment they let them out of the line up.
But those experiences seem almost mundane when you factor in the gate-crashing antics going on with shoppers at other locations. In Poland, there were major traffic jams when entering H&M's brick and mortars.
In a mall in Dubai, people literally fought their way under a metal grate in order to beat others into the shop.
In Turkey, it wasn't just that people sprinted into H&M—they stuffed their arms with product; a group of women nearly coming to blows over a leather jacket.
It's not like this pandemonium escaped stay-at-home shoppers either. If you couldn't tell, most of the collection is sold out—especially online. Even before the actual release, H&M was having major issues on it's website, releasing a statement addressing lags and crashes.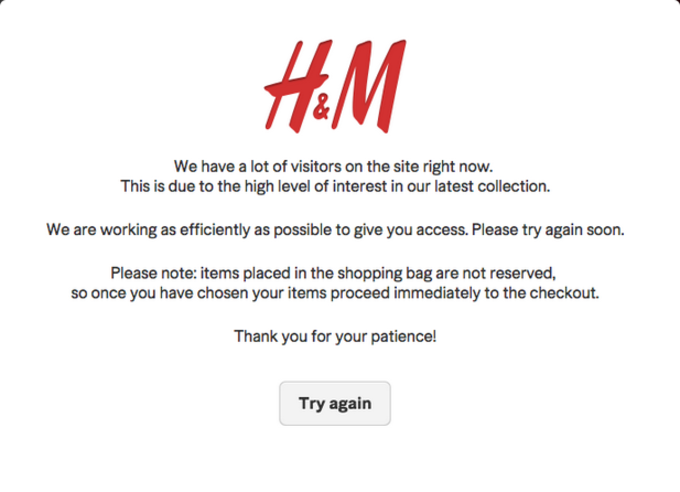 Long story short, if you see an H&M employee today, make sure you offer to buy them a drink. They earned it.