You can't talk about contemporary street art culture without mentioning Melbourne, and you definitely can't talk Melbourne street art without mentioning Meggs. For the past dozen or so years, the redheaded member of the Everfresh Crew has been putting on for his city (and all of Australia) with murals and gallery shows all over the world. Blending what he has learned on the streets with his education in design, Meggs has cultivated a very distinctive and energetic style that finds the sweet spot between order and chaos.
Meggs recently teamed up with Supra for their #AlwaysontheRun campaign. We caught up with the street artist to talk about his recent "Rise and Fall" solo exhibition, mural at his Stolenspace Gallery in London, and his tips on how artists can use social media and other tools to get up in the digital age.
Are you able to talk about what you guys are doing over in Detroit right now?
We came to Detroit to paint a small mural as an introductory piece for 1xRun and Eastern Market's mural festival, Murals in the Market. The festival takes place in September, but I am booked up during that time, so I came to paint a small mural to unveil during the press conference to launch the festival. I'm also working on a few prints and some other projects with 1xRun.
How long have you been there?
We've been here a few days. I haven't started the wall yet, but they want it finished by the 7th (of July) so I'll probably start on Friday.
I heard you say in an interview once that you don't like describing yourself, so how would you describe your work to someone who is blind or visually impaired?
My work is a mixture of form and abstraction...using more painterly and illustrative techniques to create an image, but then abstracting it with a lot of paint movement, splattering, expressive strokes, and color to break it apart. It's like a fractured moment in time with a lot of movement captured in an image, which is usually a lot of images tied together—almost like a little collage.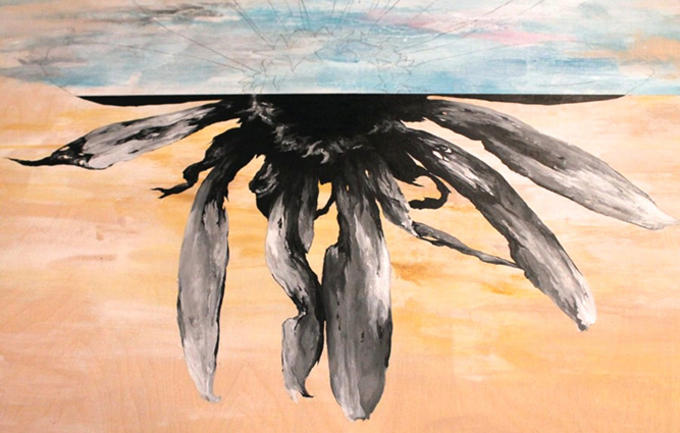 And your background is in design? Where'd you go to school, and did you work in the industry before becoming a street artist?
The Swinburne University School of Design in Melbourne. I graduated in 2000 and got into street art around 2003–2004, so I had a few years working professionally as a designer before I started putting stuff on the streets under the name Meggs. I worked in design a few years after that, on and off throughout.
And where did the name Meggs come from?
Meggs is based on "Ginger Meggs," which is an Australian comic strip character created in the 1920s by cartoonist Jimmy Bancks. It's one of Australia's oldest-running comics and it's basically about a redheaded troublemaker. It's like the Australian "Dennis the Menace."
Does your degree in design help you with your current work? Or do you find that you have to switch your mindset?
I think it definitely helps it. The fundamentals that I just told you about, like image construction, color, and even typography, are things that I learned doing design. Now, in a lot of ways I try and break out of that more and more. I try to have a little more confidence with abstraction and being freer outside of the design. I definitely approach things more like a designer/illustrator, where I like to start with a firm composition or idea in mind and then work out from that, so it's half-planned and half-intuitive.
The design work also helps with other aspects of being an artist, as far as understanding how to use computers, emails, new social media tools—with a good grounding for those kind of things, or even the work-related tasks, it helps me professionally.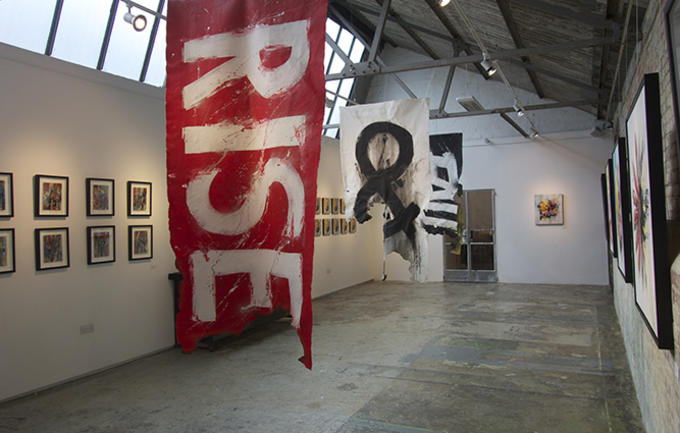 So what's the biggest difference between studio work and working on walls? How do you go about them differently?
I think the biggest difference is logistics. Obviously, when you are working on walls everything is on a larger scale, so you have to deal with the extra logistics of just making it work—whether it's the paint you need, lifts, or the environment you're painting on. It's easier to control an image in the studio. When painting on a wall, a challenge that I always face is creating little details, nuances, and textures on a larger scale. A lot of the time the smaller details can be lost because of the surface or the environment.
I tend to plan out walls in a more structured way than I would a canvas because it's easier to change things when you're on a smaller scale. There are usually time constraints, and weather and other things you're dealing with. Conceptually, when I approach walls now, I try to do something that I feel has a cultural relevance to the reason that I'm there or the community that I'm painting in. With public work, you're creating it for the people that live there, and see it, and connect with it on a daily basis, more than you are for yourself. Once it's done, you are usually off to a different location.
A big part of being any type of artist these days is using the Internet and other digital tools to your advantage. What are some things that aspiring street artists should know about getting up in the digital age?
Production is one of the most important things—just make the artwork. This process is one of the keys that provide any artist with inspiration and the result that comes out of it makes for happy mistakes or surprises, which make you want to try it again. Both consistency and experimentation with the mediums that you are using is important.
You should also understand the value of getting your work out there. There's a fine line between overly pushing it down people's throats, but self-promotion is important. Good documentation of your work is very necessary, as is doing your best to use all of the tools available to communicate the message of your work. Instagram is probably the number one social media tool that we're all using right now.
Connecting with other artists, attending festivals, and traveling are important. Meeting other artists and seeing how they work, and building that connection and network of people—it provides inspiration, but it also helps you become a part of a society of artists. Speaking of connecting with artists, it seems like every creative person that I've met who's from (or lives in) California knows every single other creative person in the state...[Laughs]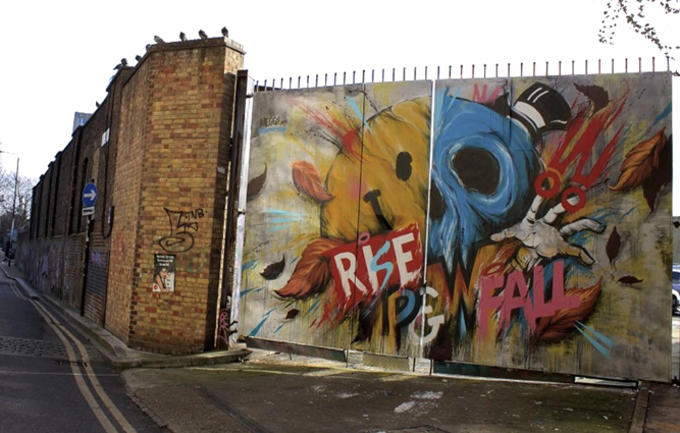 Which, for the most part, is not how the art scene is in New York. What do you think it is about the West Coast that brings you guys together? Because it's not exactly a small place...
No, it isn't. I don't know why that is. Even though places like L.A. or San Francisco are big cities, I feel like there is still a limited amount of hubs where the action is taking place. There are a handful of key players in the gallery world (or the curation world) that are making big moves, but I don't know why that would necessarily be in California—that's an interesting point. Also, there seems to be a lot of stuff happening on the West Coast, so if you have continual events I think the chances of people attending a certain number of them...maybe it's just a numbers game.
I think the Urban Art Movement has also gained a lot of momentum along the West Coast, so maybe that has something to do with it. People are more likely to attend things and you run into them at some point in time, and that's all it takes because you're kind of aware of them. The social media is stronger over there. Especially out of L.A., the significance of social media and just media in general is pretty high, promotion wise, so maybe people are more aware through those channels.
I went to London recently, which is one of the key hubs of street art, and I was kind of surprised that everyone was very focused on social media. If you put a piece up in London, the amount of social media spread it gets is really large compared to putting a piece up in a place like
Melbourne.
Who are some of the younger artists that you've been paying attention to?
I'm not very aware of other artists' ages, but I am really enjoying the work of Bicicleta Sem Freio (Brazil), Andrew Schoultz (LA), Etam Cru (Poland), and Fintan Magee (Australia). 
Do you go back to Australia often?
I've only been in the states a couple years now and I made it home once last year to speak at the Analogue Digital conference, and to catch up with the rest of the Everfresh crew and other friends and family. As it stands now, I don't know when I'll be back next. There are a couple of projects on the horizon that may fly me back, but they are currently up in the air.
How did this partnership with Supra come about?
Through Vivianne Lapointe of LiveFAST Magazine. I worked with them here and there, and she contacted me and asked if I wanted to be involved. Supra is a brand that I've been aware of for a long time. I've worn Supras in the past and respect the guys like Chad Muska through the skateboarding industry, so I was down to be involved. It seemed like the right fit timing-wise because the #AlwaysOntheRun campaign ties in with the fact that I've been traveling a lot for the last year and a half.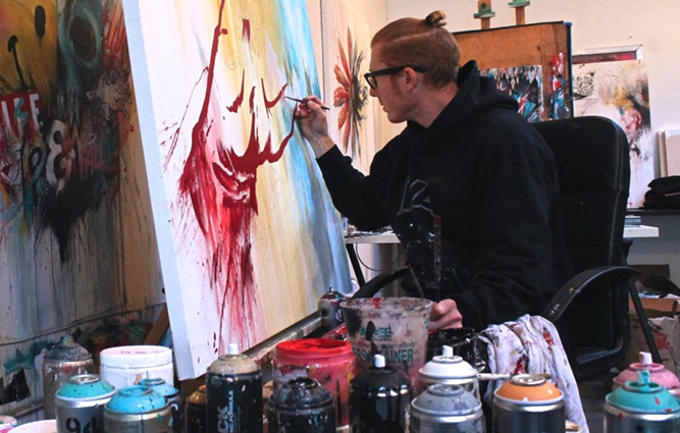 What's one bit of advice that you would give to an aspiring artist?
Always continue to push and advance what you do and create. Like I said before, the process is very important. It inspires me to move forward and do something else. The danger is getting caught up in your own fears and getting static.
Awesome. So what's next for the House of Meggs? What projects are on the horizon that you can talk about?
Next up is the "PangeaSeed Sea Walls: Murals for Oceans Festival" in Mexico in July. There's a pretty big roster for the mural project, which will take place on the island of Cozumel. Past that, I'll be spending a bunch of studio time on a mini-solo show I have through Thinkspace Gallery at the "Beyond Eden" art event at the L.A. Municipal Art Gallery, and some more projects with 1xRun. That's all I can mention now before things get locked in.