Bobby Abley is two years into his own brand and has already received props on both sides of the Atlantic. Most notable was Spring/Summer 15's Little Mermaid themed collection that featured a neoprene Ursula—the film's chief antagonist, a 'sea witch'—sweatshirt (Selfridges has an exclusive all gold version) and a more attainable Ursula iPhone case. In a world where Young Thug wears Ugg, and rappers wear skirts, crop-tops and dresses, the kitsch-kinda-matriarchal Ursula print seems like a smart play.  That sort of standout but functional aesthetic is what colors Abley's designs. Having logged time working with Jeremy Scott and Alexander McQueen, the designer combines an athletic, streetwear base with a wholly individualistic, sometimes-slightly-dark-but-playful sort of appeal, owing something of a debt to the way Jean Charles de Castelbajac and Iceberg worked cartoon and toy-like ideas into their own takes on casual classics. Take his logo as prime example: it's an imprint of a teddy bear.
This February, after showing as a part of London's MAN show for three seasons, Abley upped sticks to New York. After a very small two-or-three look preview in London, the designer headed to New York City's Milk Studios to show his full Fall 2015 collection as a part of the MADE Program during New York Fashion Week. Here, we get real with the designer about what went into that move, his new Concrete Jungle collection and what it's like collaborating with the likes of Money and Disney.
How was casting models here in New York as opposed to London?
I was actually a bit surprised at how good some of the guys here are; I sent our casting director—and Hood By Air collaborator—Kevin Amato, photos of some of our favorite models from London and he managed to pull guys that could be of the same family.
Are the working methods in the two cities different?
It's way more stressful than I anticipated in New York. I mean my PR is really good and everyone that I've worked with has been super helpful but I think everyone in New York is sort of too organized for me. In London you can sort of wing it and do things very last minute. I've had shows where I was stitching all the way up until hours before the show, but there was no way or even space to do that here. So that was a big thing; finishing early.

Of course it was also hard to call in favors because I don't really know anyone in the U.S. In New York, no one does anything for nothing so it just became a different thing all together. The guys at Milk are amazing and very organized but I will admit I'm not. So it was sort of hard to keep on top of everything.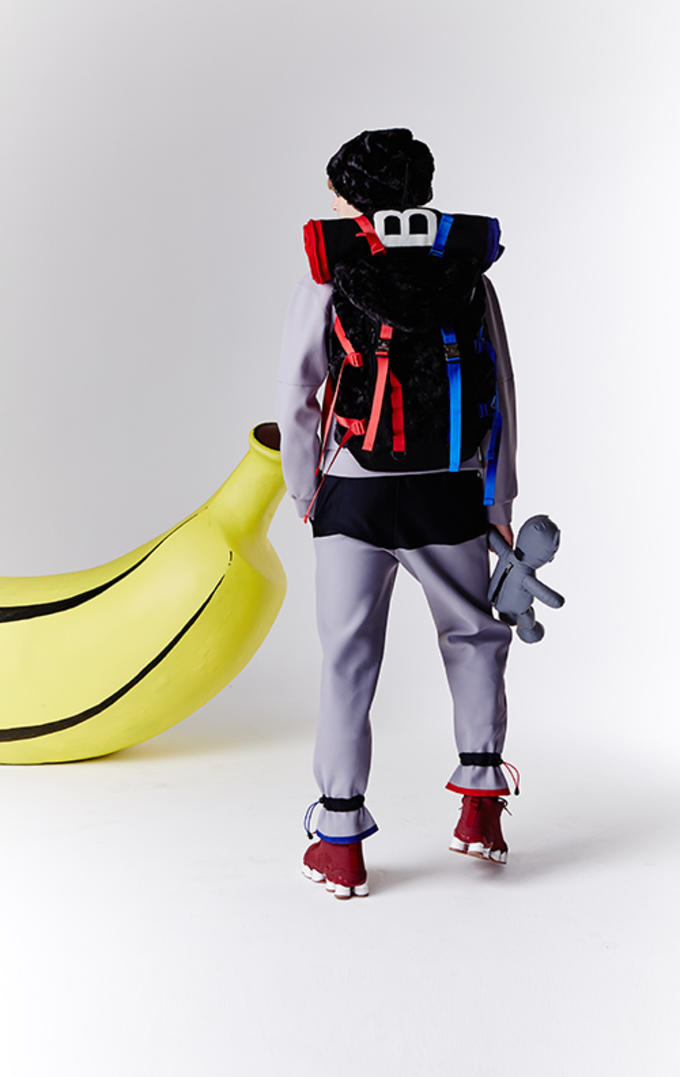 So what was behind the decision to show in New York rather than London?
Well Milk invited me over to show for their MADE fashion week program and it's a really good platform. Jeremy Scott—who I used to work for—shows at MADE and I think it's good, sort of like the MAN show in London. In some ways it might be even better. Recently my work has had a lot of attention from the U.S. and then MADE came up so I thought it was one of those things that was meant to happen. I mean it was a bit strange not showing in London but I'll be back there this summer.

What is it like going back to showing in a presentation style?
It's weird because first of all the clothes have to be immaculate.  On a catwalk you can sort of cut some corners because they go by so fast. But in a presentation things have to be perfect because people can get very close. I like the rush of a show. You work so hard for months and then it's over in like eight minutes. I think I love how fast it is; the model walks out, then they are on the catwalk for less than a minute. It's over in a shot and the world needs that. 
Let's talk the collection, where did you begin?
In New York actually. I was here in August for a holiday and I started taking pictures of homeless guys. I had been to New York before for like a job or something but I never really had time to take it all in as much as I did in the summer. The collection changed a lot but the starting point was definitely city workers and homeless people. You can imagine New York's buildings as like massive trees. That whole "Concrete Jungle" reference stuck in my head. I used some pinstripe suit references and stuff, then I thought about using a bit of actual jungle and really worked from that.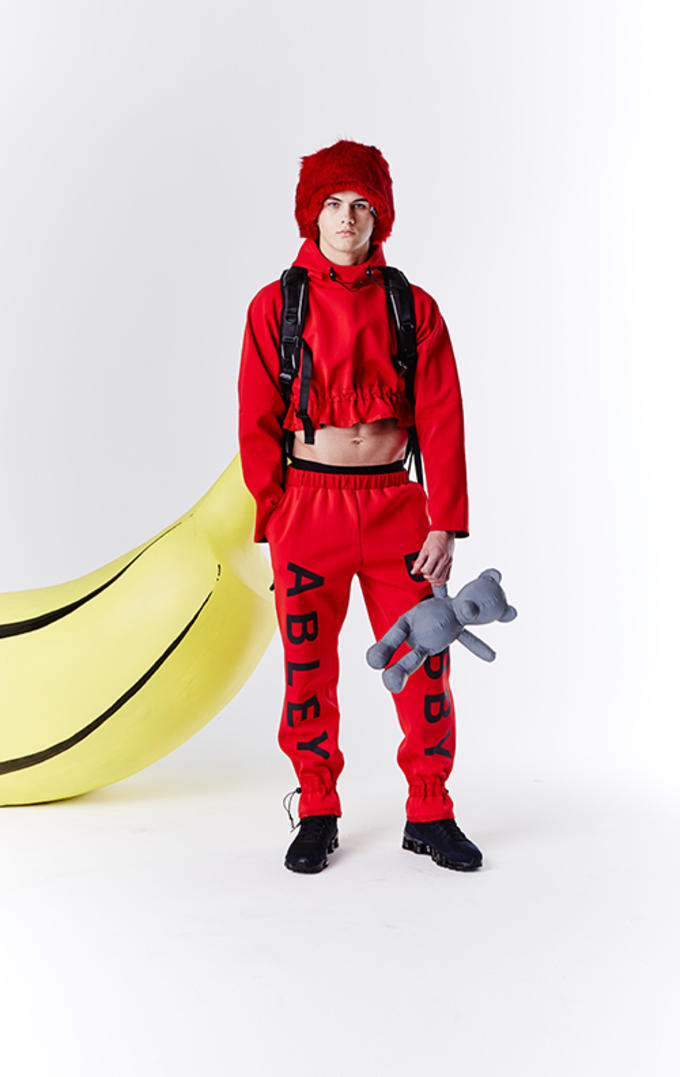 Would you have done the same collection if you had presented in London?
Probably not. This collection definitely was inspired by New York. Although that's not obvious, it's not like you're going to immediately see that it's New York-inspired though you will get that it's jungle inspired.
You're showing shorts even though it's a Fall/Winter collection.
Well I don't think it really matters any more. Between seasons I sort of take in as much as possible and then filter out what's not relevant to me. I'm not like this spiritual, conceptual designer that needs inspiring. I really just work from stupid little things like listening in on people's conversations in a coffee shop or something. Sometimes you don't know what they are saying but you catch little bits. I like to do things like that and jot it down, then I sort of pull in other references.
Do you think London designers have a different design sensibility just because of being brought up in London?
Yeah! I think London's menswear scene has developed quite fast and is a little ahead of itself sometimes. It's really a mix of old and brand new. That shows not just in fashion but also in like the buildings that are going up. Look at the The Shard next to The Tower of London. I think the fact that London is good at embracing both old and new really shows in all of the creative things that come from there. If you look at Milan and then look at London, even just the fabric choices are braver. I think the London scene isn't afraid to put out what they like as opposed to being too cautious or reserved. I think London is a leader in that sense.
You recently designed a collection with the Money Clothing. How was the collaboration process?
I've been pretty fortunate and the people that I've collaborated with are quite good people. I've found that the the way to make things work when you're working with other creative people is just recognizing that they are better at certain things. I'm not going to design jewelry when I can work with a jewelry designer that understands jewelry better than I do. Like I can't say to an 11 year-old brand like Money Clothing that I'm just going to do whatever. I have to appreciate what they are and then mush me into that.
And one of your biggest collaborations is Disney right?
Yeah, I did some stuff with them this season but I don't know if I can actually call it a collaboration, it's more like licensing or something. Over the past six or seven months our relationship has gotten quite good. I think they sort of trust me now and they saw me as more of a risk in the past. You know, my stuff isn't conventional Disney. Now, especially since the success of last season they feel like I sort of know what to do. It's really good.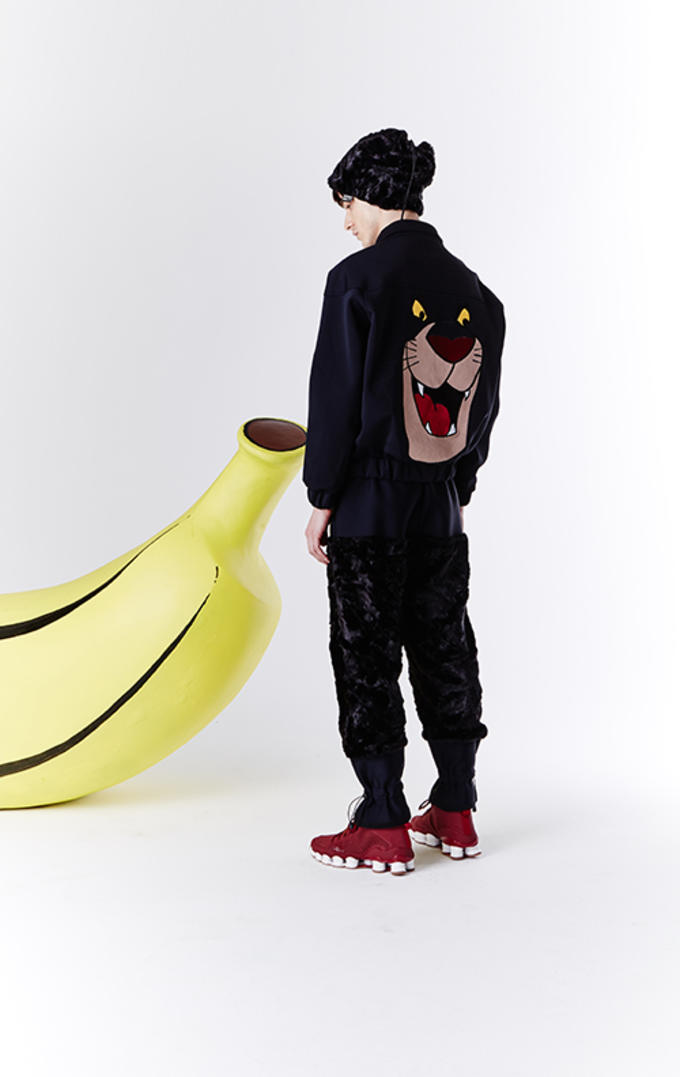 Will Disney be a part of your brand long-term?
At the moment I'm quite enjoying it. I've been genuinely obsessed with all of the Disney classics for quite a long time so it's nice to get my hands on Disney give it my interpretation and context. I love a lot of the Disney merchandise but I look at it and think that I would do it another way. So I like that I can do things how I want using Disney's imagery. They're a monster company so it's great that I can work with them but there's other areas I'll want to explore in the future.
You now have an area in Dover Street Market in New York, right?
Well it took a long time to get there. Dover Street is Dover Street so you sort of count your lucky stars when that comes your way. I made a three meter teddy bear which took a long time to stuff. The bear is made from the same neoprene used in the collection so it would all match, but it's such a hard fabric, once you stuff one arm, it's sort of difficult to manipulate.