Canadian design duo Dean and Dan Caten are facing serious backlash after unveiling their latest collection on Monday during Milan Fashion Week.
The Toronto-born twin designers, who are behind the Milan-based label DSquared2, are facing online criticism and potential boycotts after presenting their fall/winter 2015-16 womenswear collection, dubbed "Dsquaw."
Following the presentation of tribal-prints, blanket skirts, fur, wool ponchos, leather coats, and feathered accents, a series of posts appeared on the label's Twitter, Instagram and Facebook accounts using the hashtag #dsquaw. Critics immediately lashed out at the Canadian design duo pointing out that the use of the word "squaw" is both racist and ignorant; the word is considered a derogatory term for First Nations women. Other online critics slammed the collection claiming it "misappropriates aboriginal designs."
According to Patricia Ningewance, an Ojibwa language expert who spoke with CTV News, the term "squaw" comes from the Algonquin words for woman, including ikwe, iskwew, and skwe. "Its pronunciation was corrupted to 'squaw' and its present negative connotation resulted," Ningewance said.
The posts on Twitter, Instagram and Facebook have since been deleted.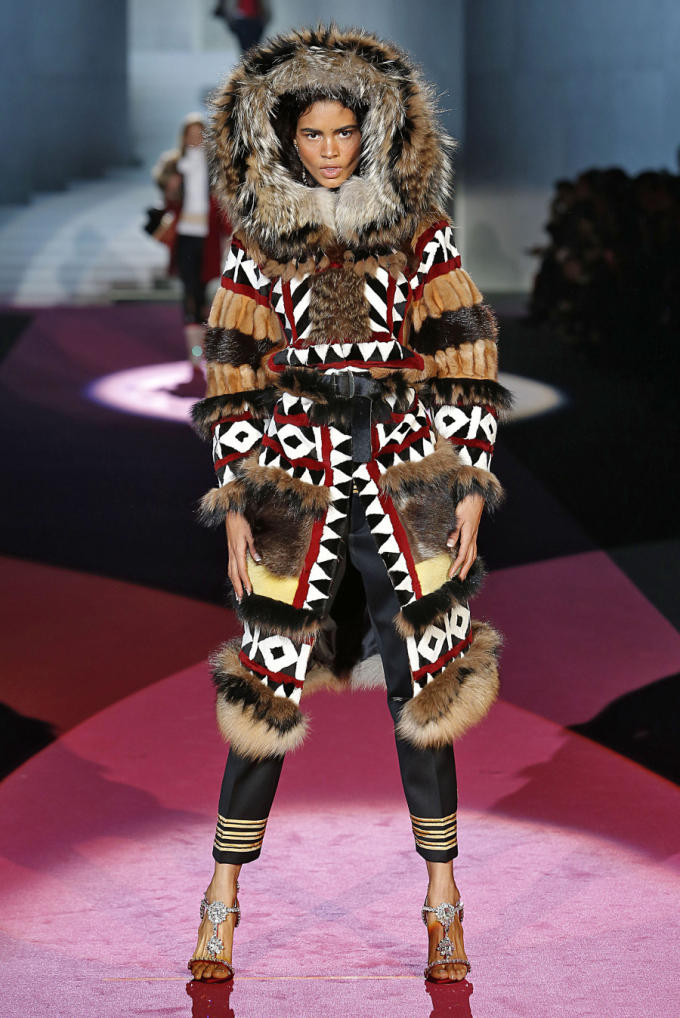 On DSquared2's official website, the fall/winter collection is described as: "The enchantment of Canadian Indian tribes. The confident attitude of the British aristocracy. In a captivating play on contrasts: an ode to America's native tribes meets the noble spirit of Old Europe."
The Caten brothers have declined requests for comment.