People Are Pointing Out Drake Curse Is Lifted After Tyson Fury Beats Deontay Wilder
The heavyweight trilogy boxing match between Tyson Fury and Deontay Wilder took place at T-Mobile Arena in Las Vegas a year and a half after their second bout.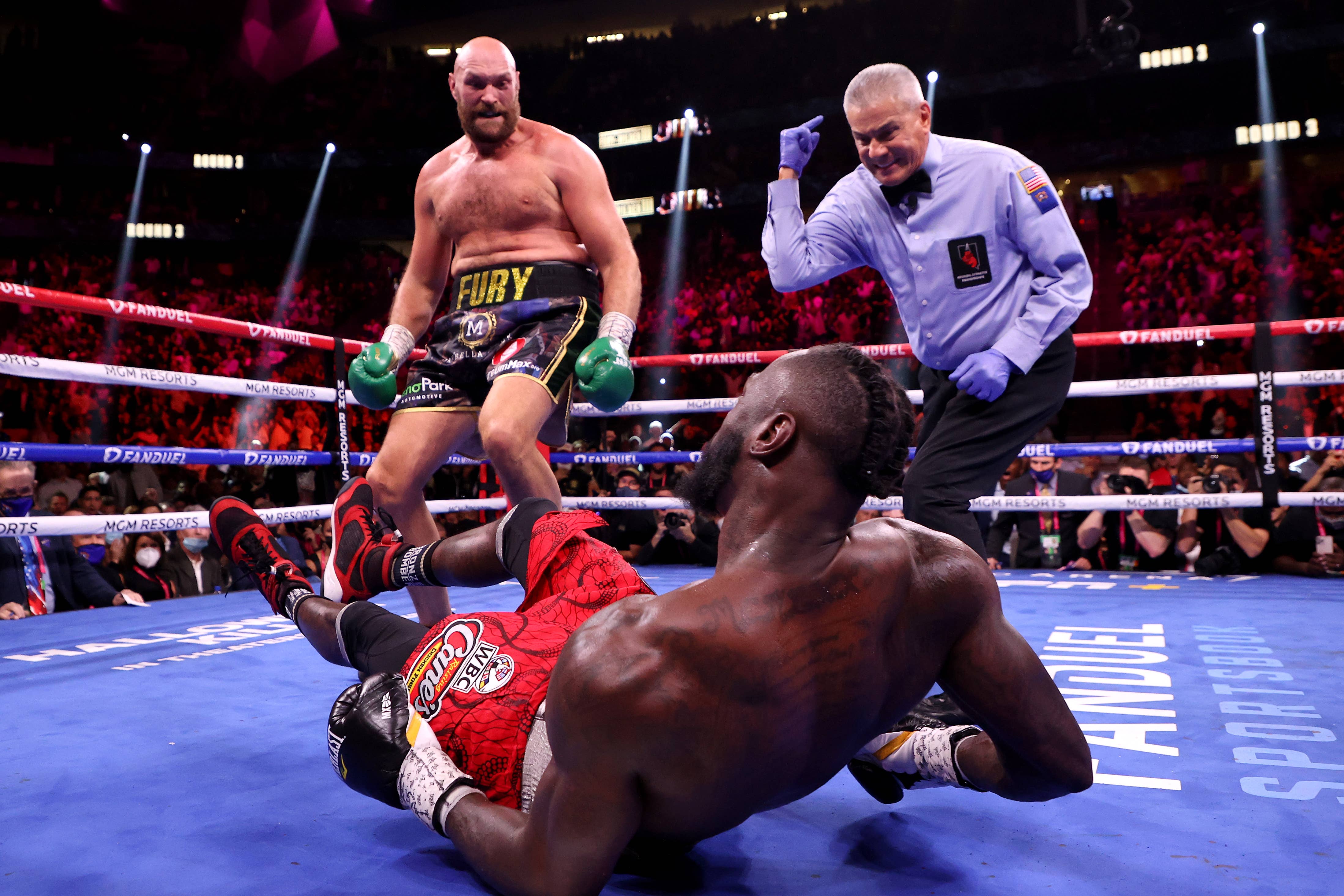 Getty
LAS VEGAS, NEVADA - OCTOBER 09: Tyson Fury (top) reacts after knocking down Deontay Wilder in the third round of their WBC Heavyweight Championship title fight at T-Mobile Arena on October 09, 2021 in Las Vegas, Nevada. (Photo by Al Bello/Getty Images)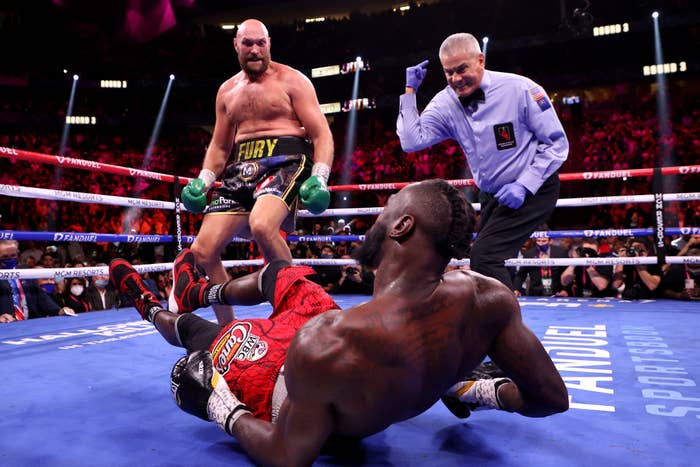 The much-anticipated trilogy boxing match between Tyson Fury and Deontay Wilder has come to close with Fury beating Wilder in a TKO victory.
Going into the third fight, Fury was the odds-on favorite to win with the WBC and lineal heavyweight championship on the line. Earlier this week, Fury spoke with Complex Sports' Adam Caparell, explaining his gameplan was straightforward. "I'm not interested in showing any skills. I'm interested in smashing Deontay Wilder's face in. That's it," he said. "There's nothing to talk about. I'm here to kick ass Sea Bass."
The last time Fury and Wilder faced off was February of 2020, which resulted in a TKO win for Fury in the seventh round to earn a record of 30-0-1 (with Wilder's record going to 42-1-1), and famously included the Gypsy King tasting his opponent's blood. The lone draw for both, of course, was from Fury and Wilder's first match in 2018.
It looks like Fury broke the Drake curse this weekend, winning against Wilder after 11 rounds.
Drake favored Fury to win and sent him an encouraging message before the match, which had fans worried. "This is a video for the most psycho man that I know. He's mad in his head, but he has the purest heart, nicest guy. The Gypsy King, the scariest man in boxing," the rapper said.
"I'm wishing you the best of luck this weekend, brother. I want you to just go out there and continue the legacy. Do what you do. We all love you because you're relentlessly yourself." He continued, "So go out there and get the work done and afterwards fucking sing your heart out or say whatever the fuck you want to say."
Fury responded, tweeting, "Trust me @Drake, once I'm done with him he'll be running through Alabama with his woes! God Bless You G."
If you need a quick reminder, the Drake curse happens when an athlete or team suffers a loss when Drake either takes a picture with the athlete or wears the team's merchandise. Check out some fans' reactions to Fury's victory below.