Shaq Says Today's NBA Big Men Are 'Powder Puffs'
In our sitdown with NBA legend Shaquille O'Neal, he spoke on the Golden State Warriors chase for immortality, today's NBA bigs, and his 2001 Lakers.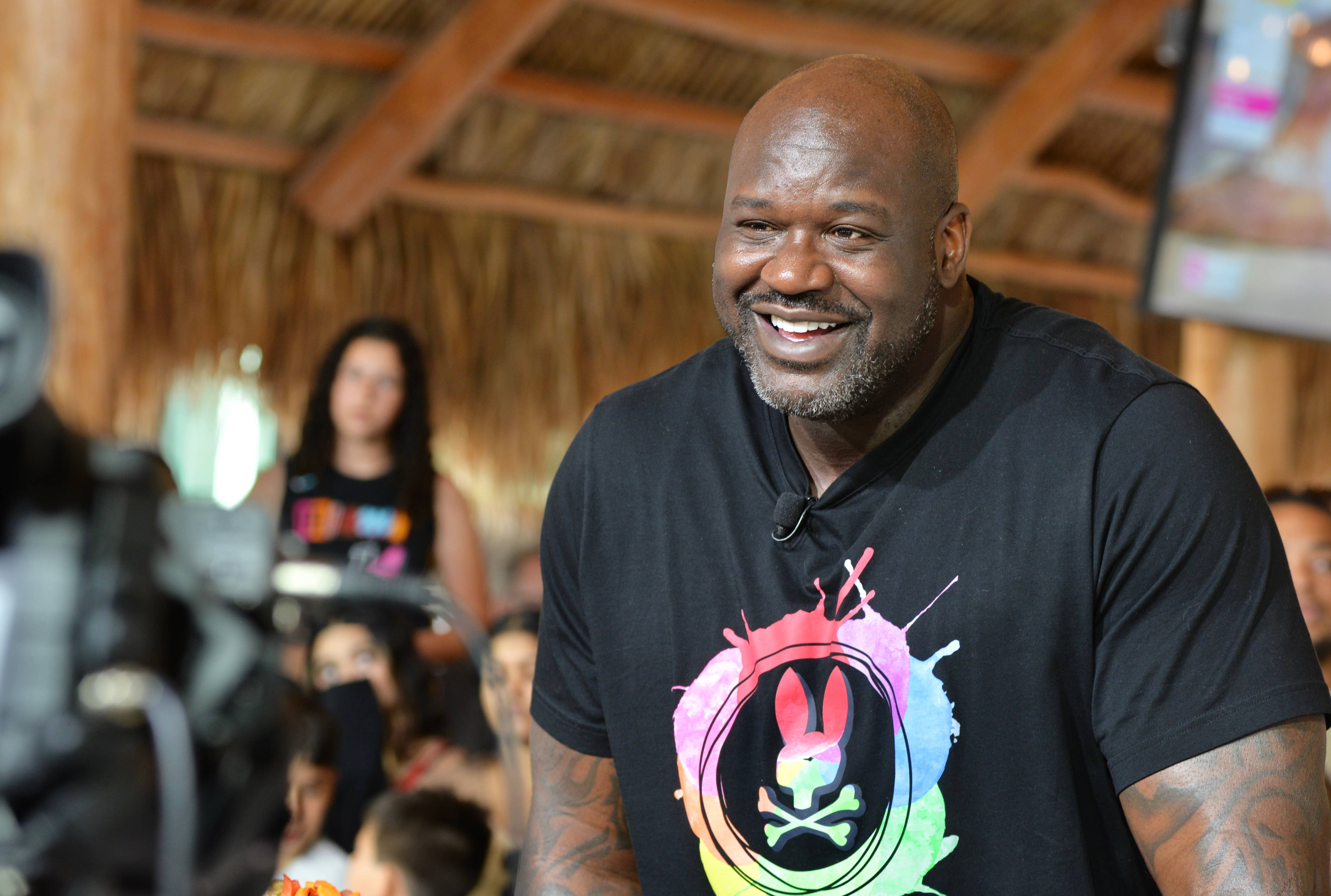 Getty
Image via Getty/Manny Hernandez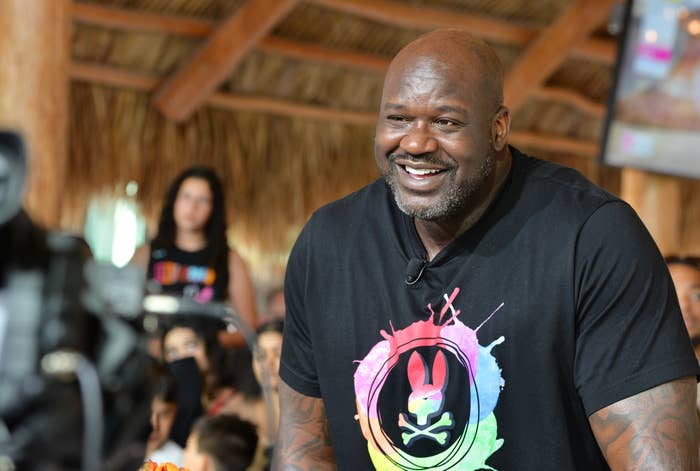 Shaquille O'Neal is one of the NBA's greatest players to ever play, a figure larger than life, and one of the faces of the league during his playing career. A large part of that was due to the fact he constantly won, completing a three-peat with the Los Angeles Lakers from 2000-2002, and winning a fourth championship with Dwyane Wade and the Miami Heat in 2006. That level of consistency is respected amongst the NBA's elite, which is why he has an admiration for the Golden State Warriors' current dynasty. 
"It's been very impressive because for one, nobody expected it," O'Neal says. "And two, LeBron they beat, KD they beat, they beat all the greats.They actually changed the league, now you have teams playing like they play."
We sat down with Shaq to discuss his Comebaq Court initiative, a collaboration with his Shaquille O'Neal Foundation and Icy Hot. He understands his importance in the communities he has lived in, and for as great of an athlete as he was, Shaq is also one of the biggest philanthropists in professional sports. He touched on the importance of this new endeavor, growing up in New Jersey, the Golden State Warriors chase for immortality and the modern NBA landscape. The Hall of Famer also addresses his Lakers being labeled as one of the greatest teams ever.
(This interview has been edited and condensed for clarity.)
This is the second Combaq Court event between your Shaquille O'Neal Foundation and Icy Hot. For those who might not understand, and this might be their first introduction to it, can you explain what this is and the importance of it?
Well, we just started this initiative. We want to go around to certain neighborhoods and refurbish the courts and give kids some place to go, a place to hangout and a place to play some ball. I used to play on these courts when I was a youngster, so hopefully we can find the next LeBron [James], the next Kobe [Bryant], the next [Michael] Jordan. Hopefully just give kids a place to come play basketball.
The first Comebaq Court was in Las Vegas. What was it about this time in particular that made you want to come back to Newark?
Well this is where I'm from. I lived in Las Vegas so I wanted to do one out there, it was a certain neighborhood that hasn't had their courts touched in 50-60 years. I live out there and would drive by there everyday so I said let me do this one first as a test study. And then I said ok I'm going to come back home, then go to Atlanta, Louisiana and Texas. I've lived in a lot of places, so places that kids know me and they know I'm from those certain areas so they know I'm going to take care of them first. But who knows, I may be in your hood next week.
You can come to St. Louis and build one if you want to.
Oh yeah, easily. Me and Jayson Tatum can build one out there. 
You just said maybe you can find the next Kobe, LeBron or whoever. You yourself have talked about the importance of the Boys and Girls Club you grew up playing in when you were in Newark. Did your own personal experience from that fuel you to come back and do something like this in Newark?
I've been doing stuff here ever since I left, but yeah. I want to be able to look at these kids and say I'm you in the future. I'm from the same place, had to do the same things you had to do. I always give them the blueprint, because I'm not the kid who made it because of an academic scholarship. I made it through hard work, perseverance and believing. So when I come back here I let them know that 'hey, you remind me of myself.' This is how you get out, and it starts over here on these courts. It's a good opportunity for the kids.
How important do you think it is for the kids to not only see somebody like you, but for you to be there in person and for them to feel you, touch you, know that you are real.
I think it's very important, that's why every time I see a kid I give them the answers to the test. The way I made it is a definite way for them to make it. The first thing I tell them is listen to your parents, listen to your teachers. The second thing I tell them is follow your dreams, and being from this area we already know about trials and tribulations, so that's why we ain't soft. We can handle that part. You just have to follow the certain rules, and I made it and anybody else can make it also.
You yourself have played on a dynasty, what many people consider one of the greatest teams ever in your three-peat Lakers teams. You've also played in two other NBA Finals with the Orlando Magic and Miami Heat. How impressive has this Warriors run been to you over the last eight years, because you know what it takes to win at a high level for a sustained period of time?
It's been very impressive because for one, nobody expected it. And two, LeBron they beat, KD they beat, they beat all the greats. So if you look at a guy like Steph Curry, who wasn't a high draft pick, who wasn't really talked about when he first got drafted and everybody was like 'he'll never make it.' And then a guy like Mark Jackson saw something to say 'you and Klay [Thompson] you shoot it every time you touch it. You guys are going to be the greatest backcourt ever.' And then they rolled with that, and Steve Kerr added that championship flavor in the mix. Then you got a guy like Draymond who is a Dennis Rodman type player, and they were able to win, they were able to win big. They actually changed the league, now you have teams playing like they play. Guys who can't even shoot at all, now they're out there shooting 3-pointers. 
When you played it was inside out, now it's outside-in.
Yep, inside-out. Most of these big guys they have now are powder puffs. They want to shoot jumpers.
It's always a debate about who the greatest teams of all-time are, and like I said, you've played on some of the greatest teams ever. A lot of people believe that the 2001 Lakers are one of the greatest teams ever.
If we wouldn't have lost that first game to [Allen] Iverson, and would have went 16-0, then I would arrogantly say that we are the best team. I'm just happy to be in the debate. It's fun sometimes going to the barbershop and hearing who is the greatest player? LeBron, Kobe or Mike? Who's the most dominant big man, Shaq or Wilt? Who is the greatest shooter, Steph Curry, Jerry West, Reggie Miller? So I'm just happy and blessed to be part of the debate. 
You sent a tweet out about how one person cannot win a championship without another star. Why do you feel that it is important for a championship team to have multiple stars on it?
No star can win without the other guy. How many would Magic have won without Kareem? How many would Kenny have without Hakeem? I was just in my moment where, sometimes on Twitter people just get to talking and think they can say anything. But conversations like that don't matter. Saying 'he wouldn't have won without Kobe,' I know that. And guess what? I wouldn't have won without Rick Fox, and Brian Shaw and Big Shot Bob. I wouldn't have won without my team, but I was the head of the snake and that's all that mattered.