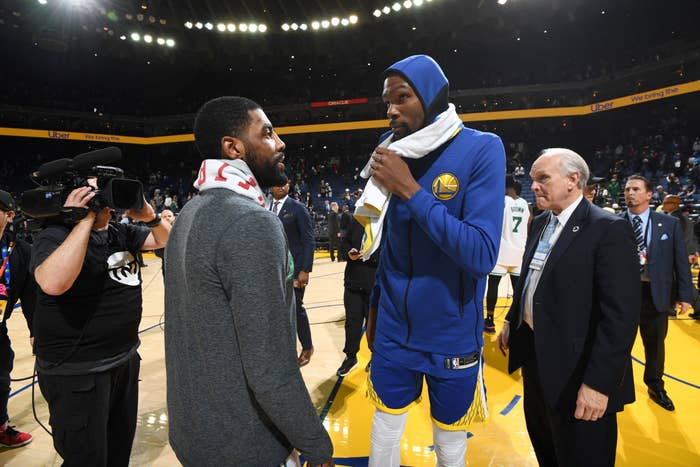 It's actually happening. Kevin Durant is on his way to Brooklyn and will sign a max deal with the Nets. It's insane that I just typed that sentence, but here we are. Not only that, but the Nets are signing Kyrie Irving to a max to go alongside KD. This is crazy. What a Woj Bomb. This move has so many ripple effects that range from the end of the Warriors dynasty as we know it, to the failure of the Knicks to lose KD and Kyrie to the Nets.
This doesn't even feel real, but that's the NBA these days. Things can change that quickly. Of course, KD will likely miss all of next season after rupturing his achilles, but the Nets will be a force for years to come. In the meantime, the NBA is wide open. Like, WIDE open. This is easily the most exciting upcoming NBA season since KD joined the Warriors, and we don't even know where Kawhi will be playing next season. 
The Complex Sports team cooked up some winners and losers in the KD deal, which we'll be doing for all of the big free agent signings. Buckle up. 
Winner: Kevin Durant & Kyrie Irving 
Remember when cameras caught Kyrie and KD talking at the all-star game about "Two max slots?" Well, we now know the truth of the conversation and their desire to play together. This will be a fascinating dynamic to watch unfold and when KD returns from injury, one of the best teams in the league. 
Loser: The Knicks and Knicks Fans
This is unreal if you're the Knicks. Kyrie going to the Nets is one thing, but losing him AND Kevin Durant to the team across the city is devastating. You have to feel for Knicks fans. That's brutal. 
Winner: Nets Fans 
What a turnaround for this franchise. Props to the loyal fans who stuck it out. That's awesome. 
Winner: DeAndre Jordan 
Two winners in a row, but who knew that DeAndre Jordan would play such a vital role in KD's process. He's now a key piece of the Nets plans going forward with both KD and Kyrie. Wild. 
Winner: LeBron & the Lakers 
With the Warriors dynasty taking a huge hit, the league is now wide open and there's a really solid chance that LeBron could get another ring this season. He's probably not that upset that KD moved East. 
Loser: The Warriors
They had one hell of a run, but in the end, they still lost Kevin Durant to free agency. Though they'll likely re-sign Klay Thompson, he'll miss a lot of time next season with a torn ACL injury. They'll now be moving into their new arena in San Francisco with a lot of uncertainty. With how tough the West is shaping up to be next season, it will be very interesting to see how good the Warriors are behind just Steph and Draymond. 
Winner: Jay Z 
Drop a track, Hov. Please.