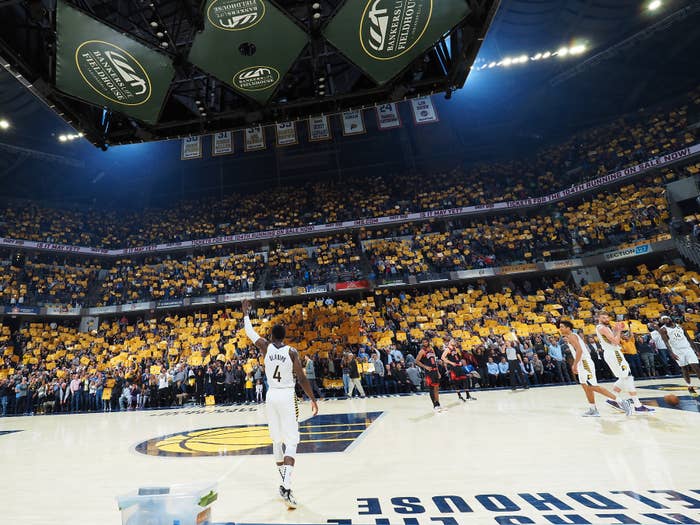 We've never seen anything like this. One of those days that you'll remember exactly where you were and what you were doing when news broke. It was that shocking, but at the same time, it wasn't. Deep down you sort of knew that the spread of the COVID-19 virus would seriously disrupt life as we know it. And if you didn't, I'd argue that you were being naive to the situation.
While the sports world is a far less important matter than most things right now, the ripple effects of the sweeping virus is hitting hard. First it was news that the NCAA would play March Madness in front of no fans. Then reports came out that the NBA was considering the same.
Then the bomb dropped: news broke that Jazz center Rudy Gobert had tested positive for the virus. In a whirlwind, everything changed. Shortly after the NBA announced that the season would be suspended. It was absolutely the right call and the league needs to start getting every single player tested. Every step must be taken and suspending the league could prove vital in the long run. 
We're currently in uncharted territory. There's going to be a whole lot of uncertainty going forward. Will the NCAA follow suit and cancel the tournament? Could the MLB season be delayed? There's so many questions and sadly, very few answers. The unthinkable has become a reality and the the thing that helps distract so many of us from the horrifying realities of the world is now gone. I don't want that to come off as selfish because this is a very serious matter and should be treated as such, but sports have always been an escape for many. But with the players safety in question, there is no other way. This is our new reality. 
Thinking about tonight made me realize that in a span of about 30 minutes, President Trump addressed the nation and announced a travel ban from Europe to the United States, Tom Hanks revealed he tested positive for COVID-19, the Thunder and Jazz game was suddenly postponed and then the NBA season was suspended after the Gobert news broke. There is nothing run of the mill about any of this. As I mentioned above, we're in legit uncharted territory and witnessing things we've never seen before. And honestly, tonight was sort of why Twitter has become what it is today. Just look at Dallas Mavericks owner Mark Cuban reacting to the news of the NBA suspension, likely reading the Shams or Woj tweet like the rest of us. 
We're now about to dive into a new normal that feels very not normal. Our nights won't be filled with dazzling NBA highlights, but rather updates about a virus that continues to spread. An escape is no longer available and we can only hope that this doesn't become our reality for long.