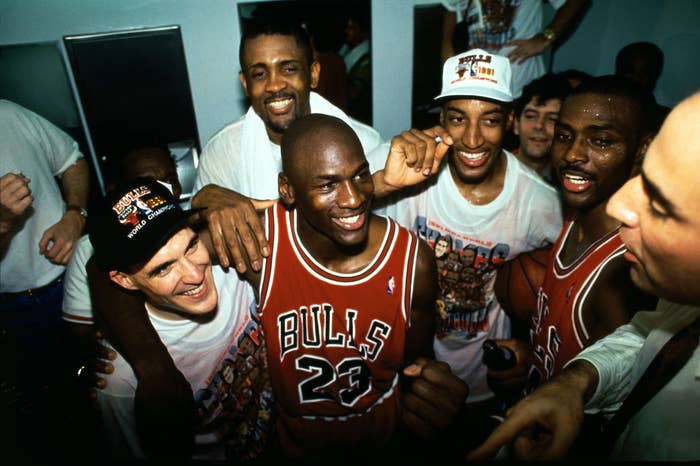 With no sports back yet, we're tripling down on our Last Dance content. Can you really blame us? It's not only very good, but there's really nothing else to do right now. We're now officially four episodes into the documentary and we've seen a whole bunch of people. Obviously, you have the main characters: Michael Jordan, Phil Jackson, Scottie Pippen, Dennis Rodman, and Jerry Krause.
The entire story is built around them, but in the process of this epic tale unfolding, we've seen a number of truly special side characters emerge. Some we know well, like Isiah Thomas or John Salley, but then there's the unexpected heroes, like the "Traveling Cocaine Circus" or the "Sniff Brothers."
Only four episodes in and we've already run into a number of legendary characters, so much so, they we just have to rank them. Not really to say that anyone appearing here is the worst, but there are certainly some side characters that have risen up over the rest. This ranking is primarily based on the amount of entertainment that they brought to the series. So we're here to rank them, and will continue to do so as the series continues. Let's have some fun. 
13. Barbara Walters
Easily the most random cameo in the entire series so far. Barabara Walters interviewing Rodman while he's wearing that hat is just such an epic moment. Salute to everyone involved. 
12. David Falk
MJ's former agent dropped some solid gems that we'll see in later episodes, like how Nike was only off by about $123 million in their estimate of how many Air Jordans the company would sell or how he tried to pen Jordan's comeback letter in 1995. Unhappy with the results, MJ told Falk to let him handle it and authored the most succinct press release in NBA history, writing "I'm back" to officially announce his triumphant return.
11. Phil Jackson's Biographer, Charley Rosen
Love this guy and his Woodstock shirt. Plus, his stories about Phil are great, especially about the mayor in South America shooting a ref in the leg. Oh, plus he talked about Phil doing acid. Legendary. 
10. Ahmad Rashad
One of Jordan's best buddies during his playing days and beyond, we were hoping the former NBC Sports reporter extraordinaire and host of the iconic NBA Inside Stuff would give us more than a few classic Jordan tales during the documentary. He drops a good one in a later episode about a dinner he had with MJ during the 1996 NBA Finals. But should we really have had such high expectations of Rashad? I mean, why risk rocking the boat and getting cut off from the GOAT when you've been a ride or die for decades?
9. John Salley 
John Salley will always keep it real. He's done that throughout this documentary and offered up some great insight on what it was like to play against MJ and the Bulls while he was on the Pistons. I am a bit disappointed that they didn't put "Bad Boys 2" actor under his name while on screen, though. 
8. Michael Jordan's Glass 
If you haven't been paying attention, keep an eye out on the glass sitting next to Jordan during his sit-downs. Once upon a time, when Jordan was a newbie in the NBA, he told us he didn't drink. But we all know those days are long gone—the man has his own brand of tequila with a bottle of Cincoro extra anejo that, no joke, retails for $1,400 a bottle. From the looks of the changing liquid level it would appear MJ was enjoying one of his favorite spirits while being interviewed and maybe that's why his sound bites get spicier episode by episode.
7. Horace Grant 
All basketball fans should know who Horace Grant is, but he's delivered a number of hilarious moments during this doc. Not only is dude still yoked up, but him calling the Bad Boy Pistons "bitches" was truly amazing. 
6. The French Reporter Who Asked MJ For an Autograph 
Other than Jerry Krause, does anyone get dunked on quite like the French Reporter who egregiously requested an autograph from Jordan? I guess they do it differently across the Atlantic. Here in the States, asking an athlete for his signature is a gigantic no-no for credentialed media. Appearing in episode I when the Bulls trekked to Paris for some exhibition games prior to the start of the 97-98 season, MJ took it easy on him and almost gave the guy what he wanted before someone with the Bulls hilariously told him you can't be doing that, pal.
5. The Sniff Brothers
I love these guys, especially the blonde legend John Michael Wozniak, who we talked to a few years back. MJ clearly had a special relationship with his security detail and felt very comfortable with them. Plus, Sniff Brothers is just such an epic name for the collective. 
4. Isiah Thomas
It's been a bad documentary for Isiah Lord Thomas III. Undoubtedly one of the top point guards in NBA history, MJ gives Thomas his props as a player, but the original IT got trashed by MJ after he tried to explain why the Bad Boy Pistons were such sore losers at the end of the 1991 Eastern Conference Finals. We'll also find out from Jordan in upcoming episodes the real story behind Thomas not making the 1992 Dream Team. Whoever you want to believe after you see it, it still isn't going to be a good look for Thomas.
3. Carmen Electra 
It wasn't a secret that Carmen Electra dated Dennis Rodman back during his Bulls days, but the revelation that she had to hide from Michael Jordan when he came to find Rodman and bring him back to practice was just too good. What a legend. Even more, she recently revealed even more wild stories about her and Dennis. Talk about a power couple. 
2. Bulls Traveling Cocaine Circus
The Bulls had a reputation for partying and allegedly partaking in certain substances when Jordan arrived in the Windy City in 1984. When he was asked about the reputation of his teammates—dubbed  "The Bulls Traveling Cocaine Circus"—Jordan guffawed and confirmed their habits of ascending to levels unreachable on the basketball court. Jordan did his old Chicago crew a solid and didn't name names, but thanks be to the basketball gods that The Last Dance resurfaced one of sports' great monikers. That was a gem nobody's going to forget.
1. Scott Burrell
How many casual fans knew about Scott Burrell before watching this documentary? I'd bet the number would be quite low. He only played one season with the Bulls, but throughout The Last Dance we've seen that he was a favorite of Michael Jordan. The scene at the end of episode IV was just so awesome. Can you imagine being Burrell and knowing that that clip is on tape and waiting 20 years for it to come to light. Amazing.