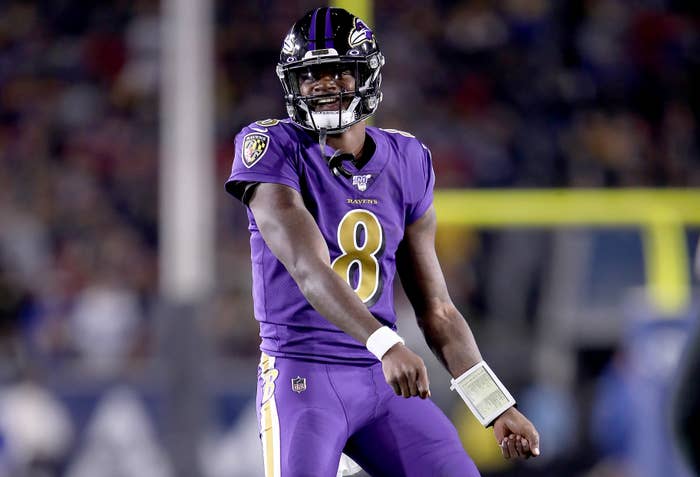 When you're wrong, you're wrong, and when it comes to Lamar Jackson, I was straight up wrong. I always thought he had the skill to play QB in the NFL and be good, but I doubted that he could be this good, let alone in his second year. Like I said, I was straight up wrong, and I'm owning up to it. 
This guy should not only win MVP this season, but he looks like the future of the QB position in the NFL. As I sit here and watch him carve up the Los Angeles Rams on Monday Night Football, I felt the need to put pen to paper because Jackson is that good. His first half against the Rams, where he has three TDs and zero, yes zero, incompletions, is just more of the norm for Jackson. This is just what he does on the regular this year, with over 20 passing TDs and six on the ground, with only five INTs. Defenses literally can't guard him.
Try and shut down the run and he'll just throw it. Play the pass and he'll escape the pocket and make you look silly. What's really wild about Jackson, and an area where I thought he might struggle, is that he doesn't take big hits. I was wrong. So many people were wrong. He's so smart on the football field and continually makes the right play. 
He's carved up the Patriots. He's proved doubters that he can throw the ball among the best QBs in the entire league. He's a dominating force on the field and one hell of a leader, with a Ravens team that looks like a real Super Bowl contender.
Somehow, Jackson was drafted with the last pick of the 2018 NFL draft. He was picked after fellow QBs Baker Mayfield, Sam Darnold, Josh Allen, and Josh Rosen. That looks downright criminal at this point. Jackson continues to break NFL records like it's nothing. On Monday night, he became the first player in NFL history to reach 3,000 passing yards and 1,500 rushing yards over his first two seasons. That's just silly. And to think, some said that he would have to switch to RB in the NFL. Foolishness. 
I'm not saying anything groundbreaking here. We all know Lamar Jackson is really, really good, but the fact that he's doing this in only his second year is crazy. The MVP award is his to lose and even beyond that, he is the future of the league at QB. How could he not be? With the way QBs are (rightfully) protected today, Lamar's skills are only amplified and showcased. His growth as a passer, which was the one area that looked a bit shaky during his rookie year, has made him unstoppable. He's quickly become the the most exciting player in the NFL and a guy that you make plans around watching.
Lamar Jackson has reached already reached the jaw-dropping level of play that we've seen from the likes of LeBron James, Aaron Rodgers, Steph Curry, and handful of others over the years. The kind of stuff where you stop what you're doing and make sure you're in front of a TV while he's playing. That's rare and Lamar has it.
He's special and the NFL is lucky to have him. The MVP is coming, but the future is now and its name is Lamar Jackson.