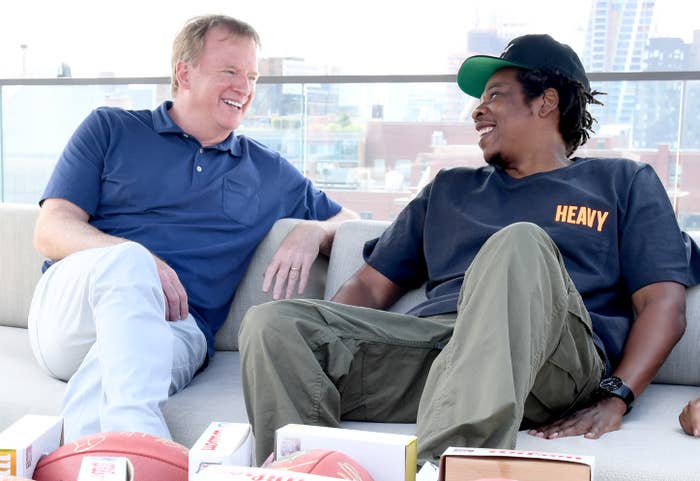 In a surprise move, it was announced this week that JAY-Z and Roc Nation were partnering with the NFL. As part of the partnership, JAY will now assist the league with a variety of entertainment deals, including helping to improve the Super Bowl halftime show. Additionally, Hov will bring a new social activism campaign to the league, though Colin Kaepernick will not be part of it. Of course, this has led to backlash for JAY, especially with his past support of Kaep against the NFL.
This partnership has led to more questions than answers. It's unclear if we'll ever get real clarity as to why JAY-Z felt now was the right time for this deal, but our resident Hov Stan, Frazier, and I attempted to answer some questions surrounding this surprising move. 
Why Did the NFL Do This? 

Chopz: It's pretty simple: The NFL needs JAY-Z. Despite football being arguably the most popular sport in America, the league desperately needs a way to better reach a younger audience. They would likely tell you the same thing—it's not some secret. Accomplishing such a feat seemed like a major uphill battle just 72 hours ago, before the public had any idea about Hov's pending deal with the NFL. Hell, this was the same league that booked Maroon 5 for their Super Bowl halftime show only seven months prior.
Will it be easy? Of course not. Through the social justice initiative laid out by JAY and Goodell, they're promising real change that will be tough to deliver. 
But this is the same NFL that pushed Colin Kaepernick out of the league because he peacefully protested police brutality by kneeling during the national anthem. This is also the same NFL that has yet to fully figure out how to protect their players from CTE and take care of them once they retire. And not to mention the same NFL that has suspended countless athletes for marijuana use while far more serious crimes go unchecked. 
The NFL is far from perfect and will likely never be anything close to it. Even with all of that, partnering with JAY-Z is a major win for the league from an optics standpoint. Hov stands for everything the NFL is trying to reach for in music and social activism. I'm honestly still shocked they were able to pull this off. This is a no-downside type of deal for the NFL, no matter how much money they had to send JAY's way. The NFL has money. They didn't have JAY-Z. Now they have both.

Should This Have Happened Without Colin Kaepernick's Involvement? 
Chopz: Flat out, no. This hurts with everything that has happened to Kaepernick over the past three years. And for this to be announced exactly three years to the day after Kaep started his peaceful protests just adds to the salt on the wound. 
Both JAY and Goodell said they spoke to Kaep about the deal. We don't know how those conversations went, but based on reactions from Eric Reid and Kaep's girlfriend, Nessa, the former 49ers QB will not be involved anytime soon. 
Speaking on Hot 97 on Tuesday, Nessa voiced that she's not happy that JAY is working with an organization that has denied Kaepernick the opportunity to continue to play football. "I don't mind you doing a business deal—but I do mind you wrapping it in social justice when you're working with an organization that denies someone an opportunity," she said. 
Kaepernick has yet to speak on Hov's decision to partner with the NFL. He may never speak on it. Three years later and Colin Kaepernick still can't get a job in the NFL. All while Hov stands next to Roger Goodell to announce a new social justice partnership. No matter how you slice it, that stings. Even if this deal ends up leading to real change in social justice reform, it doesn't change the fact that Colin Kaepernick was banished from pro football for his peaceful protests. 
Does JAY-Z Deserve Some Benefit of the Doubt Here? 
Frazier: As the resident Hov Stan in the office, I think we owe him patience and an open mind just as much as, to play devil's advocate, he deserves scrutiny and a few raised eyebrows. Sitting across from him in the Roc Nation grand conference room as he and Goodell rolled out the broad strokes of this partnership, he appeared very aware of the cresting backlash, seemingly expecting more of it while at ease with it in advance.
The simple fact is that JAY-Z is indeed a capitalist, and a very good one. So good at getting a bag is he that, in each instance, folks can't help but question if any of his alleged ulterior altruistic motives are genuine. But like he told us a few years ago, life made him ambidextrous.
I'll be honest—I half-expected Kaepernick to pop out with a Roc chain and Paper Plane hat, fully supportive of the move and involved in it himself. It's strange that he's not, with someone as keen as JAY, who would have had to know that would be the big detail that would color first impressions of this partnership. Across the 45-odd-minute Q&A, Kaep came up often, with Jigga opting not to divulge the details of a conversation he admitted they had. (He did not, as has been the subject of some erroneous reporting, specify when they had it.) 
But the comments that are being read as curt or dismissive online—"I'm not his boss"—didn't come off as such in person. If he bristled at anything, it was at the idea that he was moving counter to Kaep's wave. Basically, JAY's argument is this: If kneeling, Kaep's subsequent blackballing, and the league's shady treatment of artists (a separate issue he claims didn't color his decision not to perform or to try to dissuade Travis Scott from performing) were red flags prompting him to diss the whole organization on wax, and if said rebuke pushed them to the table to discuss a partnership wherein JAY claimed Goodell and company acquiesced to every moonshot demand for social initiatives that they pitched, why not accept and push for change from the inside? 
That may make him sound naive, but when it comes to public perception of his deals, that's never people's problem with JAY-Z. Instead, the cynical assumption is always that he's putting the bag above the culture. He got criticism for the Magna Carta Holy Grail Samsung deal, which went on to enact a long-overdue RIAA update. The first B-Sides Freestyle caught heat for a bar some felt conflated Mike Brown's death with JAY's rich-people problems; a line about gentrifying your own neighborhoods before white people do it and take them out of our hands came under similar fire. Tidal as a whole was heavily criticized as a cry for more money. We've since seen artists and users come around to the service while other DSPs ape its practices; artists have launched similar partnerships to game the music industry's sales problem.
JAY's commissioned docuseries shining a light on the lives and tragedies of figures like Trayvon Martin and Kalief Browder while positioning Roc Nation to be something of the Rap Avengers to artists in need, be it Lil Uzi Vert's label woes, Meek's legal troubles, Lil Wayne's his taxes, etc. Aligning with a league that's disrespected our community countless times over, with owners that openly support Donald Trump, and vowing that he's in a long game to effect change from inside is his biggest, riskiest ask yet. If he wants to win back any doubters and validate his move, he's going to have to apply the same energy to the NFL that he did on SNL and "Apeshit," and be wary of any attempt to use him as a safe shield when issues arise. I thought about asking him if the continued dubiousness towards his moves bother him, but an earlier answer to another question also fit there. "Do the work, and let it speak."
Will This Work? 
Chopz: That's the million(s)-dollar question, right? As Frazier pointed out, Hov is almost always a few steps ahead with everything he does. The bag aside, the pressure is immediately on him to try and make real social justice change within the NFL. Because, at the core of this, nothing else really matters. With the way the situation was handled with Kaepernick, there's also a legit chance that JAY will never be able to justify this decision. This partnership goes far beyond music and entertainment. The spotlight is now on JAY-Z to make real change happen. We'll be watching.