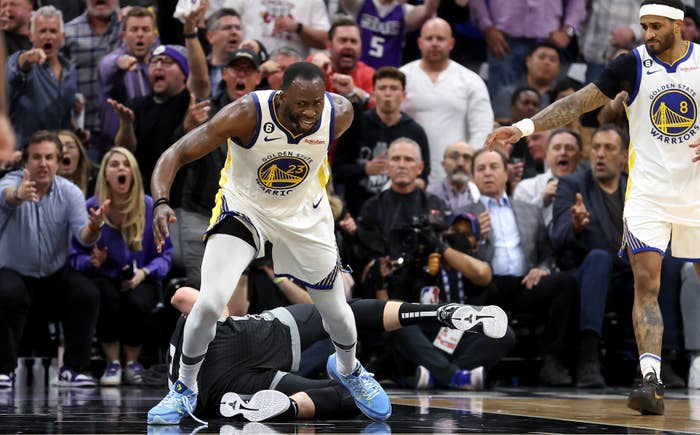 Draymond Green got hit with a suspension late Tuesday for an ejection-worthy move during Monday's playoff game against the Kings. The Golden State power forward stomped on Sacramento's Domantas Sabonis after the latter grabbed his ankle from the floor.
Green, 33, will serve a one-game suspension during Game 3 of the Warriors v. Kings series on Thursday, April 20 at the Chase Center. The Kings are up 2-0, having won 114-106 on Monday.
"The suspension was based in part on Green's history of unsportsmanlike acts," read the NBA's official statement (below), a divisive rationale that immediately drew criticism as well as jokes at Draymond's expense. "Green's actions were in response to Sabonis grabbing and holding Green's right ankle after falling to the floor," the league continued.
By way of explanation on Monday, Dray offered, "My leg got grabbed—the second time in two nights—and the referee is just watching. I got to land my foot somewhere, and I'm not the most flexible person, so it's not stretching that far. I can only step so far with someone pulling my leg away."
While initial reports indicated Sabonis had chest x-rays taken and was cleared, NBA insider Shams Charania tweeted after the suspension announcement, "Kings say Domantas Sabonis has suffered a sternum contusion and is questionable for Game 3 vs. Warriors."
See some of NBA Twitter's reactions to Draymond Green getting suspended for his Sabonis stomp below, including Damian Lillard saying "a suspension is crazy":