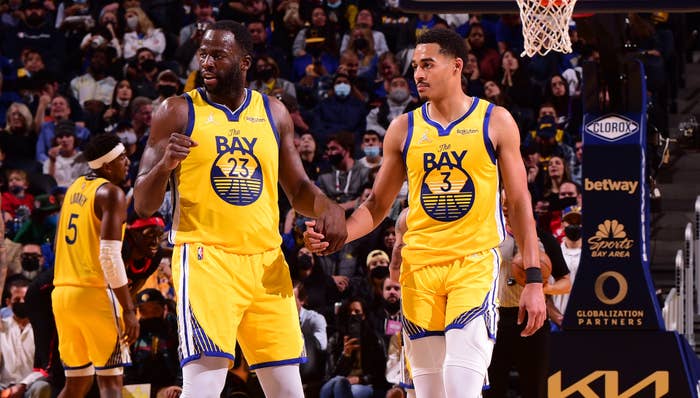 Footage of the altercation between Golden State Warriors teammates Draymond Green and Jordan Poole base been made public by TMZ Sports.
The video appears to show the pair exchanging words, before Green approaches Poole, who then pushes Draymond away. That leads to Green punching Poole in the face and taking him to the ground. The two are quickly surrounded by teammates and coaches, who break up the fight.
According to Warriors GM Bob Myers, Draymond apologized to the team on Thursday.
"It's unfortunate, I'm not going to deny it," Myers said. "It'll take some time to move through, but we'll move through it and move forward, and I'm confident that we will. We've got a good team, we've got good leadership, we've got some guys that have been here a long time."
In the wake of the leaked video, NBA players and basketball fans have taken to social media to share their reactions to Draymond's punch.
Isaiah Thomas didn't shy away from blasting Green's attack on Poole as a sucker punch. "He's gonna have to see me every time after this sucker punch," he tweeted. "Damn. That ain't it! And whoever leaked this should be fired too."
Meanwhile, Trae Young suggested that Draymond's antics are his way of forcing a trade to the Los Angeles Lakers. "Draymond is tryna get to LA. Damn!" the Atlanta Hawks star wrote.
Scroll down to see some of the best reactions to the leaked footage of Draymond Green punching Jordan Poole.