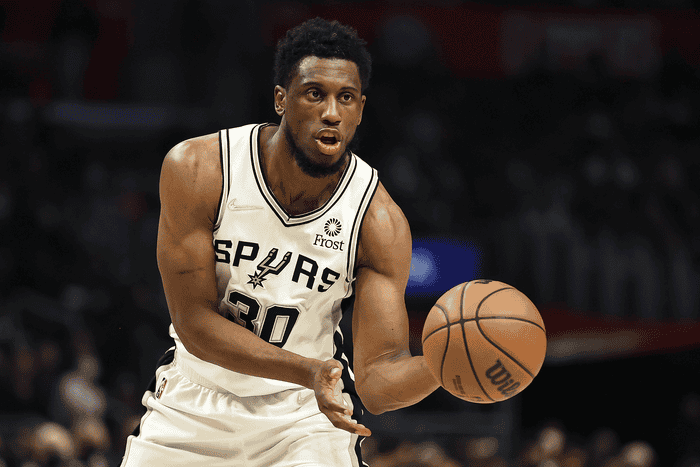 "The way players are playing suggests less of a major move," said Toronto Raptors general manager Bobby Webster via a Zoom press conference on Feb. 8. 
A few hours prior to the 3 p.m. trade deadline, the Raptors traded Goran Dragic and a lottery-protected first-round pick to the San Antonio Spurs for Thaddeus Young, Drew Eubanks, and the Detroit Pistons' 2022 second-rounder. Likely moving down 10 spots in the draft is unideal, but offloading Dragic's contract was going to require a sweetener, and the Raptors seem comfortable banking on their scouting department.
With how well the Raptors have been operating as of late, the front office's reluctance to not mess with a good thing is understandable. Pascal Siakam is playing the best basketball of his career, Fred VanVleet is an NBA All-Star, Scottie Barnes is firmly in the Rookie of the Year race, and periphery role players like Dalano Banton, Precious Achiuwa, and Chris Boucher seem to be finding motivation and chemistry in their respective roles.
Within the last 15 games, the Raptors have gone 10 and 5 against some of the NBA's best—good for sixth in the league. In addition to the winning record in that timespan, Toronto boasts the second-best team-wide 3-point shooting percentage, and a seventh ranked defense (per NBA.com). By many accounts, it seems that this young squad, once riddled with injuries, has begun to find a bit of a stride. Right on time, too, with the remainder of the team's strength of schedule being the 5th weakest in the NBA. The Raptors have put the bulk of their toughest competition behind them, and have the 6th seed in the East to show for it—all in spite of the early season adversity.     
Webster made it clear that the goal was to find a player or two that can consolidate the skills missing on the current roster's depth chart—specifically rim protection, ball handling, and shooting. In the now-former San Antonio Spur Thaddeus Young, the Raptors get some small ball defensive presence, average catch and shoot capabilities, and some playmaking connectivity that's been missing with their second unit—resulting in extended minutes for Siakam at point when lead guard Fred VanVleet sits. Young has been known to nail a short roll pass and can potentially bring some more veteran savvy to one of the youngest teams in the association.
It isn't a sexy acquisition. Young has spent the bulk of the current season and last on DNPs and limited minutes, but one could chalk it up to the Spurs looking to move him regardless—a common arrangement for tanking teams with veterans present. On the Raptors, Young will have an immediately obvious role as a versatile forward on a competitive roster, tasked with playmaking, finishing, and defense.
Six-foot-nine center Drew Eubanks was waived at 4 p.m., opening up some interesting possibilities for potentially converting two-way prospect Justin Champagnie to an NBA contract. Deservedly so with how well he's performed in his limited play.   
More simply put; the Raptors save money by slipping under the luxury tax with these moves, while also reinforcing the league's worst bench (by a significant margin), just enough to compete. By trading a non-contributor like Goran Dragic for an NBA player willing to play minutes, this is an improvement for Toronto. 
May not be plain to see, but they are better for it.