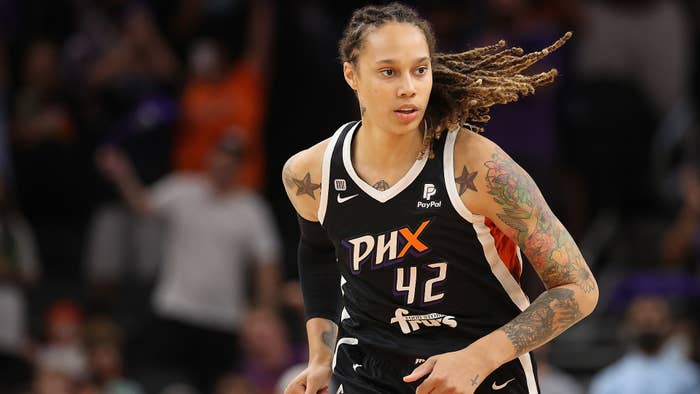 WNBA star and two-time Olympic gold medalist Brittney Griner was reported earlier this year to have been arrested at an airport in Moscow, with questions still surrounding the widely condemned incident months later.
While the arrest itself took place back in February, the 31-year-old Phoenix Mercury player still remains detained in Russia, which was recently determined to be under a Level 4 travel advisory by the U.S. Department of State's Bureau of Consular Affairs due to the country's invasion of Ukraine. 
Below, we take a larger look at Griner's detainment, including what may happen next.
Brittney Griner was arrested at a Moscow airport in February after authorities in Russia said a baggage search resulted in the discovery of "vape cartridges," per a report from the Associated Press. Later, the Federal Customs Service of Russia claimed the cartridges in question contained hash oil, which they said could result in a penalty of as much as a decade behind bars.
Prior to the widely criticized detainment, which remains ongoing at the time of this writing, Griner had played for Russian team UMMC Ekaterinburg before a brief pause was initiated by the league earlier that same month.
As for why Griner was in Russia, heading out of the country to participate in other leagues is a common practice during the offseason. Notably, players traditionally make significantly more money during these trips than they do with their respective U.S.-based salaries. There are other benefits too.
"I don't have to talk to anybody over here," Griner told ESPN in 2016. "I don't have to see anybody. I don't have to answer my phone. And everybody is asleep half the time when I'm up. I can be disconnected when I'm over here."
All WNBA players, aside from Griner, were confirmed in a New York Times report in March to have left Russia and Ukraine.
In an initial statement, the WNBA said Griner has the league's "full support" as the situation progresses. The main priority, the WNBA statement explained, was to ensure a "swift and safe return to the United States."
In May, the WNBA announced plans to honor Griner during the 2022 season by featuring the player's initial and jersey number (42) on the sidelines of all 12 league courts.
"As we begin the 2022 season, we are keeping Brittney at the forefront of what we do through the game of basketball and in the community," WNBA Commissioner Cathy Engelbert said when announcing the plans. "We continue to work on bringing Brittney home and are appreciative of the support the community has shown BG and her family during this extraordinarily challenging time."
The Phoenix Mercury has also been granted roster and salary cap relief by the WNBA, which facilitates the employment of a replacement player pending Griner's return. Griner, meanwhile, will continue to be paid her full salary.
In March, Brittney Griner's wife, Cherelle, shared a post to Instagram in which she thanked the public for their support during this difficult time.
"I love my wife wholeheartedly, so this message comes during one of the weakest moments of my life," Cherelle said, as seen below. "I understand that many of you have grown to love BG over the years and have concerns and want details. Please honor our privacy as we continue to work on getting my wife home safely."
In another IG update, Cherelle addressed the oft-shared advice of staying busy during a time of sadness, saying there is "not a task in this world that could keep any of us from warring about [Brittney]."
Politicians have also gotten involved amid calls for Griner's release, including House Foreign Affairs Committee member Colin Allred and California congressman John Garamendi, the latter of whom told CNN in March he considered the detainment an "unusual and extremely concerning" situation.
Angel McCoughtry and Breanna Stewart, two of Griner's USA Basketball teammates, have also spoken out about the detainment. Stewart, per a report from the Associated Press, is getting involved with the Griner-associated Phoenix Rescue Mission philanthropy effort.
"The big thing is the fact that we have to go over there. It was BG, but it could have been anybody," Stewart said.
State-owned media in Russia, per a report from NPR, said in March that Griner's detention was being extended until May 19.
By early May, the Biden administration announced its determination that Griner had been "wrongfully detained" in Russia.
"The Department of State has determined the Russian Federation has wrongfully detained U.S. citizen Brittney Griner," a department rep told the Washington Post. "The U.S. government will continue to undertake efforts to provide appropriate support to Ms. Griner."
In short, this means the U.S. government will now be pushing harder for Griner's release following pressure from a variety of voices to take action. The wrongful detainment distinction, as noted by CBS News, also means Griner's case is now in the hands of the State Department's Office of the Special Presidential Envoy for Hostage Affairs. The envoy is designed to meet needs of the hostage-related variety and works to coordinate the U.S. government's "diplomatic engagements" in this field.
On June 27, Griner was ordered to stand trial on possession charges.
Per a report from the Associated Press, Griner was ordered to stand trial and—if convicted—is facing the possibility of a 10-year prison sentence. Griner was also ordered to remain in custody, with her detention having now been formally extended for an additional six months.
On July 7, per Reuters, Griner pleaded guilty.
"I'd like to plead guilty, your honor. But there was no intent," Griner, whose next hearing is slated for July 14, said in a Russian court on Thursday. "I didn't want to break the law."