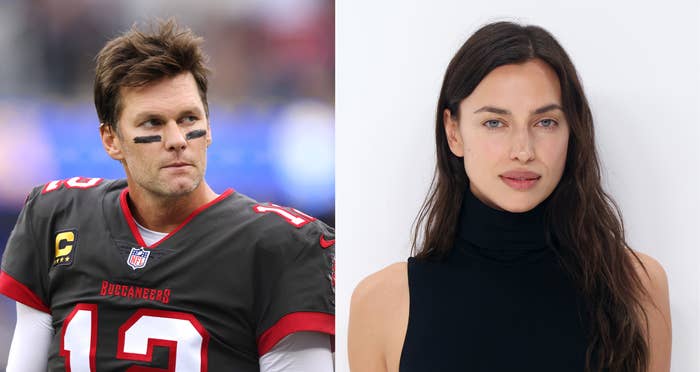 Tom Brady has love on the brain, just nine months after his divorce from Gisele Bündchen.
The NFL GOAT was seen with Irina Shayk, sparking romance rumors. According to TMZ, the supermodel spent the night at Brady's house over the weekend.
The two were spotted around L.A. seemingly enjoying each other's company. The paparazzi caught them all smiles in the 45-year-old ex-quarterback's car after he picked up Shayk, 37, from the Hotel Bel-Air on Friday en route to his home. In one photo, Brady is seen touching Shayk's face.
She was then seen leaving Tom's place Saturday morning. Brady picked up the model again as they returned to his pad later in the day.
According to People, sources confirm the pair "have been in touch for a few weeks."
The insider also confirmed their meet-up in Cali, saying the NFL retiree asked Shayk to "fly out and meet up in Los Angeles."
"There is an attraction," the source said, adding that the celebs "have never been involved romantically before."
Rumors of the Tom Brady/Irina Shayk summer romance started in June after they attended a wedding. Reports swirled that Shayk was "throwing herself" at Brady, but her team quickly denied it.
The two have yet to confirm their relationship publically.
Shayk was previously linked to Kanye West and shares a daughter, Lea De Seine, with ex-boyfriend Bradley Cooper.