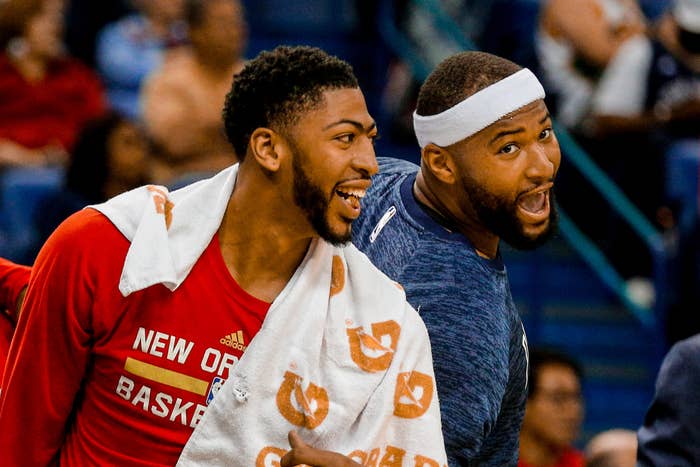 What makes a successful NBA team in 2017? Winning a title? Making the playoffs? An identity? That's the question facing the New Orleans Pelicans through the season's first quarter. There are only a sliver of teams who can win a title, so a vast majority of the league has virtually no chance at a ring. But indecision about what constitutes success in such a top-heavy league could waylay the tandem that's finding its footing in New Orleans.
The Pelicans' decision about what to do with DeMarcus Cousins can best be encapsulated by this season's Memphis Grizzlies and Philadelphia 76ers. After seven consecutive playoff appearances but just one Western Conference Finals berth, the Grizz are currently caught between a rebuild and prior grit n' grind glory. Conversely, the Sixers Sam Hinkie'd their way to 47 total wins in three years, but in the process (sorry, not sorry) drafted two possible all-time greats in Joel Embiid and Ben Simmons. Philly and Memphis represent two paths facing the embryonic Anthony Davis and DeMarcus Cousins experiment in New Orleans, but the answer might already be staring the Pellies in the face.
The hesitancy with the binary bigs in the Bayou comes after they finished a disappointing 7-10 last year following Boogie's All-Star Weekend arrival. When you combine last season's initial sputtering with the way NBA teams are moving in the opposite direction of two All-Star bigs—to switchy athletes along the perimeter who can defend multiple positions and shoot from beyond the arc—and you can understand the Pelicans' apprehension. How can two players who both play a lot inside really work together in today's position-less, perimeter-oriented NBA?
It turns out, pretty well. Both Davis and Cousins have flourished through the first quarter of this season. And while the Pelicans have only managed to stay around .500 in that time, Rajon Rondo was injured and there was some truly subpar play from their new highest-paid player, Jrue Holiday.
As of Tuesday night, the Bayou bigs were both in the top ten for scoring and rebounding, and inside the top 20 for Player Efficiency Rating (PER): Davis at No. 4 (28.2) and Cousins No. 17 (23.4). And while ESPN's real plus-minus (RPM) findings can be swampy this early in the season, Davis is No. 4 among all power forwards (No. 18 overall), and Cousins is No. 2 among all centers (No. 5 overall)––trailing only analytics Dauphin, Nikola Jokic, who has appeared in seven fewer games because of injury.
On top of that, it's how they've played together that answers the question about what New Orleans should do moving forward. Even though Cousins cratered a bit offensively over the last couple weeks, the two former Kentucky standouts have a net rating of 4.4 when they share the court, which would be fifth-best in the league as of Sunday.
Cousins has turned into one of the best passing bigs in the league, averaging a career-high 5.1 assists per game so far this season. He's also attempting close to 7 3-pointers a contest, another career high. Despite the uptick in 3-point attempts, the former Sacramento center is still a mammoth, light-footed menace who demands a double team on the low block. Davis, a 6'10" gazelle, remains perhaps the most onerous four to guard in the league; he's all long arms and legs, with the handle and quickness of a player a foot shorter, and one of the most polished mid-range games in the Association.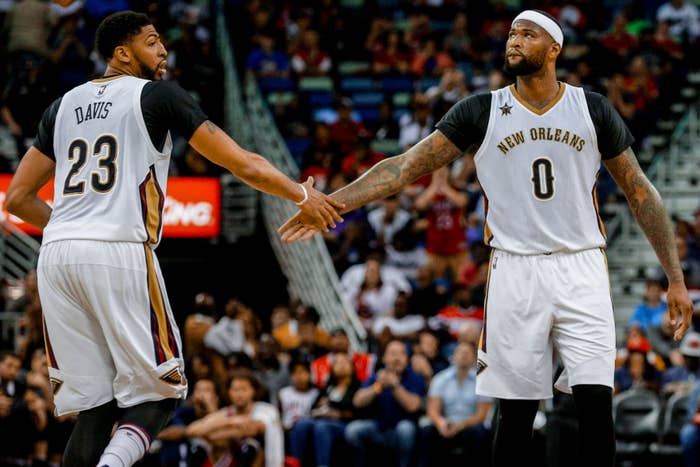 Defensively, they've been sound when they share the court—giving up 104.0 points per 100 possessions, which would near the top-5 in the whole league. But defense at the NBA level is about repetition and familiarity with your teammates. You can't play on a string if it's a jumble of players who haven't shared the court much together. Expect that to improve as time goes on.
Overall, Boogie and Brow have been great together. Unfortunately, the same can't be said when Davis sits—usually in street clothes. The Pelicans outscore opponents by five points per 100 possessions when Davis is on the court, but they're outscored by more than 10 points when he's not, and they still get outscored by over nine points per 100 possessions when DeMarcus is on the court without Davis.
And the Unibrow could've been off the court for a while after straining his pelvis in Utah. Thankfully, an MRI didn't reveal any structural damage, but last season was his first playing more than 70 games in a season. But Pellies front office personnel shouldn't forget Boogie has recently shown he can hold it down with Davis out. He put up a game-high 38 points in Portland, manhandling Jusuf Nurkic in a recent Pelicans win.
With Davis (24 years old) and Cousins (27) either in their prime or near it, the Pellies have the big bodies to compete against the best in the West this season and beyond. Houston and Golden State are both predicated on perimeter players that emphasize spacing, ball handling and shooting. They are both thin where the Pelicans are not: the front court.
Soon, New Orleans needs to come to a decision. Cousins' contract expires this summer, and while the Pellies hold his Bird rights, it's unclear they'll offer him the max. Half the NBA allegedly has a "No Boogie" policy* and it's still not clear Cousins finishes the season in New Orleans. Before the Pellies even tipped off their first game, there were already whisperings about a possible trade with Washington.
Like Holiday over the summer, the Pelicans should keep Boogie and re-sign him to the max. He's an incentive for Davis' own free agency and the singularity of the big-big pairing in today's NBA has been too damn interesting to give up on it before we get a season-long look. Plus, who doesn't want to see the Warriors battle the Bayou bigs in a seven-game series?
*Perception about a player becomes reality until you actually have them on your team.