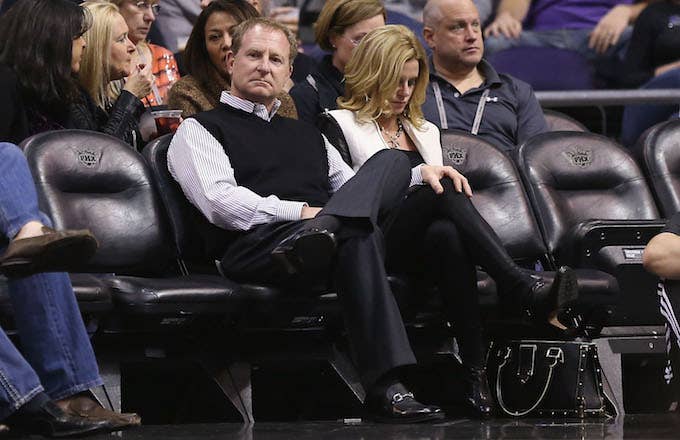 Phoenix Suns owner Robert Sarver is pushing back on reports that he threatened to move the team to Seattle or Las Vegas if a $230 million public financing measure to upgrade their current arena fails to pass a city council vote. Sarver addressed the reports in a video the Suns posted on their Twitter account:
"First and foremost, the Phoenix Suns are not leaving Phoenix," Sarver says. "I am 100 percent committed, and have been for the last four years, to keep them in downtown Phoenix where they belong. I'm a strong proponent, as evidenced by the term sheet that I signed last week, that we should renovate the Talking Stick Resort Arena and once again restore it to a world-class facility. In addition, it is important for the Phoenix Suns to build a first-class practice facility, so the players of the Suns and the Phoenix Mercury can continue to develop. I am 100 percent all in on keeping this team right here where I stand and I want to make sure that that message comes through crystal clear to every one of you."
On Thursday,  the Arizona Republic reported on the city council member who mentioned the threat of a potential move.
That council member, speaking on condition of anonymity, said Sarver didn't actually name the two cities but that he made it clear that he would leave if the City Council doesn't approve the arena deal. This, in a conversation that came as the votes were becoming shaky.
City Manager Ed Zuercher confirmed to the Republic that the Suns had mentioned the possibility of a move. "I don't consider it a threat," Zuercher said. "They've talked about what their options are. Robert has never threatened me. He's mentioned that there are other cities that are looking for NBA teams."
Suns CEO and President Jason Rowley told the Republic late Thursday the team would consider moving out of state only as a last resort, but they haven't gone looking elsewhere just yet.
"We would look for another home here in the Valley but if that didn't happen, if there wasn't any option here in the Valley, what's the other option after that?" he said.
It sounds like a move could happen if the city council passes on the arena upgrades, regardless of Sarver's video. They already came close to securing the votes before the public really knew the stadium financing measure was happening. The scheduled vote earlier this week came just a week after Sarver signed the term sheet. That's more evidence they were trying to pull one over on the citizens of Phoenix, who clearly don't want to fund arena upgrades.