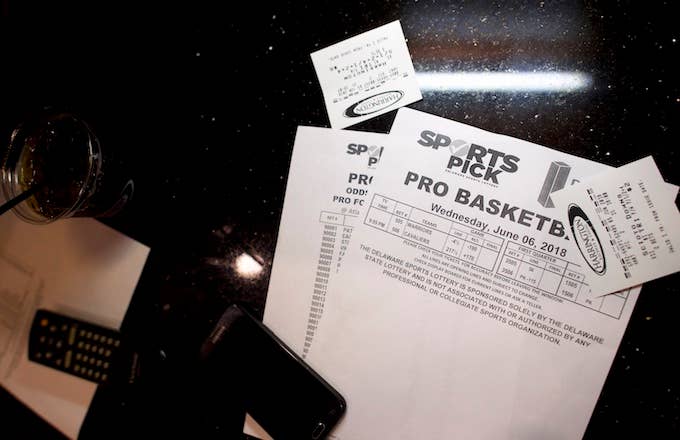 That mini bet you make with your buddy about whether the next free throw goes in, or the next player to swish nylon from 3-point range, could be something you wager using official sportsbooks during NBA games soon. Legal sports gambling was a development the NBA prepared for, and on Wednesday they announced two identical partnerships with Genius Sports and Sportsradar to release official NBA and WNBA betting data for all sorts of crazy in-game odds. 
Both companies have worked with the NBA already in some capacity before, but the partnerships aren't exclusive. "That's the unique part of this deal, that it's not exclusive—and that's different from what's done with many other leagues around the world," NBA vice president of fantasy and gaming Scott Kaufman-Ross told Bloomberg.
The value added is the speed and accuracy of the data they're providing. How are you supposed to bet on minutiae within the game, if tracking those details is unreliable? Already, bookmakers in the UK say there are more bets during a match than before it, and FanDuel recently said at a gaming conference this week in New York that in-game betting makes up an estimated 40 percent of what's wagered in their sportsbook. 
"We see the market evolving more and more toward live betting, and having the ability of providing reliable, accurate and timely information to the [bettors] is absolutely crucial," Sportradar U.S. president Matteo Monteverdi told ESPN.
London-based Genius Sports' chief commercial operator Jack Davison tells Bloomberg they'll now take the NBA's data and translate it into sellable bets—similar to prop bets for the Super Bowl—for the sportsbooks. "If you gave many sportsbook operators some raw data from an NBA game, they wouldn't really know what to do with it because they don't have the technology, or the resources or the expertise," he said. "That's what they get in working with us. We're adding a whole product layer that turns real-time data into an in-game product."
Soon, that bonkers bet on the next blocked shot you made with your friend at the bar will be something you can actually wager with a couple taps of your phone.