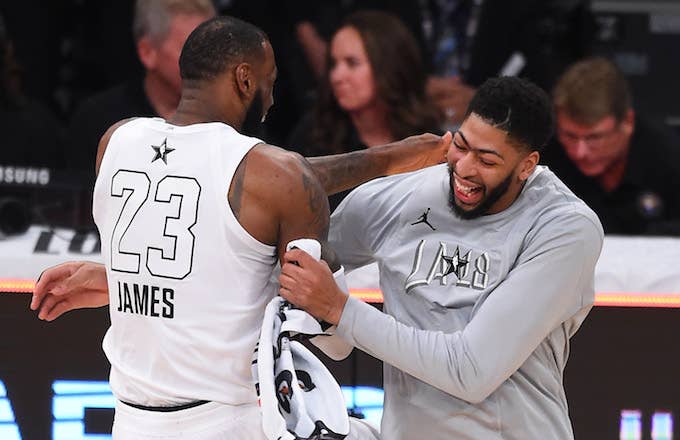 The glaring contrast between the games of Anthony Davis and Carmelo Anthony mere weeks before the calendar rolls over to 2019 could not be more stark. Ye the best basketball player in the world right now, LeBron James, has expressed varied levels of interest in both joining his Lakers squad over the last 24 hours. Bron knows the power his words convey, so it's worth trying to understand what motivated him to speak so publicly about both.
Before his Lakers lost to a streaking Nets team, 115-110 (DAR finally got a revenge game!), on Tuesday night, James could barely contain his glee at the prospect that the Lakers might land the Unibrow. "That would be amazing," he told ESPN before pointing out how obvious his response was considering Davis' talent. "That would be amazing, like, duh. That would be incredible."
Duh, indeed. The 25-year-old is averaging 28 points, 12.4 rebounds, 4.7 assists, 2.8 blocks, and 1.7 steals per game, and—should he remain healthy—he's a lock to compete for the MVP beyond the next half decade. He's also a free agent in the summer of 2020, which means if he declines the supermax extension the Pellies will offer this summer, they'd be forced to trade him before then. And if he's already told New Orleans brass he's not re-signing, maybe they'll deal him before the Feb. 7 trade deadline in less than two months—that's the thinking of the Lakers faithful at least, and it's the only way it could actually come to fruition, considering the stockpile of picks and young talent Boston has to offer.
The likelier scenario sees Carmelo Anthony joining the Lakers, which could leave a somewhat sour taste in the mouth of Lakers fans, although LeBron's palette appears pleased by his hypothetical addition. James declined to comment on Melo last month, but here's what he said after the Lakers lost to Brooklyn. 
Melo and LeBron dined at Quality Steakhouse when he was in NYC (shoulda gone 20 blocks south to Keens and gotten the mutton chop), to breathless TMZ coverage, who also noted that former NBA player John Salley thought Melo was headed to Hollywood. However, as James notes, with more than a little irritation this is even a topic, Magic Johnson and Rob Pelinka decide Lakers personnel.
The former Nugget, Knick, Thunder, and now Rocket has been in limbo after Houston shut him down just 10 games into the 2018-19 campaign, and it's unclear if anyone of note will pick up the former All-NBA lock. Melo's play has dropped precipitously over the last two to three years, with his defense even more of an albatross and his normally elite offense slipping to subpar levels. But James and Melo have been friends since they played against each other in high school AAU and then arrived in the NBA together in that stacked 2003 Draft. That friendship likely overrides any objective concerns about Melo's game—just ask fellow banana boat buddy, Chris Paul.
It's unclear what, if anything, happens with either player James has mentioned recently because he's not the GM or president of basketball operations, despite rumors to the contrary. One thing that's crystal clear, though: LeBron's self-caused drama befits his new Hollywood home.