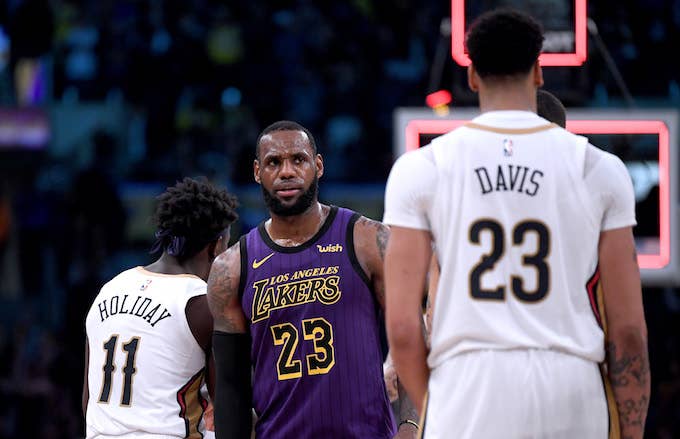 Earlier this year, when Anthony Davis said he had to play "almost perfect" for his team to win, it sent a shiver down the spines of Pelicans fans everywhere. That paranoia hit overdrive when LeBron spoke up about potentially one day playing with AD, prompting rival GMs to whine about tampering. While Davis is locked down until the end of the 2019-2020 season, he'll unofficially become a free agent if he declines the five-year extension the Pelicans are expected to offer him this summer, as ESPN's Zach Lowe explained on Thursday.
Lowe suggests that the biggest reason for all this AD fear-mongering has to do with New Orleans' subpar showing through their first 35 games. Yes, they've dealt with significant injuries, but Davis is playing well enough to hide some of their deficiencies. Publicly, the Pelicans and Davis have said they're happy, and New Orleans coach Alvin Gentry says they're not trading their superstar this season. But if the team keeps losing, it might make sense to explore trade options now, which is where the Lakers come in.
The Celtics possess the most enticing package of young talent and draft picks to acquire Davis, should he decline his supermax extension this summer, which could very well happen considering Davis recently told Yahoo's Chris Haynes that he'd "take legacy over money." 
However, the Celtics are currently boxed in. After trading for Kyrie Irving in the summer of 2017, the C's can't trade for Davis until July 1 next year because the new CBA doesn't allow teams two players on a Designated Player extension (formerly known as the Derrick Rose Rule), which would be the case if Irving and Davis shared the court for the Shamrocks this season (Kyrie is due a new deal this summer, which removes that overlap).
That's why L.A.'s best chance at landing AD via trade goes down before this season's Feb. 7 deadline. But even for that to happen, a lot of different things would have to break their way. The Pelicans would have to keep losing, which feels less likely considering how good Davis has looked this season.
Not only that, but the Lakers would need to hand over the farm (in all likelihood, Lonzo Ball, Brandon Ingram, and multiple first-round picks), and there's no guarantee he'd even re-sign in L.A. if they somehow pulled that off. One thing working in the Lakers' favor, as has been pointed out ad nauseam, is that Davis shares the same agent as LeBron.
The Lakers' best chance at Davis remains a trade this season, which is why this has become the biggest story in the NBA, even as Davis and the Pelicans say they're content together in the Bayou.