How the Clippers Plan to Sign Kevin Durant and Kawhi Leonard
The Clippers are always lurking when Kawhi Leonard or Kevin Durant are playing. And even when they aren't.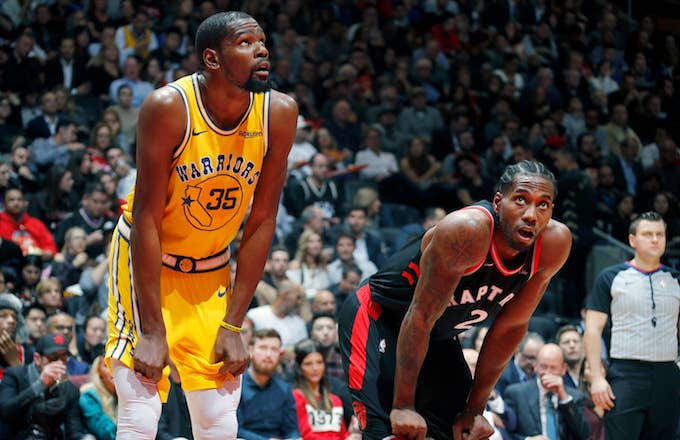 Getty
Image via Getty/Mark Blinch/NBAE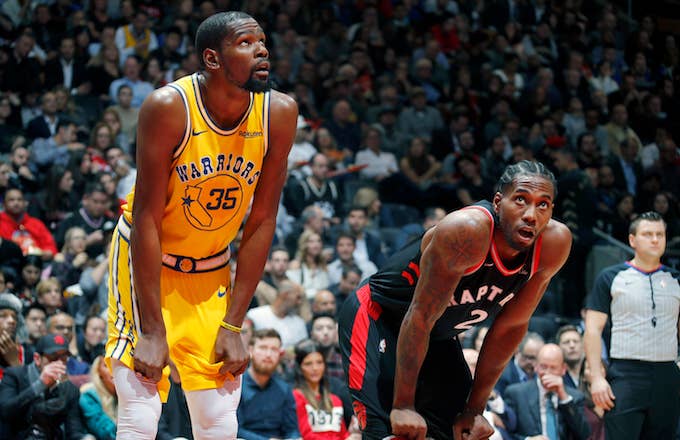 The two biggest NBA free agents this offseason, Kawhi Leonard and Kevin Durant, are transformative talents that instantly lend contender status to whichever team is lucky enough to have them don their uniform. That's why the audacious Los Angeles Clippers, long the latch-key kid in Los Angeles, are so keen on bringing them to L.A. According to ESPN's Brian Windhorst, they're also going above and beyond the usual free agency machinations in an effort to do so.
As Windy notes, the Knicks have hired one of KD's best friends, Royel Ivey, as an assistant coach, and the Lakers signed Michael Beasley, less as a scoring punch off the bench—he's averaging just 7.1 minutes in the 10 games when he's appeared in purple and gold this season—and more because Beasley and Durant have been friends since their high school days. But the Clippers have gone above and beyond according to ESPN reporting. 
Raptors officials have noticed a Clippers staffer at roughly 75 percent of their games this season including some where Leonard didn't even play—while the Clippers say they've been at only around half of Toronto's contests. Not only that, but president of basketball operations Lawrence Frank has attended games, a rare sight among the upper echelon of NBA management.
The Clippers have cleared the cap room for two max deals this summer, and while Tobias Harris might be playing his way into one of those openings, it's clear the other team in Los Angeles will trot out an impressive pitch for both superstars. Owner Steve Ballmer hired NBA legend and logo Jerry West, and stripped coach Doc Rivers of his GM status to give to Frank without losing Doc's real coaching prowess. According to scouts Windhorst has spoken to, Rivers has been coaching on a higher plane since the move and shows no signs of ill-will at what most would deem a downgrade in responsibility. Not only that, but L.A. hired former SI writer Lee Jenkins to be a part of the franchise's front office, and they likely couldn't have found a writer with more credibility among the league's players.
The Clippers are poised to move to an Inglewood stadium in the coming years, finally breaking from the shadow of sharing the Staples Center with the Lakers. It all adds up to what promises to be an intriguing prospect for both superstars, and—though highly improbable—the chance both sign with the Clippers and supersede LeBron as the preeminent basketball team to watch in the city.