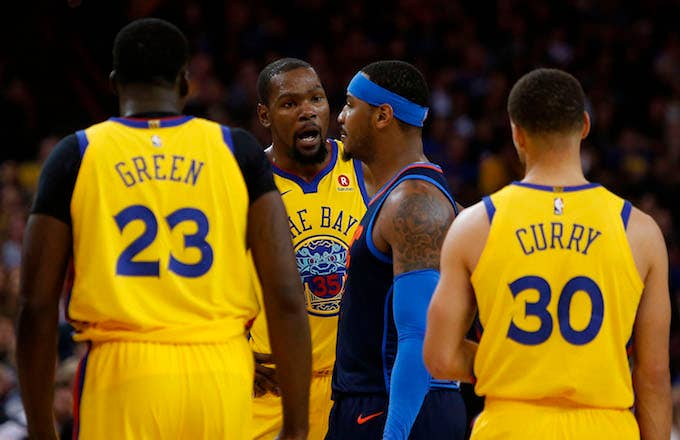 Like much of the world today, the NBA has turned into a reality show of sorts, with social media replacing public relations teams, or more diligent PR teams furiously refreshing their clients' twitter feeds. As the world slouches toward a Kardashian nation, basketball fans have turned to inscrutable tweets and IG comments to predict the moods and motivations of their favorite players. Likewise, athletes aren't immune to social media's indirect path to speculation, and maybe that's what Carmelo Anthony was attempting to inspire when he apparently shouted out Kevin Durant and Steph Curry in a tweet, courtesy of multiple reddit posts, which was persumbably then deleted.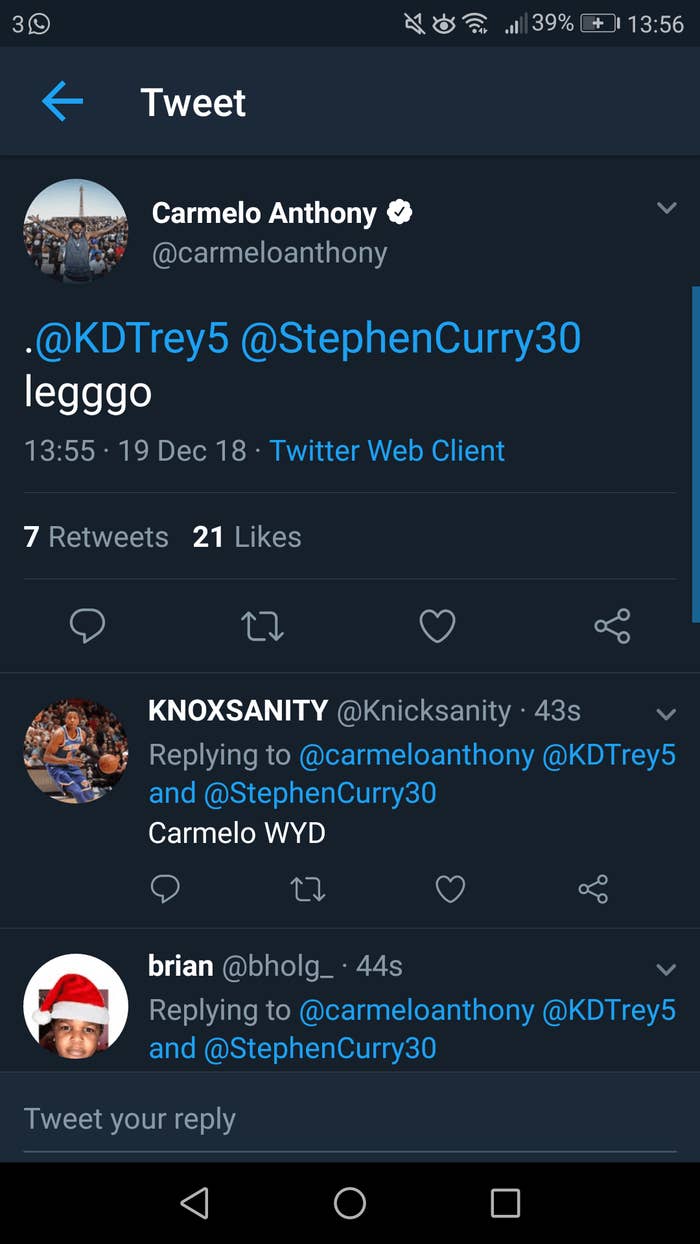 It wasn't just the two former MVPs of the Warriors who got the Melo message before he decided against it. LeBron did, too.
Remember, LeBron recently went out to dinner with Anthony when the Lakers were in New York on a road trip, and he admitted that playing with his buddy in the purple and gold would be "great."
Anthony hasn't seen an NBA court in over a month, and they're probably getting a little tired of him monopolizing all the pick-up run at Terminal 23. We'd imagine he's even less likely to pass playing in what amounts to his hometown gym hidden along West 32nd street.
On the Jordan Brand front, there were rumors the Hornets and owner Michael Jordan might be interested in Anthony, who would only incur a $1.5 million tax hit on whichever team picked him up, and save the Rockets $2.6 million because of luxury taxes if they could unload him. Philadelphia and L.A. have also been mentioned as possible landing spots. Since he was signed by Houston over the summer, Anthony wasn't actually able to be moved until this past weekend's deadline for 2018 free agent signees, but—as of this writing—Carmelo remains next to Virgil in Dante's first circle.
The rumors of Charlotte, Los Angeles, or Philadelphia are just that, with the New York Times' OG Marc Stein writing in his recent newsletter that all three teams have demurred so far on the Anthony front. If that's really the case, maybe Melo's tweet at the Dubs and Bron was more a cry for help than late-night silliness after overindulging on some vintage vino.