The NBA has provoked more conspiracy theories than the other three North American professional sports leagues combined. Perhaps, in part, it's because how visible players are without a helmet or cap obscuring the emotion of the moment, or their interactions with teammates, coaches, referees, and fans. Or, maybe the NBA's coterie of agents, players, scouts, and league executives smacks of an organized entity capable of carrying out a diabolical plot to obscure the truth. Regardless, for a huge segment of NBA fans, some of the most baffling moments and motivations in the league's history are best explained by an anonymous commenter in the throes of a particularly lucid LSD daydream. That's the moment fiction and fact blur and Reddit threads bleed into reportage.
The popularity of NBA conspiracies could be explained by how they attach themselves to basketball's very best. The top player today, LeBron James, continues to be a fountain of them. The fact that some have come true—like when people tracked Dan Gilbert's private jet in the summer of 2014 convinced James was going back to Cleveland (count us among those who thought online Cavs fans had turned to PCP after Anthony Bennett). Or the Space Jam 2 Hollywood tycoon conspiracy predating LeBron's decision to sign with the Lakers this past summer have only emboldened the tin-foil-hat-wearing denizens with League Pass subscriptions. Everything from LeBron's hairline, his weight, alleged PED use, and more have swirled around him for years. Unfortunately, even his family gets embroiled, with one of the more famous yarns percolating for so long online it becomes fact in the minds of many. The same could be said for the NBA's OG GOAT, Michael Jordan, who played well before social media, or the ubiquity of smartphones, which have largely laid bare a player's every move and utterance. The mystique attached to previous NBA era only heightened the rumors and innuendos about Jordan. That's what normally happens with legends, but more so when there's not as much information out there to debunk the conspiracy.
NBA conspiracies are so popular they've become something of a cottage industry among fanciful YouTube impresarios who have Stephen A. Smith'd their way to online ad revenue. Like the 1,000-year-old game of telephone acting as the foundation of all major religious texts, conspiracies are simultaneously an oasis in the desert of useless ephemera and the island in the sea of plausible coincidences. While the veracity of most conspiracies should be laughed off, or downright ignored, here are seven NBA conspiracies we want to believe in, if only because they provide a little bit of structure to an increasingly mad world.
1.
Kevin Durant joined the Warriors to slow down Under Armour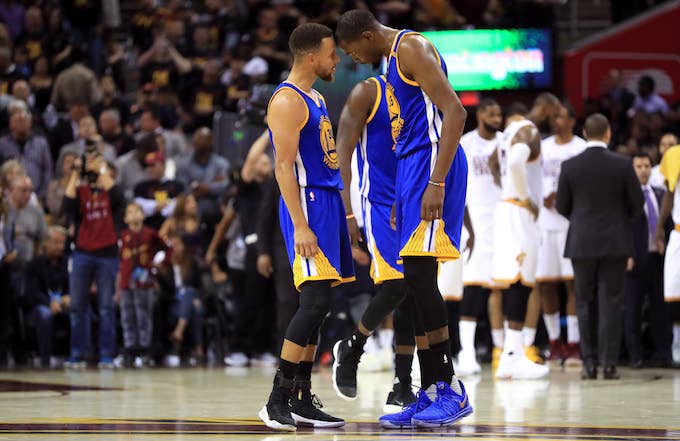 No capital D Decision since James' in 2010 sent shockwaves through the NBA like Durant's July Fourth announcement that he was signing with the Warriors two summers ago. Except, unlike James' humbling loss to Dirk Nowitzki in the 2011 Finals, the Warriors have done exactly what everyone expected when his Players' Tribune piece dropped: they captured two straight titles and KD won two successive Finals MVPs. Durant said winning was most important, and he wasn't lying, despite how some self-important NBA fans might view it.



For Nike, this is a coup: It wanted to slow UnderArmour's momentum with Steph Curry and Warriors. Now, KD promises to impact Curry's star.


— Adrian Wojnarowski (@wojespn) July 4, 2016
However, there were whispers directly after the announcement that maybe Nike had been in KD's ear, and that he was actually a trojan horse to curtail Under Armour's ascendance along with two-time MVP Steph Curry. Under Armour might not make the best kicks, but they had the best pitchman: An empathetic figure at just 6'3" and 180 pounds, Curry was a stand-in for every undersized kid who dreamed of NBA glory.



It shouldn't be surprising how easily people ignore that the forces pushing Durant to GSW are Nike and his inner circle aka probably agents.


— Mike Piellucci (@mikelikessports) July 5, 2016
While it's unlikely KD's move to the Bay contributed, Under Armour has seen their Curry line dovetail, while Nike remains the most relevant basketball sneaker company in the world. In 2017, KD's signature line sold more than Curry's.
We like this one because rather than place the onus of KD's decision on his desire to win a ring, it might soothe disgruntled NBA fans to blame the whole thing on the Nike's attempts to solidify their monopoly over the basketball sneaker market.
2.
Marcus Morris played as Markieff Morris in Game 2 of the 2017 Eastern Conference semifinals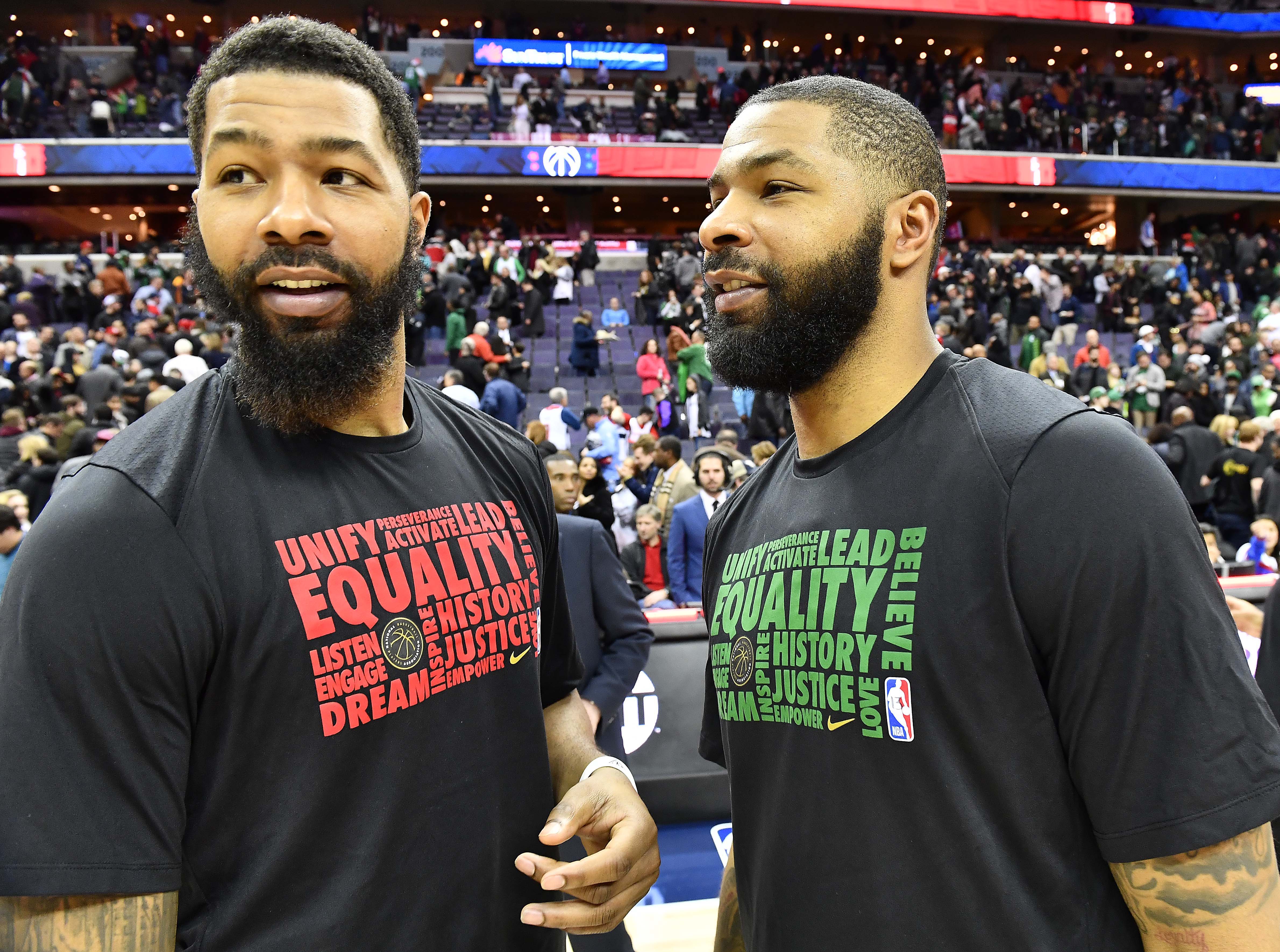 This one gained traction after Washington's Markieff Morris suffered what looked like a bad ankle injury in Game 1 against the Celtics. Despite the severity of the sprain, he came back to score 16 points and snag 6 rebounds in 26 minutes of action in Game 2. It was the game where Isaiah Thomas dropped 53 points, but Kieff's play opened up the possibility that Marcus, who played for the Pistons at the time, might've played for Kieff instead.
Because of their remarkable resemblance, and the fact they used to switch teams back during their AAU days, it had the air of something more than just intrigue. It really seemed possible because we all fools.
"I think they might know," Markieff said in 2013 of the identity swap they pulled off as teenagers. "I'm not as skilled as Mook is. We did it before in AAU ball. [The jersey switch] was on the bench. It happened real quick. He had hurt his ankle but I had fouled out. I gave them a little limp back in, like I was hurt and kept playing."
Both Markieff and Marcus have similar games, sweet-shooting tweeners who can ostensibly guard both multiple positions, so a switch would be remarkably easy to get past a cursory inspection. Though a trained eye, like Kieff mentioned, would have picked out the differences really quickly.
USA Today's Joseph Andrew attended Kansas with both brothers and wrote about their slight differences in tattoos—the "FOE" (family over everything) tattoo below their chins is more compact on Marcus and the 'E' on his isn't as prominent— and the fact Kieff is an inch and a half taller than Marcus with a longer face. Not only that, but Andrew points out that Marcus has a quicker release on his jumper than Kieff. Getting even more real, there might be liability and contractual issues if Marcus had suited up that day. Would they have to re-play the game? What if Washington won? Would it be forfeited? Probably. Plus, there's no way either would agree to do it, even if we want to believe they've done it at least once in the NBA already and have sworn each other to secrecy.
This one could still be true, and the interesting thing about it is that the actual story might be more diabolical than the one falsely repeated before Jordan's trainer, Tim Grover, set the record straight to True Hoop TV in 2013.
Before Game 5 in Salt Lake City, Utah in June of 1997, the hotel where the Bulls were staying stopped serving room service at  9 p.m. Since NBA players keep odd hours, hoping to peak physically around 8 or 9 at night for games, MJ got hungry.
"I said, 'Hey, the only thing I could find is a pizza place.'" Grover recounted. "[Jordan] said, 'All right, order pizza.' We had been there for a while, so everybody knows what hotel...I mean Park City (didn't have) many hotels back then. Everybody kind of knew where we were staying.
"So we order a pizza, they come to deliver it, five guys come to deliver this pizza," Grover portended. "I take the pizza, and I tell them, I said, 'I got a bad feeling about this.' I said, 'I just got a bad feeling about this.' Out of everybody in the room, he was the only one that ate. Nobody else...then 2 o'clock in the morning, I get a call to my room. I come to the room, he's curled up, he's curled up in the fetal position. We're looking at him. We're finding the team physician at that time. And immediately I said, 'It's food poisoning.' Guaranteed. Not the flu."



The late, great Stu Scott on Michael Jordan's flu game - and right now on ESPN, we have Scottie Pippen on set to give us all the behind-the-scenes from that night pic.twitter.com/ty7qFWCoJj


— Rachel Nichols (@Rachel__Nichols) June 11, 2018
Grover wasn't the only one who thought it was the pizza. Ron Harper, the veteran wing during Chicago's second three-peat, did as well. "Harper always said that it was bad pizza," Phil Jackson said in a 2012 interview with ESPN LA. "You know, Ronnie Harper always thought it was a bad food type of thing."
We want this to be true because it makes more sense than the other theory floated around by his rivals that MJ was hungover. MJ liked to kick back from time to time with a beverage, but probably not in Park City before a Finals game. It's also a lot more nefarious a narrative than simple bad luck if it were the flu. No, this means a pizza parlor in Park City, Utah likely figured out who they were delivering the pizza to at that specific hotel, and poisoned the best player in the world. There are probably people out there who worked at the pizza place in question and they know they poisoned the greatest basketball player of all time and instead of diminishing his legacy, somehow burnished it further! It's as unrealistic as a Michael Bay film, but a lot more plausible.
In the first game of the championship series, an electrical failure in the system that controls the air conditioning sent temperatures at AT&T Center in San Antonio soaring into the 90s. A gassed LeBron James fell victim to cramping and repeatedly had to leave the game, which Miami was winning before the AC broke down. With James out for the final four minutes of the game, the Spurs went on a 16-3 run to close the game and take a 1-0 series lead.
First, Gregg Popovich is too classy to have a hand in something like this. Second, the 2014 Spurs were too beautiful a team—a precursor to the following season's surprising Warriors under Steve Kerr—to warrant such an extreme measure against their Finals opponent. But there are kernels of context that add weight to the conspiracy, and the idea of Popovich impersonating the pettiness of Red Auerbach to give his team an edge is so incongruent with the Popovich persona, the irony brings us great joy.
Exhibit A for SwelterGate is James' history of cramping, which first reared its ugly head after Game 1 of the 2009 Eastern Conference finals against a Magic team that would eventually send James home. However, James' most significant moment of cramping before this game came in the closing minutes of Game 4 during the 2012 NBA Finals. At that point, the pressure was high because James had yet to win a chip, and some attributed the cramps to that psychological battle. After being carried off the court by Juwan Howard late in the game—the veritable Paul Pierce wheelchair of online James trolling from that day forward—James returned a minute later and hit the go-ahead 3-pointer to clinch the win. So, the Spurs must have known James was prone to cramping, regardless of what Gatorade tweeted during the game.
Exhibit B stems from San Antonio's blase response to the elevated temperatures in the AT&T Center. "I don't think I've played in anything like this since I left the islands," Tim Duncan, a native of St. Croix, said after the game. "But we handled it pretty well." That's one way of putting it. Another is that the international flavor of the Spurs uniquely equipped them to withstand the rigors of the sauna AT&T Center became.
"Me personally, it didn't bother me," Tony Parker said after Game 1. "Felt like Europe. We never have AC in Europe, so it didn't bother me at all." The same shrug about the hot climes was repeated by Manu Ginobili, as if the Spurs brass hadn't given them the correct lines. "I've played more years in situations like this than with AC on the court," said the Argentinian. "Not a big deal in that case."
The Spurs are too classy for that, right?
3.
The NBA suspended Draymond Green in Game 5 the 2016 Finals to extend the series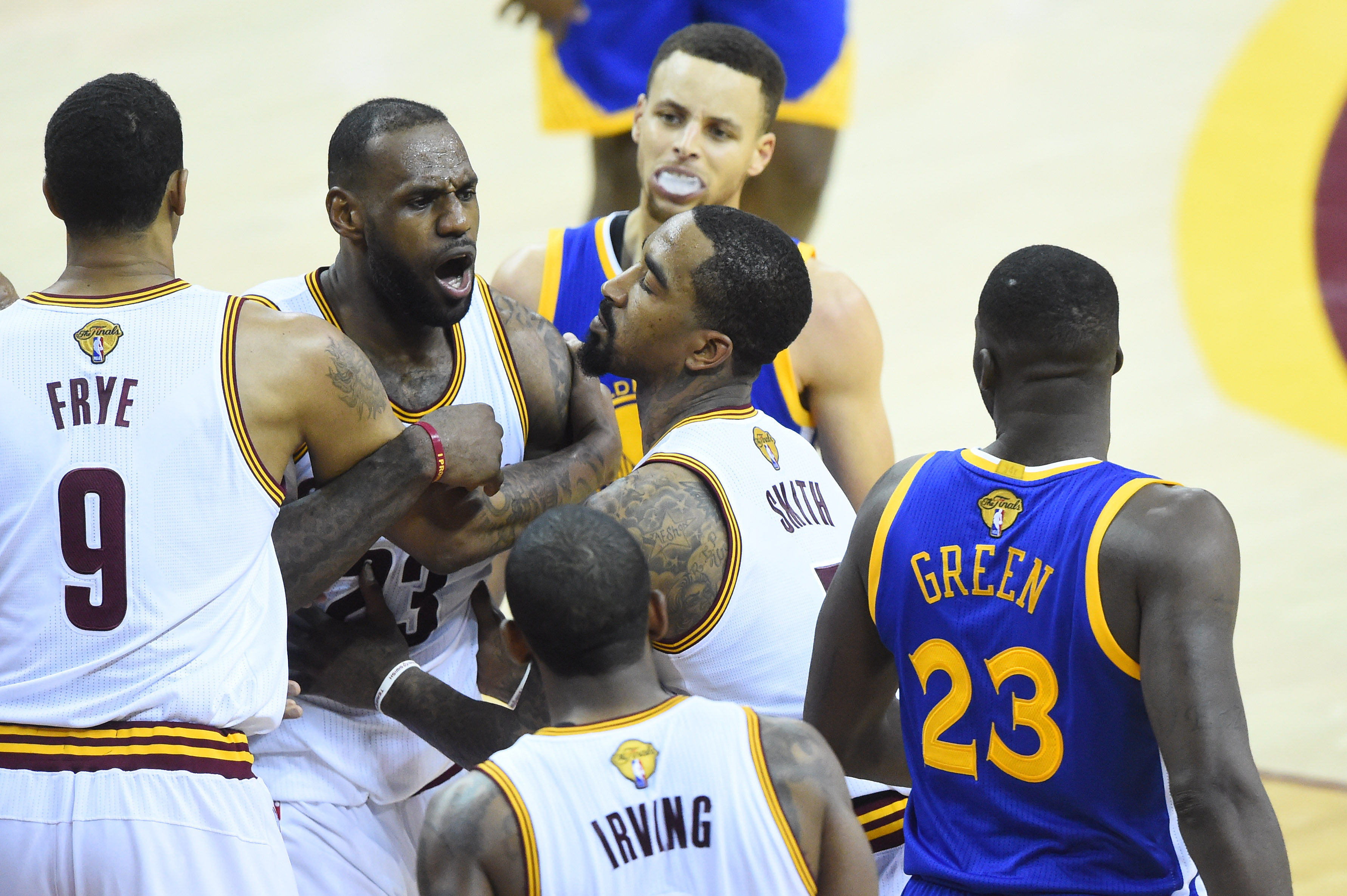 In Game 4 of the NBA Finals, LeBron James and Draymond Green became entangled at the top of the arc when Green was trying to set a screen to free Steph Curry. Green hit the floor (James is really big), and James stepped over him, a big no-no in the unwritten rules of on-court machismo. Green lashed out, flicking his hand into James' groin and inadvertently setting in motion the greatest NBA Finals in the history of the Association.
Green was suspended for Game 5 because of the retaliatory hit, and Warriors fans blamed the NBA for attempting to squeeze more money out of what was thought to be a dominant Warriors win, neglecting to mention the massive TV-rights bag the Association secured a couple years previously. Because fans are predictable, they also blamed James for [puts on Kangol bucket hat and LRG backpack] snitching. Like the refs somehow didn't see Green hit Bron in the gonads. Or they had somehow forgotten he'd already kicked Steven Adams in the gibblies during the Western Conference Finals, and body-slammed Michael Beasley, then with the Rockets, even earlier in the playoffs. Suspensions in the playoffs come on a points system,  and Green had exceeded it.
Tim Donaghy—disgraced former ref, convict and peddler of delicious Joey Crawford knuckle sandwiches—is the one who sounded the alarm on the conspiracy angle. If you can't trust a discredited former employee who served time in jail and had an axe to grind, who can you trust? However, let's not forget Donaghy's prescience about the refs working Game 7. It's preordained, man! Just ask...Ayesha Curry? Yeah, Steph's wife claimed it was rigged this time for—you guessed it—money, after her hubbie was assessed a sixth foul in a Game 6 loss.
Not only that, but when The Ringer wrote about this conspiracy, the video embed they used suspiciously disappeared. Coincidence, or—nope, it's a coincidence. Here's the video (we put a gif above for when the NBA's Thought Police take it down):
We hope this is true just because it makes absolutely no sense, which aligns nicely with our world view since Nov. 8, 2016. The NBA retroactively awarding Green a flagrant 1 was deserved, and it put him over the playoff limit, thereby keeping him out of Game 5, which I'm still not sure the Warriors would have won with him on the floor (Kyrie Irving and James dropped 41 each, and we've never seen some as unconscious from the field—17-for-24—as Irving looked in Game 5).
Plus, if the NBA somehow had known a simple and deserved suspension would lead to the first-ever 3-1 comeback in NBA Finals history, against the only team to ever win 73 regular-season games, spearheaded by the greatest player of his generation for a city in the midst of a 52-year championship drought, in a state that just so happened to be the birthplace of the once-in-a-lifetime player, how can you not be impressed by that total command over the levers of power and influence?
4.
NBA really rigs the Draft Lottery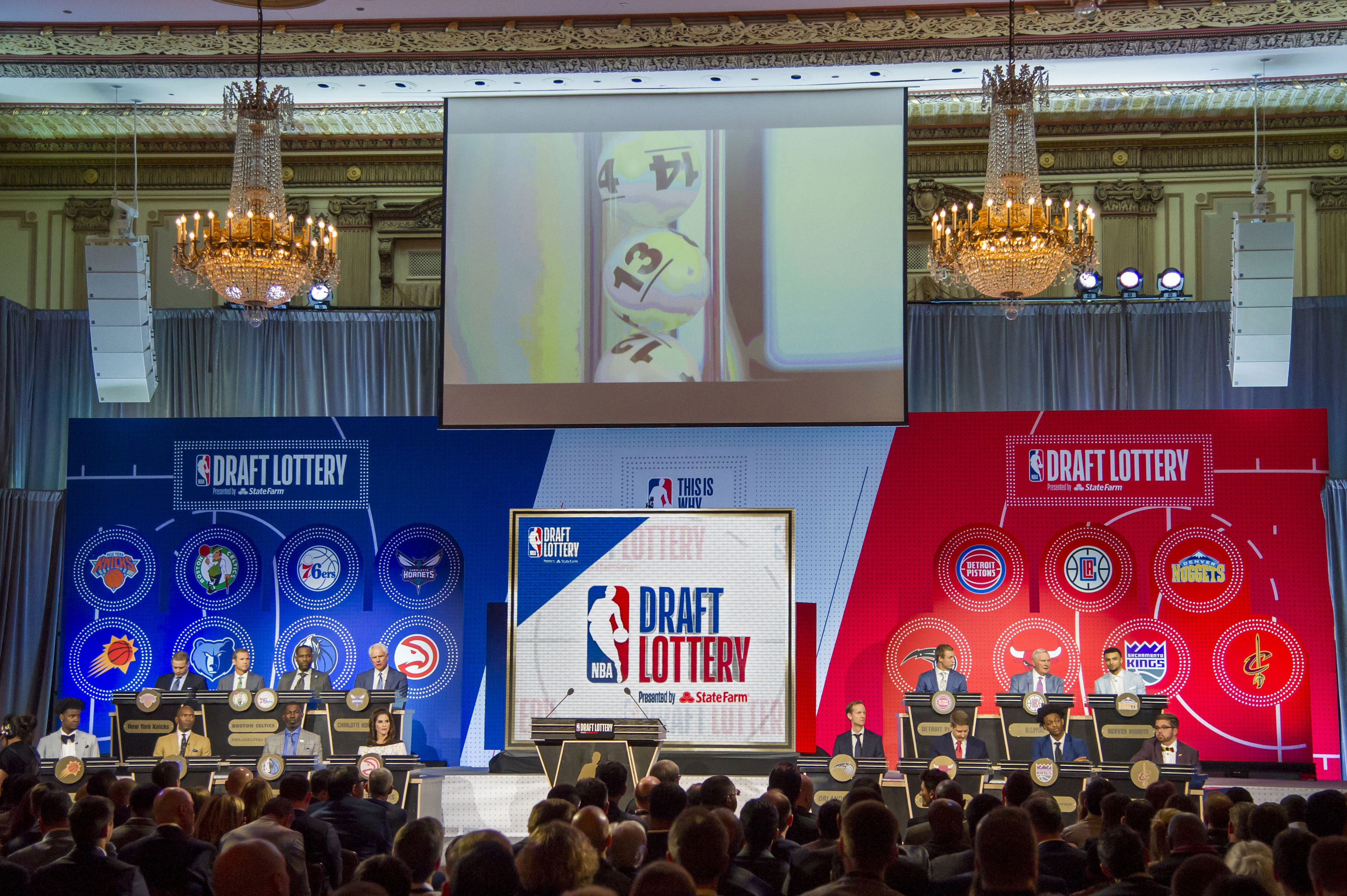 5.
Kawhi Leonard is a Scientologist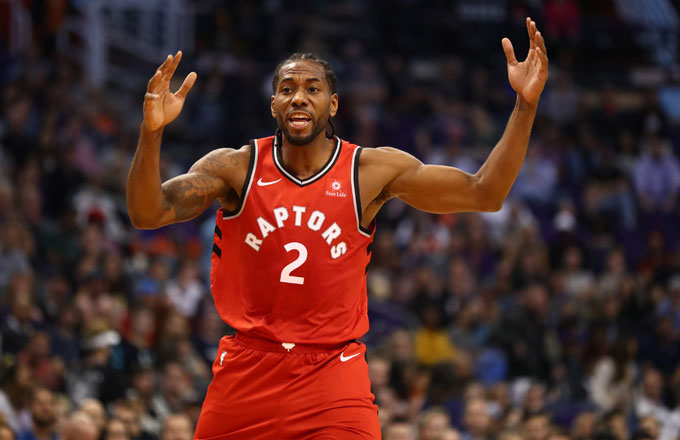 We just want an excuse to post this remarkable Reddit post that's been taken down because it was being used for too much spam. None of these are as creative or entertaining as Kawhi, the Scientologist.