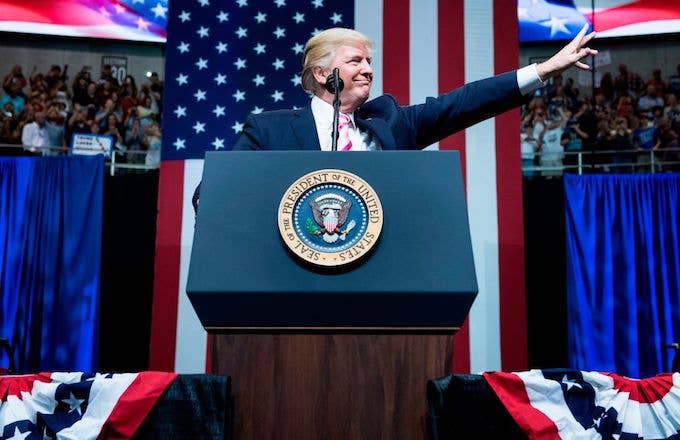 UPDATED Sept. 23, 9:25 a.m. ET: NFL commissioner Roger Goodell offered a not-very-powerful rejoinder to Trump's comments that doesn't mention him by name. "Divisive comments like these represent an unfortunate lack of respect for the NFL, our great game and all our players, and a failure to understand the overwhelming force for good our clubs and players represent in our communities," the statement reads.

Original story below:
On Friday night, the failed casino owner and game show host who colluded with a foreign power to steal an election somehow got elected President was back to doing his favorite thing (besides golfing, that is): riffing in front of an adoring crowd. 
This time, it was in Huntsville, Alabama. The cause was ostensibly a campaign rally for "Big" Luther Strange, who is in a close runoff election for the GOP nomination for Senate against walking Ten Commandments monument Roy Moore. However, as with all things Trump, the true cause was whatever thought happened to float into his brain in the moment.
And what was on our leader's mind in a time of natural disasters and impending war? The NFL, of course. Trump went on a lengthy tirade about NFL players who refuse to stand for the national anthem. After musing about everyone how in the hall "respect[s] our flag," #DotardTrump went in.
"Wouldn't you love to see one of these NFL owners, when someone disrespects our flags to say, 'Get that son of a bitch off the field right now! Out. He's fired! He's fired!'" he said, before pausing to soak up applause. 
Somehow, that wasn't enough sports talk for a guy who has some other things he should be thinking about these days. He came down pretty firmly in the pro-CTE camp, claiming that referees were penalizing players for hitting too hard.
"If you hit too hard… 15 yards, throw him out of the game!" said Trump, who once owned a failed football team. "They had that just last week... Two guys, just really beautiful tackle. Boom, 15 yards! The referee gets on television, his wife is sitting at home, she's so proud of him. They're ruining the game!"
You can see Trump's entire thoughts, such as they are, on NFL players protesting racism and police violence below. 
Many observers noted that Trump was far more animated and forceful in his critique of black NFL players protesting injustice than he was of actual Nazis.