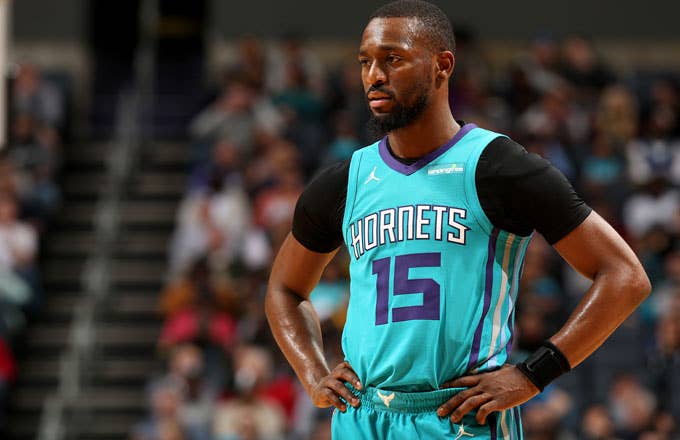 We all know Michael Jordan loves gambling, but he might want to work on his poker face.
In an exclusive interview with The Charlotte Observer last night, the Charlotte Hornets majority owner refuted earlier ESPN reports by saying he wasn't looking to trade All-Star guard Kemba Walker, and would only do so if it netted the team an All-Star in return.
"We bred him, we chose him, we groomed him to be a good player for us," Jordan said of Walker, who has taken Charlotte to the playoffs twice during his seven years with the team. "I'm not looking to trade Kemba, but I would listen to opportunities."
Well, that's obvious, Mike. Your team is a disappointing 19-26, four games out of the playoffs. You just blew yet another late lead against the Miami Heat. You have more money tied up in bad investments than Turtle from Entourage, and you once refused to trade the draft spot that netted the immortal Frank Kaminsky in exchange for, like, 27 draft picks.
Here is the dilemma for Charlotte:

You trade Kemba Walker by himself and you probably return a decent package of picks and young players to aid your rebuild.

Or, you trade Walker and attach one of your bad contracts. The package will be less, but cleans up the cap sheet.
The Hornets have failed again and again and again during the Jordan regime, and because of all the money they have locked into players like Nic Batum ($22.4 million this year), Marvin Williams ($13.2 million), Dwight Howard ($23.5 million), Michael Kidd-Gilchrist ($13 million) and Cody Zeller ($12.6 million), they are now left with only two options: stay mired in mediocrity for the foreseeable future (a quasi-death sentence for many NBA franchises) or trade their best player.
On the one hand, it's tough to see a player like Walker get caught in a mess like this. When the initial reports broke, Walker was blindsided. He's in the process of building a new house in Charlotte. Rarely do we ever see players get as emotional, rarely do we ever see them reveal so much of themselves, as we saw last Friday with Walker.
Kemba Walker says he saw reports about him being traded. Says he'd be upset if it happened, but right now just focusing on Saturday's game.

"I put my heart and soul into this team and this city. And that's what I'm going to do until everything is over."

pic.twitter.com/XKZPq9dqgo
There is, however, another way of looking at the situation. Plenty of good teams are willing to trade for Walker. He's a dynamic scoring guard in a point guard-heavy league, a bulldog of a competitor who has been largely underrated by the vast majority of the public throughout his career despite the college success and the years slugging it out honorably in Charlotte. Walker has a higher RPM (3.64) than more established stars at his position like Damian Lillard (3.07), Kyrie Irving (2.99) and John Wall (1.37), and brings the sort of varied offensive game that makes him easy to fit into any roster combination. Forgive the cliché, but the guy is a winner. He's a leader.
Pairing Walker with Kristaps Porzingis in New York seems like a perfect fit, but it's hard to see the Knicks giving up on a young prospect (Frank Ntilikina) or taking on a bad contract. (Plus, there's the whole All-Star player that Jordan will want back and the Knicks, obviously, don't have any outside of KP to give up.) Walker could thrive in San Antonio, but it's unlikely the Spurs are already at the point of no return with Kawhi Leonard. Some reporters even suggest a trade to the Cavs could be on the horizon, though that team is too busy blaming Kevin Love for everything.
Jordan doesn't want to wave the white flag, but it's difficult to imagine the Hornets making a run at the playoffs. With Walker on the floor, the team is 17.5 points better per 100 possessions. In other words, if they do trade him, you're looking at maybe the worst team in the NBA. With the trade deadline looming in early February, Jordan and Charlotte are on the clock. They can keep Walker and go for the playoffs, or they can trade him and hope some lottery balls send them a savior.
If Walker is indeed traded, let's hope the basketball gods send him somewhere he can shine.