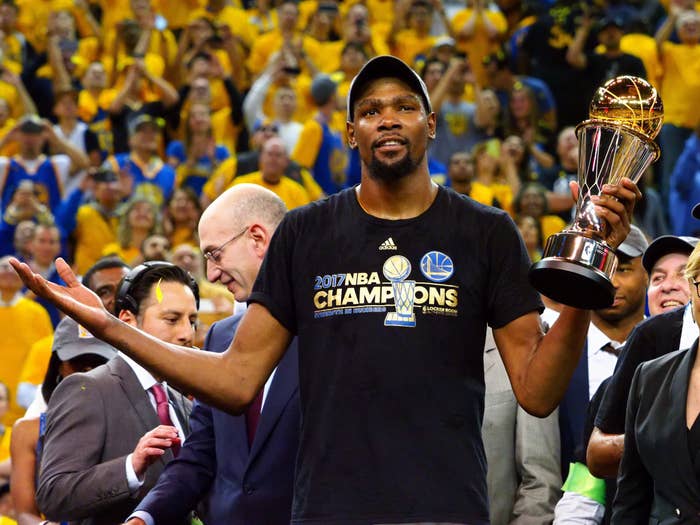 In the end, it all fell away. All of the thousands—no, millions—of words that were written on websites, shouted on television, furiously typed into various social media platforms. None of them mattered anymore. Bill Russell handed Kevin Durant the NBA Finals MVP trophy, and Durant just stood there in an endless moment, arms spread, saying nothing, saying everything. The Nike commercial that followed made it all explicit, but it wasn't even necessary. Durant, by saying nothing, had already said it all.
Later, though, Durant said some things, as everyone is expected to after events of this nature. This, in part, is what he said: "I just tried to stay in the moment the whole series, and I think that worked for me. I remember plenty of times throughout my career I continued to just look in the past and look ahead and not stay in the moment. In this series I just stayed in the moment." So, let's take his advice. Before we get all worked up over the Warriors dominating the foreseeable future, or LeBron going to L.A. this summer for anything other than vacation or TV meetings, let's sit with this for a while. Let's stay in the moment.
We'll start with Durant, who earned Finals MVP by playing a nearly flawless series. He scored 30-plus in all five games, averaging 35-plus on 55-plus percent shooting and 47 percent from three, adding eight rebounds, five assists, and over a block and a half per game. For stretches, it seemed that he made nearly every significant offensive and defensive play—snuffing a Cavs drive on one end, burying an effortless three with the shot clock running down on the other. His pull-up three in transition that ended the Cavaliers' hopes in Game 3 in Cleveland will stand as his most significant play of the Finals. He misses that shot, the series isn't over yet.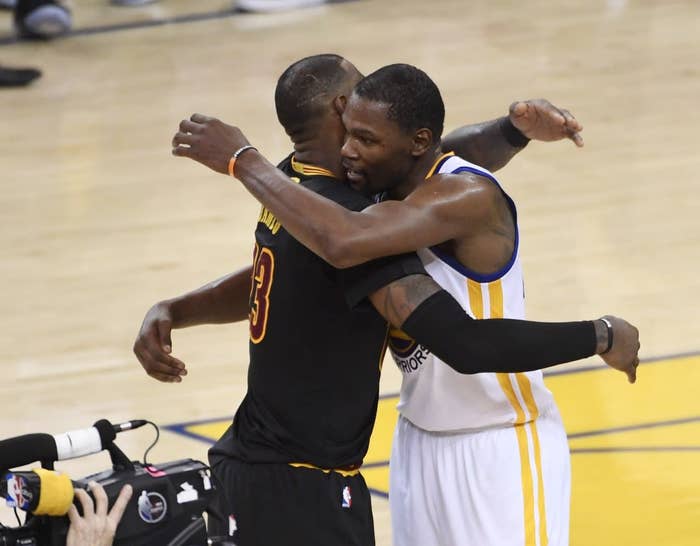 The unfortunate part about the Finals, and even Finals MVP, is that they are zero-sum games. So LeBron, who merely became the first player in NBA history to average a triple-double in the Finals, who walked off after putting up 41 points, 13 rebounds, eight assists and two steals in 46 minutes of play, will still be judged by some by his Finals record, which currently stands at 3-5. He'll be judged, and he will be found wanting. This is, in short, insane. Before these Finals started, James was already one of the best NBA players in history. If anything, his performance in these Finals should have only increased his stature.
Then there's the matter of Stephen Curry, two-time regular season MVP and zero-time Finals MVP. He was brilliant this series save for his 13-shot performance in Game 4, hitting long threes and open teammates with equal aplomb. More important, he played with the visible joy that has long accented his best performances. One suspects he would be perfectly fine with never accepting a trophy from Bill Russell if he can get, oh, three or four or five more handed to him by Adam Silver. That would be enough for him. Is it enough for us?
ever since michael jordan happened, we seem incapable of viewing greatness through any prism. it became a matter of all or nothing.
A brief aside: Ever since Michael Jordan happened, we seem incapable of viewing greatness through any sort of prism. Jordan refracted it the opposite way, merging all of the different colors, all of the different accomplishments, into one. It was no longer enough to just win a title, or just win MVP, or just win Finals MVP. It became a matter of all or nothing, the ultimate zero-sum game. And if we're to take things a step further and disparage Durant for signing with the Warriors in the first place, what's left? Just lots of people mad online. (Aside from the aside: If we're going to asterisk everyone and everything, why do we even need asterisks?)
It's utterly absurd to have watched these Finals and react only with despair. Yes, the Warriors dominated. Yes, barring injury or wild free agency decisions, we should fully expect Cavs/Warriors IV sometime next June (and possibly Cavs/Warriors V in 2019). Stay in the moment, though. Stay with what just happened, and what happens now. Remember J.R. Smith splashing his first five threes last night, or Warriors rookie Patrick McCaw scoring two huge baskets at the end of the third quarter. Remember that JaVale McGee now has more rings than Charles Barkley. Think about JaVale at the parade.
Just as the present doesn't dictate the future, it doesn't change the past either. The Warriors just won the 2017 NBA Finals to distract you from the fact that they blew a 3-1 lead in the 2016 NBA Finals. That still happened. They can win 10 more titles in a row and the past won't change. As great as last night must have felt, they still woke up today with the realization that they fell one win short of a three-peat, with two chances to do it at home.
The past can't be changed, only the future can. When it was all over yesterday, LeBron James sat at the podium and was asked what he can do to compete with the Warriors. He paused. "I need to sit down and figure this thing out." He's not alone in that. The entire NBA, quite possibly the entire world, needs to do the same. For now, let's just stay in the moment. The rest will take care of itself.