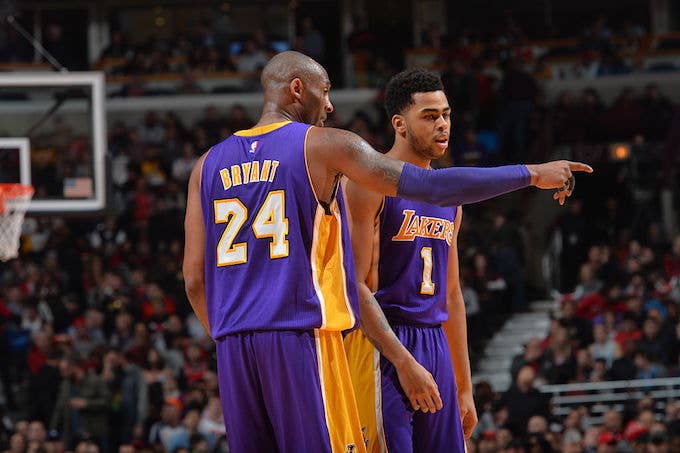 Everyone knows that D'Angelo Russell'stime with the Los Angeles Lakers was filled with controversy. But former head coach Byron Scott has more to say about the young All-Star's time with the team. Notably, his and Kobe Bryant's frustration with the time Russell would show up for practice.
Scott spoke with LA AM 570Radio about his experience coaching Bryant and the Lakers. "He was frustrated. I mean, he told me, 'Coach, they don't get it," he said, referring to Bryant's insane work ethic. He mentioned that Jordan Clarkson was the only player from that Lakers roster that would put up shots early with Kobe nearly every day. "Kobe would go out an hour and a half before practice and say I gotta make 500 shots," he said. "And Jordan would be the one guy that would join him."
He was less than enthused when talking about Russell, whom he said he needed to establish a rule relating to practice for the team because of him. "I had to put in a rule because we had practice at 11 o' clock and he would walk on the floor at 10:55, shirt out. I said 'look man, you not a ten-year pro,'" Scott said of Russell. "You still gotta learn how to get better at your craft."
Now, Russell explains that he wishes he would have listened to the five-time NBA champion more. In a recent interview with The Athletic, he opened up about all of the "jewels" Bryant offered him during their time together.
"Looking back on it, he dropped so many jewels on me that I didn't even hear because I was not there mentally. I remember one time we were in Houston and I went to his room with his security guard," Russell explained. "Kobe comes in and says, 'You know, when you go on these road trips, you want to have fun, you want to turn up, you want to do all that in these cities.' But he said, 'I gained an edge by taking meetings on these road trips, business meetings. What can I do to establish my brand, figure out what I like to do, advance my life after basketball?'"
"But looking back on it, I'm like, man, he was really teaching me what's really relevant now and a lot of kids don't get it until they're 8-10 years in and realize what they want to do," he continued. "Then they attack it, but they're on their way out and their [ability to make money] isn't the same." Sounds like Russell has done some maturing himself.