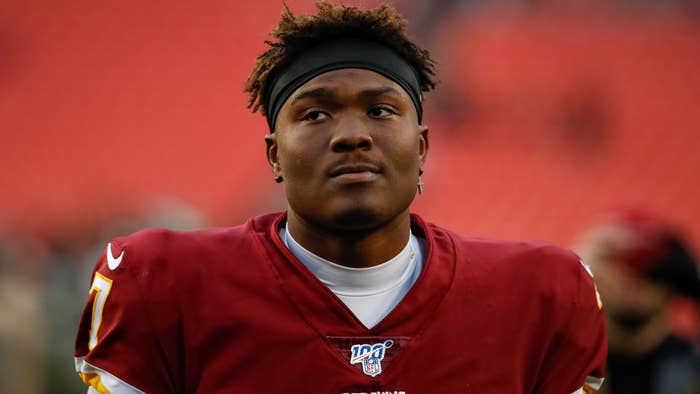 Last Saturday, the football world was stunned by Dwayne Haskins' tragic passing. The Pittsburgh Steelers quarterback and former Ohio State standout was struck by a dump truck while walking on a South Florida highway. 
Our collective timelines were flooded with heartfelt messages paying tribute to the 24-year-old. From Ryan Day, head coach at Ohio State, to reigning NFL Defensive Player of the Year and teammate, T.J. Watt, former teammates and opponents shared their fondest memories of Dwayne on social media.
However, in the midst of our collective shock, there were two notable instances that quickly reminded us of the lack of empathy that exists for athletes. 
For starters, the initial tweet, through which many of us learned of Dwayne's death, arrived via ESPN NFL insider Adam Schefter, who tweeted out: 
"Dwyane Haskins, a standout at Ohio State before struggling to catch on with Washington and Pittsburgh in the NFL, died this morning when he got hit by a car in South Florida, per his agent Cedric Saunders. Haskins would have turned 25 years old on May 3."
The tweet was met with a firestorm of criticism from fellow media members, fans, and NFL players due to the insensitivity Schefter showed. After garnering nearly 21,000 quote retweets (most of which expressed anger toward Schefter) he deleted the tweet and followed it up with another draft. 
Following Schefter's comments, 90-year-old former NFL executive Gil Brandt appeared on NFL radio Saturday afternoon, merely hours after Haskins' untimely death, and was quoted as saying: "[Haskins] was a guy that was living to be dead." Brandt followed that statement with: "Maybe if he stayed in school a year, he wouldn't do silly things [like] jogging on a highway."
After a visceral reaction to Brandt's disgraceful comments about Haskins, Brandt apologized through his Twitter feed, which isn't run by Brandt himself. Schefter's apology took longer, arriving on Monday via his Twitter feed through his self-titled podcast. Schefter expressed his apologies: "I wish I could have that tweet back. The focus should have been on Dwayne, who he was as a person, a husband, a friend and so much more. I wanted to apologize to Dwayne's family, his friends, the players in the National Football League and offer my condolences to everybody close to Dwayne."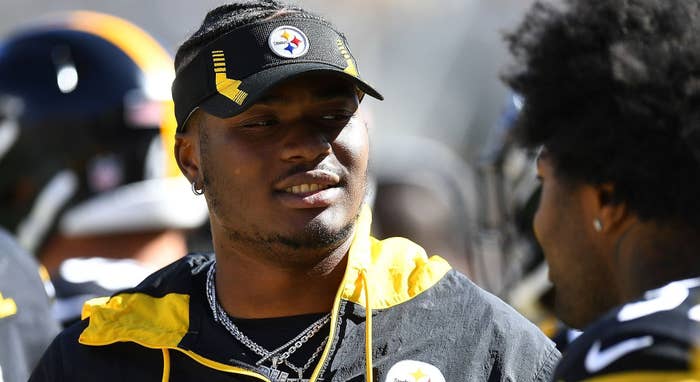 Moments like what happened over the weekend in the coverage of Dwayne Haskins' passing, unfortunately, underscore a pervasive issue in sports, that most times athletes are dehumanized, even in death. 
Far too often, immediately after a Black athlete passes, their life is contextualized based on their professional achievements, or in some cases lack thereof. They're also judged by the way they conducted themselves; continuing to draw the ire of those who expect Black athletes to operate with a certain level of assimilation, to pacify those who are unwilling to accept individuals whose backgrounds differ from their own. No matter the progress these athletes have made personally or professionally, or the touching anecdotes shared by those close to them, outlining their shortcomings under the guise of "journalistic integrity" or "painting the full picture" occurs way too often, and is incredibly disingenuous. Especially when it's presented directly alongside the tragic news. Athletes already spend most of their lives as commodities. Responding to an athlete's death in this way underscores that their value reduces to their physical output or capabilities. Not who they were as a person.
Should you care that this person has passed away? Are they not worthy of grief just because they didn't live up to the expectations you had for them?
More times than not, the individuals making these callous statements while fans and loved ones are devastated, claim they have no implicit bias––but their actions suggest otherwise. These are the same people who "virtue-signal" on social media and pander to topics that can get them engagement. 
The dehumanization of athletes isn't anything new; but with the advent of social media and the emergence of the 24-hour news cycle within the past two decades, people's inability to be empathetic has accelerated. 
But even 15 years ago, before the passing of Sean Taylor, two prominent media members took aim at Taylor's character as he battled for his life in a hospital bed in Florida. First Michael Wilbon, who said this in an online chat on Nov. 26, 2007, one day before Taylor's death: 
"Sean Taylor isn't the only guy I know who fits his general profile. I've known guys like Taylor all my life, grew up with some. They still have shades of gray and shouldn't be painted in black and white… I know how I feel about Taylor, and this latest news isn't surprising in the least, not to me. Whether this incident is or isn't random, Taylor grew up in a violent world, embraced it, claimed it, loved to run in it and refused to divorce himself from it." 
A day after Sean Taylor passed away, Wilbon followed things up with this statement: "I wasn't surprised in the least when I heard the news Monday morning that Sean Taylor had been shot in his home by an intruder. Angry? Yes. Surprised? Not even a little." 
Colin Cowherd, a fixture on FS1 with his popular show The Herd, said this of Taylor back in 2007: "Sean Taylor, great player, has a history of really really bad judgment, really really bad judgment. Cops, assault, spitting, DUI. I'm supposed to believe his judgment got significantly better in two years, from horrible to fantastic? 'But Colin, he cleaned up his act.' Well yeah, just because you clean the rug doesn't mean you got everything out. Sometimes you've got stains, stuff so deep it never ever leaves."
This is how the media reacted to a player who was murdered in his own home whilst protecting his family from a random home invasion.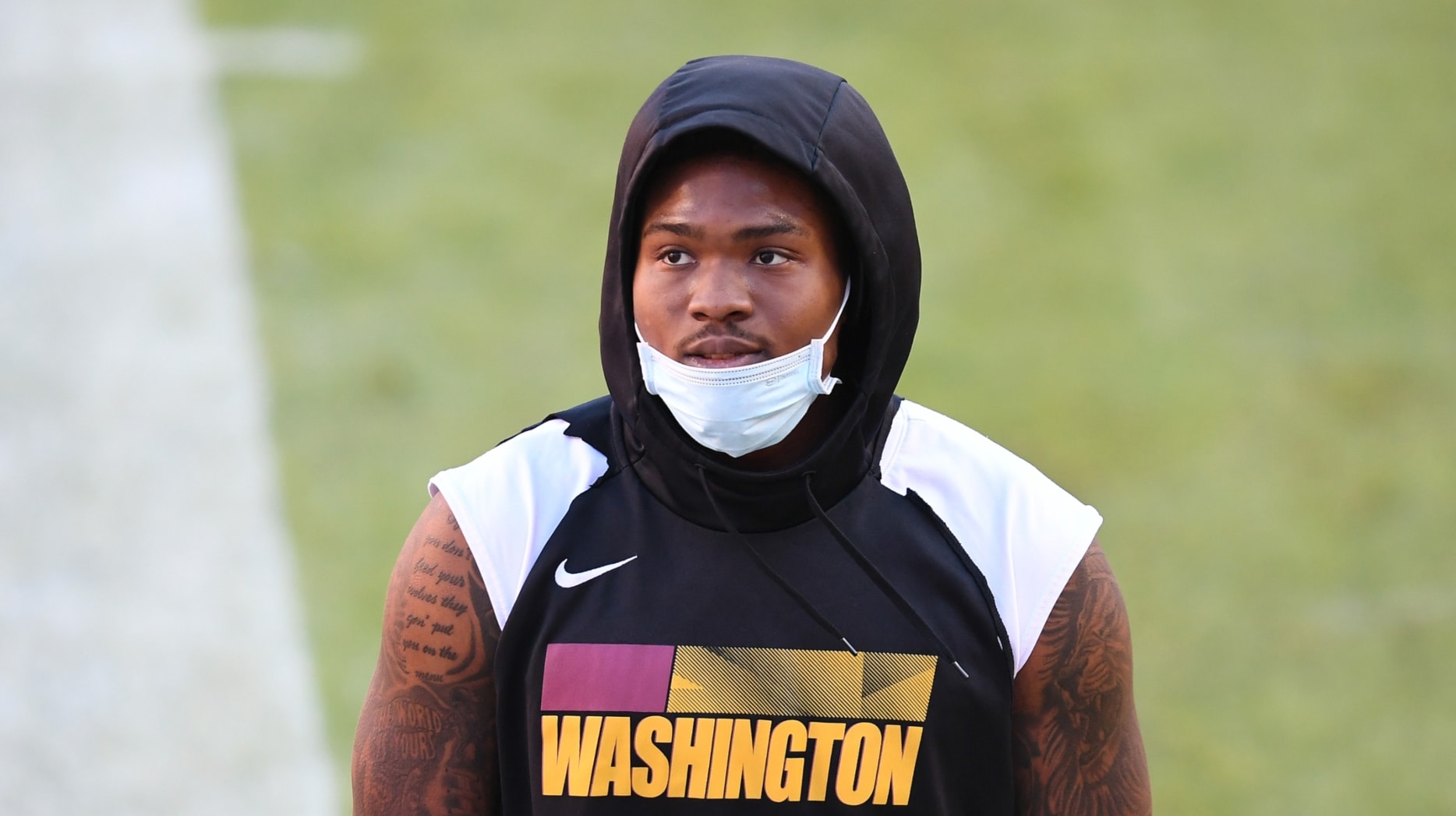 It further illuminates the disconnect between athletes and the audience. The same audience that includes media members who hope to be conduits to the fans, but continue to show that they have no real connection to the athletes they cover. Because more often than not, these are individuals they would never spend time with outside of the realm of sports. 
That notion is prevailing in the discourse that emerges during moments like these. If you saw Dwayne Haskins as more than just a QB, you would identify him as a husband, a son, a friend, and a role model who represented a beacon of hope for young kids who aspire to make it in the league.  
There's a time and place for everything, and if you feel it's necessary to paint the full picture of an athlete's career, then by all means find the right moment to do so. It is necessary, I won't argue with you on that. However, the idea of taking a moment of grief and using it as a means to illuminate your personal agenda isn't journalism to me, it's being incredibly self-righteous.