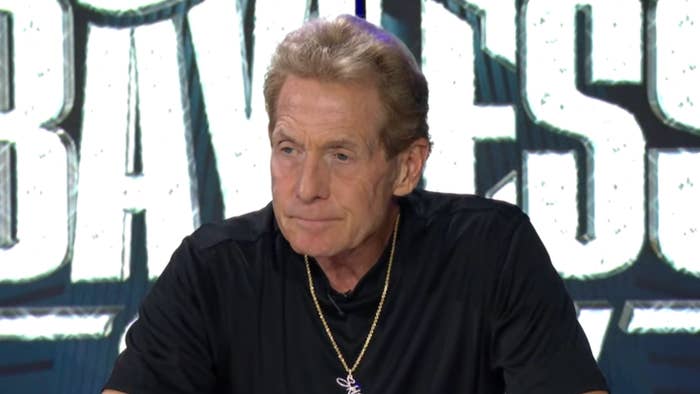 The new version of Skip Bayless' sports talk show, Undisputed Live, has seen a significant drop in viewership since the premiere on Monday.
According to a report from Front Office Sports, the Undisputed Live premiere had only 131,000 viewers tune in on Monday compared to the whopping 448,000 people that turned to ESPN and Stephen A. Smith's First Take. Those numbers were much farther apart on Tuesday when Undisputed Live averaged 120,000 viewers, and First Take brought in 474,000 viewers.
On Wednesday, Undisputed Live saw its lowest numbers as the show dropped to 78,000 viewers, while First Take barely fell to 423,000. The numbers were so low that the viewership across the first three days of the revamped Undisputed Live was fewer than the final episodes of Shannon Sharpe's tenure in June, which averaged 154,000 viewers.
The news wasn't all bad, as Bayless' show was a trending topic all week on Twitter, with people talking about the additions of former NFL stars Keyshawn Johnson, Michael Irvin, and Richard Sherman. The viewership numbers are also expected to improve once the NFL season starts next week.
Skip Bayless has a hefty task of surpassing Stephen A. Smith and First Take. While Undisputed went off the air for most of August, First Take saw a 21 percent growth with an average of 391,000 viewers tuning in, making this month its most-watched since 2017.
Stephen A. Smith decided to have some fun with his old buddy by hopping on Twitter and retweeting the article from Front Office Sports announcing the dip in the viewership numbers for Undisputed.
Shannon Sharpe will surely bring in even more viewers when he appears on First Take with Stephen A. Smith every Monday and Tuesday during the NFL season, as reported by Andrew Marchand and Ryan Glasspiegel of the New York Post.