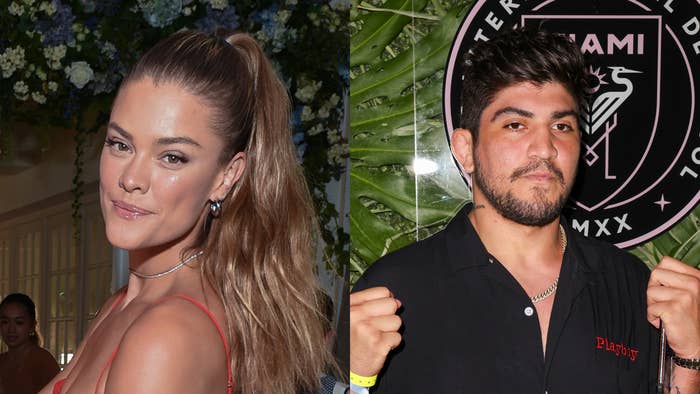 UPDATED 9/8, 12:30 a.m. ET: Agdal has received a temporary restraining order against Danis, TMZ reports.
The outlet notes that the court documents "prohibit Danis from 'posting content in any way depicting or portraying Plaintiff that Defendant knows or has reason to believe was never meant to be shared publicly or was obtained without consent.'"
See original story below.
Logan Paul's fianceé, Nina Agdal, has announced she is suing Dillion Danis and filed a restraining order against the mixed martial artist over his online trolling of her.
On Wednesday, the 31-year-old filed the court documents that stated Danis has been harassing her online ever since Paul announced he was fighting him earlier this summer. In the lawsuit, the model claimed Danis posted "despicable" things about her hundreds of times, and she has suffered humiliation, emotional distress, and reputational harm as a result, according to TMZ Sports.
Per Agdal, one post that was shared on Aug. 11 violated federal and state law. The post contained a sexually explicit image of her in "a romantic encounter" with someone over a decade ago.
"Danis posted the photograph—entirely uncensored—from his X (Twitter) account, without Plaintiff's consent," Agdal wrote in her lawsuit. "Later that day, Danis reposted the explicit photograph in order to maximize the number of views it would receive."
Agdal added that Danis agreed to take down the post after the organization behind the October fight between himself and Paul, Misfits Boxing, would cancel the bout if he kept the image up. She also claimed other posts Danis shared have bothered her, including a tweet about a video she recorded in 2017 about wanting "intimacy during a period of celibacy."
The Denmark native stated that the 2017 video was buried in her Snapchat archives and claimed Danis "hacked [her] personal account or had obtained the private video from someone who had done so."
Elsewhere in the lawsuit, Agdal is seeking no less than $150,000 per violation of federal law prohibiting the sharing of intimate images. She is also asking a judge to ban Danis from sharing sexually explicit images of her. Dillon Danis hasn't shown much remorse for his actions, as he has yet to apologize, and has continued to find new ways to troll Agdal.
"Nina Adgel [sic] has filed a massive lawsuit against me," he wrote. "She filed a restraining order against me and is seeking prison time, so the fight is in jeopardy if I'm in jail. This is actually wild but I won't stop fuck the system come get me. Logan Paul is a dead man walking."
See more of Danis' tweets in response to the lawsuit below.