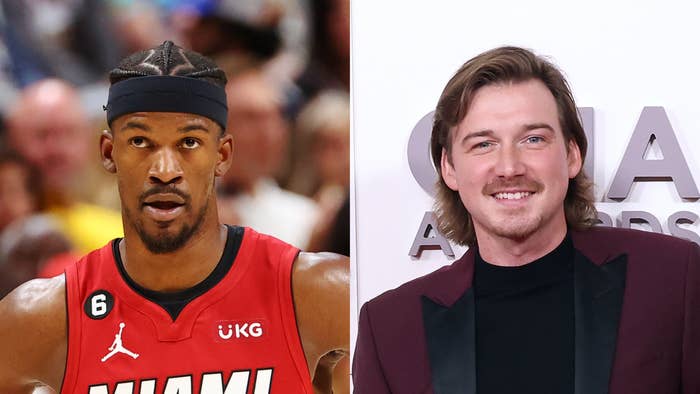 Jimmy Butler is looking to add country music singer to his portfolio, according to an interview he did with Rolling Stone.
In the conversation published on Monday, the Miami Heat star player shed some light on his affinity for country music and revealed he's been working on some music he's planning to release. According to Jimmy Buckets, he's been in the studio with some country heavy hitters.
"I don't want to tell anyone who I've been writing with because then it'll ruin the surprise," Butler said. "Now, I'm in the lab writing and producing country music. We got some real artists and songwriters. We probably got around 45 tracks right now, and I hope to go write some more."
He added, "There's definitely going to be an album. That's the goal. I just don't know when. The date I want to do it always gets pushed back because this other job that I have, playing basketball, kind of overshadows everything. [Laughs] And maybe some of the songs will be down the line for my second or third album. I can't wait to get it to the people."
The six-time NBA All-Star also reflected on his friendship with country megastar Morgan Wallen. They have such a strong friendship that Butler told him he wanted to join Wallen on stage when he performs in Toronto on Sept. 14, which also happens to be the NBA player's birthday.
Butler also revealed he doesn't feel a way about the controversial footage of Wallen saying the n-word that leaked in 2021. According to Butler, he doesn't know what happened but doesn't think Wallen is a person with malicious intent.
"I heard about it. I didn't see the video. I didn't look much into it and I'm not going to look much into it," Butler said. "I don't think he's a bad human being in any way, shape or form. He is a friend of mine, and I don't know what happened."
He continued, "Obviously, it was a mistake, I think he learned from it, I think he knows better, and I don't know what was said and in what context, but I think he's an incredible human being who made a mistake."
In the basketball world, Jimmy Butler isn't happy to see Damian Lillard join Giannis Antetekounmpo and the Milwaukee Bucks. Hours after the blockbuster trade happened, Butler shared a video asking the NBA to investigate tampering.
"Yo, NBA man, y'all need to look into the Bucks for tampering, y'all do," Butler said. "I'm just going to put that out there. Y'all didn't hear it from me, but I heard it through somebody. Y'all look into them for tampering."