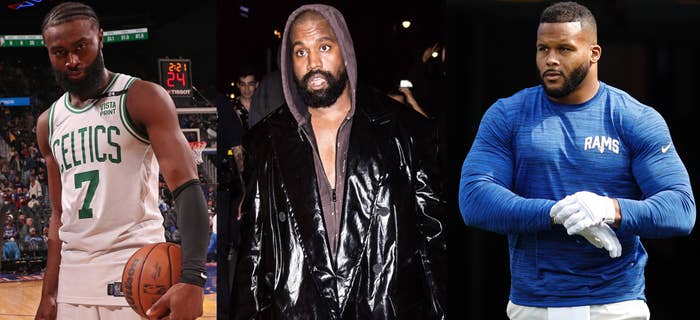 UPDATED 10/25, 6:50 p.m. ET: Boston Celtics guard Jaylen Brown has cut ties with Donda Sports.
Brown announced the news Tuesday evening in a statement, writing that he will "always continue to stand strongly against any antisemitism, hate speech, misrepresentation, and oppressive rhetoric of any kind."
"I do seek to continue providing mentorship, love, and support to the incredible children, faculty, and young athletes with whom I've been grateful to form bonds and relationships with during my time with the Donda Academy," Brown said.
Meanwhile, Los Angeles Rams defensive tackle Aaron Donald has also severed ties with brand, revealing the news in his own statement on Twitter that rejected West's "recent comments and displays of hate and antisemitism."
Fresh off his first Super Bowl win, Donald signed with Donda in June, announcing the partnership during an appearance on I Am Athlete, a podcast hosted by former NFL stars Brandon Marshall, Adam "Pacman" Jones, and LeSean McCoy.
"It was an opportunity that came to us, me and [my wife], and it made sense," the three-time NFL Defensive Player of the Year said. "Hearing the whole spectrum of what they were going to be bringing, the whole family atmosphere that they got in Donda Sports. Not just me, but my wife being a part of that. For me it was a no-brainer."
Antonio Brown, president of Donda Sports, shared his own thoughts late Tuesday, saying he remains "in support of the humanity that is Ye" and is "dedicated to helping clarify statements taken out of proportion by the media."
"Over the past few weeks the world's reactionary and selective outrage at comments in the media made by my brother, Ye, have inflamed and sparked rampant conversation and reflection," Brown, 34, opened his statement. "I too have been able to reflect on statements that I and others in my circle have made that lack clarity in expressing my stance. The people and brands that have relentlessly profited from Black ideas and Black culture chose to distance themselves at a very specific time: a time that demonstrated their prioritization of certain groups over others."
A.B. added, "Sensationalism and groupthink have forced people to not speak their minds and act out in fear rather than love. For these reasons, I stand by my dedication to freedom of speech, thought, and opinion. … Let me be clear, discrimination of any kind is an injustice to all people, which is exactly why I wish to issue this statement."
See original story below.
Despite condemning Kanye West's recent anti-Semitic comments, Jaylen Brown has said he will remain with Donda Sports.
The Celtics shooting guard told the Boston Globe that Ye's Donda Sports agency is geared towards helping his community, which is why he's sticking around.
"Like I said, I don't condone any hurt, harm, or danger toward a group of people," Brown told the outlet. "I will continue to be a member of my community, uplift my community through my work and what I've done throughout my career, and I'm going to continue to do that work."
He continued, "A lot of time goes into creating an entity or organization. The reason why I signed with Donda Sports, it represented education, it represented activism, disruption, it represented single-parent households, and a lot more people are involved in something like that. A lot of people that I work with, work with their families, build love and respect for, spending time in the summer. A lot of people involved. That's what the organization from my vantage point from Donda Sports represented."
Brown signed on with Kanye's Donda Sports in May alongside Los Angeles Rams player Aaron Donald, and admitted his relationship with the Yeezy mogul is complicated at the moment.
"He's someone who's obviously dealing with a lot of adversity that's in front of him right now and everybody can see it and it's public," Brown said. "But a lot of people in the world are dealing with adversity and things that are going on that's in front of them and they need help. It's a lot going on right now."
Adidas and Balenciaga are just some of the companies that have cut all ties with Ye in light of his string of hate speech. 
"It's tough to speak on because everybody is going to form their own opinions about what you have to say, but I look at people that I've been around, family, friends that you love," Brown added. "To me, it's unconditional. To me, as they're working through problems, we're working through it in unison. I don't agree with everything that everybody does. Like I said, I don't stand for any hurt, harm, or danger toward anybody, but sometimes people need unconditional love and help to get them through the situation."