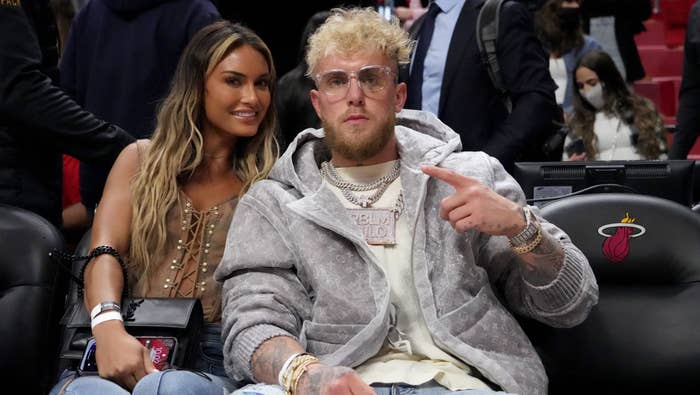 Jake Paul celebrated his 25th birthday by posing nude with his girlfriend Julia Rose, and also made a list of goals he aims to accomplish in his new year of life.
The photo posted to Instagram on Monday finds the YouTuber-turned-boxer standing nude as his girlfriend Julia Fox poses in a green thong and matching bra. While a majority of his goals listed are well-intentioned, such as to elevate women's boxing, Jake also said he wants to go to Space with either "Jeff, Richard, or Elon," and said he still aims to "expose bully Dana," referring to Dana White, whom the 25-year-old had a contentious back and forth with in January.
"I believe that you're a cheater, and I believe that you use steroids, so I want to randomly steroid-test you for the next two years," White said in a response video to Jake's proposal to pay UFC fighters more. Jake had previously called White a "greedy asshole" who severely underpaid his fighters.
"And that thing you came out with today? Nobody on earth thinks that you really wrote that, you're too stupid," White said. He added that Paul's current manager used to be his accountant and that he's "a scumbag." 
"If you two think that you can do it better than we do, you know, we're doing this whole thing wrong, you can treat the fighters better than we do, knock yourself out. Go start your own business," White said.
Check out the full response below.