Former NBA Player Caleb Swanigan Dead at 25
Caleb Swanigan, the former Purdue standout who was drafted by the Portland Trail Blazers in 2017, has died at the age of 25 according to Purdue's Twitter.
Getty
Image via Getty/Abbie Par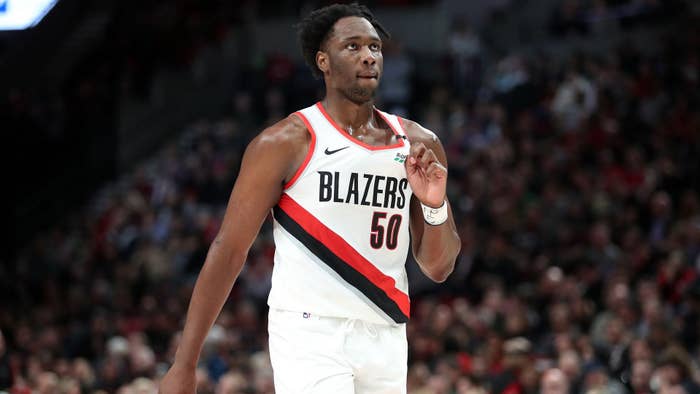 Caleb Swanigan, the former Purdue basketball player who was drafted by the Portland Trail Blazers in 2017, has died at the age of 25. His death was confirmed on Purdue's Twitter account. 
"Devastated," Purdue's Twitter read. "Our thoughts and prayers to Caleb Swanigan's family and friends. The world lost a gentle soul last night. Love you Biggie."
The Allen County Coroner's Office confirmed with local news outlet WANE 15 that Swanigan died of "natural causes."
Swanigan, who experienced homelessness as a child, went on to win Indiana's prestigious Mr. Basketball honor after leading Homestead High School to its only state title championship in 2015. From there, he played for the Purdue Boilermakers at Purdue University where he was named Big Ten Freshman of the week three times, a record for the school. He was eventually selected 26th overall in the first round of the NBA draft by the Blazers.
Swanigan spent three years in the NBA but hadn't played since 2019. He eventually got his degree in Educational History from Purdue, and recently released some music and organized a fundraiser to combat homelessness.
As news of his death spread, NBA journalists and other professional players expressed their heartbreak on Twitter.
"This is absolutely devastating," wrote Former NFL player Trai Essex. "He overcame so much to get to where he got. So much talent and so young. Represented the home town to the fullest! My heart hurts for his family."
Purdue's Head Coach Matt Painter wrote that he was "terribly saddened by this."
"Biggie had a positive influence in everyone's life," he wrote. "Was such a thoughtful person and gentle soul who had to overcome so much in his life. He will be greatly missed."
Below, more people react to Swanigan's tragic passing.