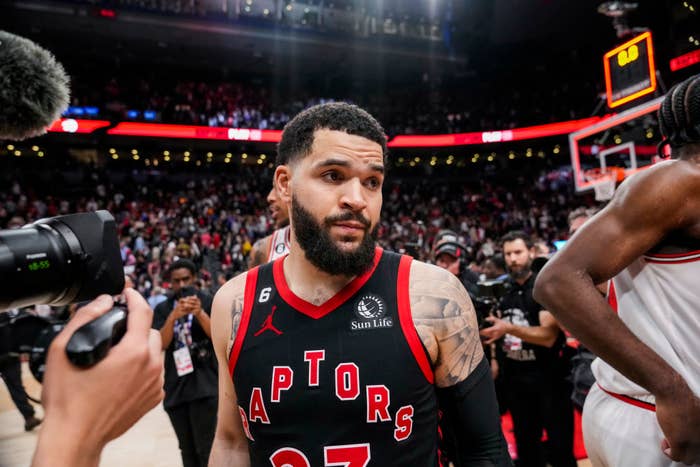 With free agency set to begin Friday at 6 p.m., several teams have been linked to Toronto Raptors point guard Fred VanVleet.
Though the Raptors are expected to make a run at VanVleet, the Houston Rockets have emerged as a potential candidate to lure him away from Toronto.
According to Michael Grange of Sportsnet, Houston has $60 million in cap room and could offer VanVleet a two-year $80 million deal.
"One league source told me the Rockets, armed with $60 million in cap room and no state tax in Texas, are going to tempt VanVleet with a two-year deal for $80 million adding veteran stability to a roster teeming with talented players on rookie contracts," Grange wrote.
The Raptors have little wiggle room with their salary structure and won't be able to match Houston's offer should they proceed with the rumoured deal. Given that center Jakob Poeltl is also due for an extension, it makes things difficult if VanVleet wants to make the most amount of money possible with a new contract.
"For most of last season — and especially in the wake of VanVleet shelving the possibility of signing a four-year extension for $114 million — the understanding was that he was seeking a deal with an average value of $30 million over three or four years, with three years and $90 million the most likely landing spot," Grange added.
The piece continues by explaining that Houston's reported offer "has yet to materialize," but more details should emerge once free agency begins at the end of the week.
As it stands, the Raptors currently have no real replacement should VanVleet leave. While Scottie Barnes could potentially slot into the point guard slot, his backups would consist of Jeff Dowtin Jr. and the recently-signed undrafted Markquis Nowell. Though both are still young, it'll be a tall task for either of them to replace VanVleet.