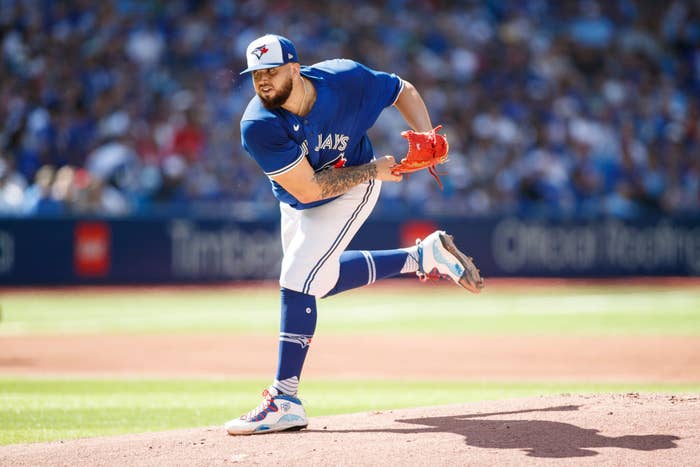 Alek Manoah's disappointing 2023 season has reportedly come to an end.
According to Jeff Blair of the Sportsnet podcast Blair and Barker, Manoah failed to report to his Triple-A assignment in Buffalo because he was upset at the Toronto Blue Jays' decision to sideline him in favour of the team's other starting pitchers.
"It seemed like the Alek Manoah camp didn't like the fact this option was coming because it was performance-related," Blair said. "Kevin, you and I have both witnessed this from a Major League level to a Triple-A level, when guys get sent back and it's performance-related, they're a little salty about it."
Blair continued explaining the Blue Jays had several options behind Manoah such as Hyun-jin Ryu who returned from an injury.
By refusing to report to Buffalo, Manoah has allegedly lost the opportunity to pitch for the Blue Jays at a Major League level in 2023 again.
"He's not going to be able to ramp back up to help the Major League team in any capacity at this point," Blair said. "He was taking a roster spot in Triple-A for a very depleted bullpen and pitching staff to begin with, so they had to make a move."
The move in question was to place Manoah on the temporary inactive list to clear a spot in Buffalo.
Manoah's 2023 season has been nothing short of disastrous as he put up a 5.87 ERA in just 87 innings.
The Blue Jays, however, are fighting to keep their Wild Card playoff spot as they hold a 0.5-game advantage over the Texas Rangers and a one-game advantage over the Seattle Mariners with just under three weeks to go in the regular season.